The Indie Spirits Tasting is now in its fifth year and in 2019 comes to Melbourne for the very first time.
The Indie Spirits Tasting is put on by the team from Australian Bartender, and takes place on March 31 at The Craft & Co in Collingwood. There's two tasting sessions available on the day, with session one running from 12pm to 2:30pm, and session two going from 3pm to 5:30pm, and tickets are available now — get yours here.
There will be more than 150 independent bottlings from 37 suppliers on offer to taste, from producers both local and international — it's also the largest gathering of Australian craft distilleries under one roof. Check out the exhibitors below.
Tickets to the Indie Spirits Tasting are $55, which includes your tasting ticket, eats, and access to one of a kind seminars — get your ticket at now.
ADVERTISEMENT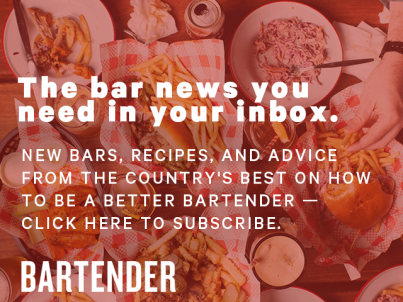 &nbsp
Phil Bayly, Agave Love
Applewood Distillery (Applewood Gin, Applewood Okar, Applewood Red Okar)
Artisan Handcrafted (Rum Diary Spiced Rum , Patient Wolf Gin, Tequila Tromba)
Bacardi Martini (Rutte Old Simon Gin, Rutte Celery Gin, Santa Teresa Rum)
Cape Byron Distillery (Brookie's Dry Gin, Brookie's Slow Gin and one brand new product)
Cerbaco
Enoteca Sileno
Four Pillars Gin (Four Pillars Rare Dry Gin, Navy Strength Gin, Spiced Negroni Gin, Chardonnay Barrel No. 8 Gin, Sherry Cask No. 2 Gin)
Good Measure (Maidenii, Marionette & MGC)
Great Ocean Road Gin (Great Ocean Road Gin Guvvos (modern dry 41%) and Split Point Navy strength 57%)
Husk Distillers (Ink Gin, Spiced Bam Bam, Pure Cane)
Karu Distillery (Affinity Gin)
La Cantina (Vermouth del Professore Classico & Rosso, Gin del Professore Madame, Monsieur & Crocodile, Meletti Amaro, Marolo Amaro 'Ulrich', Quaglia Amaro Piemonte, Imperial Measures Ounce Gin 'Signature', Ounce Gin 'Bold' & Ruby Bitter Aperitif)
Lawrenny Estate Distilling (Lawrenny Van Diemen's Gin, Lawrenny 1818 Settlers Gin)
Luxe Wine + Spirits (Elephant Gin, Cambridge Distillery Japanese Gin, Linie Aquavit)
Manly Spirits Co. (Australian Dry Gin, Coastal Citrus Gin, Marine Botanical Vodka, Terra Firma Botanical Vodka, Barrel Aged Gin)
Melbourne Moonshine (Sour Mash Shine, Sweet Tea Shine, Single Cask Shine, Apple Pie Shine, Memo Gin)
My Tradition Beverages
Navigli
Never Never Distilling Co (Never Never Triple Juniper Gin, Never Never Southern Strength Gin)
Noble Bootleggers Gins & bottled cocktails
Old Young's Gin & Vodka
Pietro Gallo Estate Grappa di Prosecco, Pietro Gallo Estate Grappa al Caffè, Pietro Gallo Estate Liquore all'Aranica
Poor Toms Sydney Dry Gin, Poor Toms Fool Strength Gin, Poor Toms Strawberry Gin, Imbroglio Amaro by Poor Toms
Prohibition Gin, Prohibition Bathtub Cut Gin
Proof & Company (Plantation Rum, Kinahan's Irish Whiskey)
Quittin' Time (Doorly's Barbados Rum & Foursquare Barbados Rum)
Seppeltsfield Road Distillers
Southtrade (666, Mr Black, Starward, Adelaide Hills Distillery)
The Craft & Co
The Pisco People (Cuatro G's, Pisco Porton, Vinas de Oro, Pancho Fierro, De Carral)
Think Spirits (Pampelle, Italicus, Cargo Cult Spiced Rum, Cargo Cult Spiced Banana Rum, Stolen Rum – white, Gold & Smoked)
Vanguard Luxury Brands (Glenallachie & Bar Sol)
Vinosita Wine Merchants (Cocchi Vermouth di Torino, Cocchi Americano Bianco, Cocchi Vino Chinato, Cappelletti Americano Rosso, Cappelletti Amaro Sfumato Rabarbaro, Liquore delle Sirene Bitter)
West Winds Gin (The West Winds The Cutlass, The West Winds The Broadside, The West Winds The Sabre)
White Light Vodka (White Light Vodka, WLV47, White Light Barrel Aged Vodke, GGG Gin)
Milton Rum Distillery (New Make Cane Spirit, Spiced Cane Spirit, The Dirty Bird)
Get your tickets now
What: Indie Spirits Tasting Melbourne
Date: Sunday 31 March, 2019
Where: The Craft & Co, 390 Smith Street, Collingwood
Session 1: from 12pm to 2.30pm
Session 2: from 3pm to 5.30pm
Tickets: Normally $55, get your early bird $35 ticket before March 1st here.