As bartenders and lovers of all things booze, there's the odd occasion where we let ourselves get a little overexcited by our first few drinks, setting the tone for the rest of the evening and guiding our poor future selves into the world of 'did last night really happen?'
At times like these, I look for someone to blame, whether it's the mate who led the charge or the hot as hell weather guiding you towards liquid relief. As I lay awake one recent morning after such an event, I looked past the usual excuses and found a new offender, the one who did me wrong, the one known to all but often unrecognised: the humble bar snack.
Yes, bar snacks, the salty, lick-your-lips delicious bar snack. Why? Well let's look at how bars approach the humble bar snack first.
The world-renowned Shady Pines Saloon is known as much for the peanuts they serve as they are their larger than life bar team. These small nibbles have become ingrained in the bar's identity, telling you that you're American style saloon territory here. As you take a seat at the bar and delve into the arduous job of dissecting the menu, the act of cracking a peanut and consuming its inner gift amkes you more relaxed and less anxious to order.
To understand why choosing the right bar snack is crucial, Francois Chartier's book, Taste Buds & Molecules, looks at the art and science of food, wine and flavour. It maps our flavour receptors in the mouth and refutes the early understanding that the mouth separates flavour notes, mentioning that 'we know today that the different regions of the tongue can recognise several tastes at once. Sweetness is not recognized only at the tip of the tongue, nor bitterness towards the back…' With this in mind, if your bar is heavily cocktail focused, an ill-chosen bar snack has the ability to disrupt the full mouth of flavour prior to taking that first sip. 
ADVERTISEMENT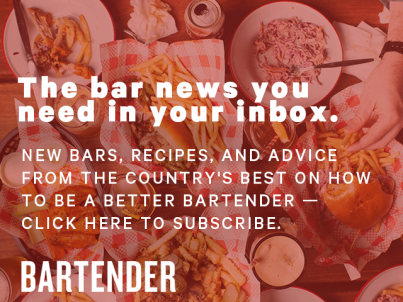 &nbsp
Thanks to its chemical nature, salt has the amazing ability to intensify agreeable tastes and diminish disagreeable ones by reducing bitterness and increasing sweet, sour and umami tastes. Many bar snacks play right into this fact with salt caressing the external form of the often crunchy, bite size nibble (think pretzels or crisps). Even the smallest amount of salt allows sodium ions to bind to bitter flavour compounds and suppress them, making way for some neurological magic to happen: sweet flavours seem stronger. 
Dave Arnold in his book Liquid Intelligence highlights the importance of this as, 'salt is the secret ingredient in almost all my cocktails', he writes. So although many bartenders aren't putting saline solution or a pinch of salt in drinks, customers are nonetheless getting a nice kick of salinity from their bar snacks.
In the current 'sustainability' focused age of cocktails, bar snacks also have the ability to allow your bar team and kitchen to work together to further your focus on this movement. The Aviary in Chicago (known for its forward-thinking ice program, cocktail presentation and service) shows how produce can be utilised in a number of ways and through its industry heavyweight team of Charles Joly and Grant Achatz (among many others), they created a chilli and banana syrup, then remove the skins (often discarded), dehydrated them, then flash fried them to serve to guests as a bar snack. 
Tokyo Bird is a venue that brings all this together. The yakitori-focused izakaya in Sydney's Surry Hills offers a Lotus Root Chip as a snack whilst you enjoy their cocktails, which gives them a chance to start serving the table whilst the first drinks are being prepared, and it gives the drinking experience that touch of salinity without overpowering the additional flavours in the drink. 
You've also got to try what may be the world's best bar snack: crispy fried chicken skin. It's a combo of crunch, fat, umami and yep, you guessed it, salt — get the recipe below.
Kurtis' tips on getting bar bites right
Bar snacks are important considerations for your bar. Treat them like an extension of your identity and use them to further identify with who your bar is appealing to.
Choosing the right snack with a touch of salt may enhance the drinks being served. Neutral flavours that don't overpower others such as pretzels or salted crisps are a great go-to.
Working with your kitchen staff to re-use produce and create a snack out of what may otherwise be discarded can be a great way to further focus on sustainable elements of your bar.

Tokyo Bird's Chicken Skin yakitori recipe Here's the step by step recipe from Tokyo Bird.
Remove skin from raw chicken.
Blanch in salted boiling water.
Prep skin by removing as much fat as possible and slice into inch-wide strips.
Skewer strips onto bamboo skewer.
Deep fry in vegetable oil on high heat until crisp and golden (about 3 minutes).
Drain, and season with sea salt and shichimi chilli powder.
Serve.