Bartending can open up a wide range options for career development these days — working with brands, consulting for bars, presenting, starting your own brand and more. But one thing is for sure — the standard of professionalism is higher than ever before, too. So you've got to know what you're talking about.
Here, we look at some of the supplier-based bartender training programs out there and speak to the people behind them, to find out what they can do to help you fulfil your aspirations.
The Blends of the World
The Blend & The Exchange
They've repeatedly been recognised as offering outstanding bartender training at the bartender Magazine Australian Bar Awards, picking up the award for Training Program of the Year an unprecedented four times in a row.
Hear we speak to Beam-Suntory's National Activation Manager, Hayley Morison, about the training they have on offer in 2019.
Tell us a bit about your training program?
The Blends of the World is a bartender mentoring, brand education and advocacy platform. Each module is designed to engage and inspire the bartender through providing unique learning experiences through industry mentors.  Throughout the program, we support and celebrate the bartender, their craft and their career, no matter their level of experience — everybody  from the industry is welcome. Over the last few sessions we've had hosts from  Dandelyan, James Wheeler and William Meredith; the Trash Tiki Duo, Iain Griffiths & Kelsey Ramage; Sam Egerton and Toby Marshall, Naren Young, and Antonio Lai – to name a few!
ADVERTISEMENT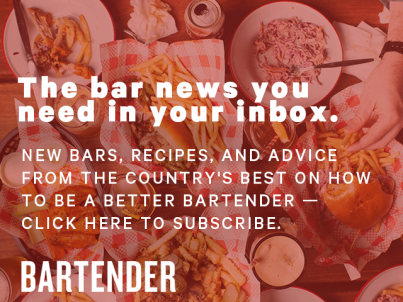 &nbsp
What is the goal of your bartender training program?
Educate and inspire! But through 'thinking outside the box' methodology. In addition to brand and category training  that The Exchange host, we've responded knowing bartenders want to learn about how to improve their skills, they want to be inspired by the best, and also work alongside these industry legends. Nothing motivates our team more than seeing the progression of our audience members mastering their craft, or their career journey.
Ultimate long term goal: to create a global community of bartenders, all networked together via our platform, who are passionate advocates of Beam Suntory and our brands, while taking their careers to new levels and being inspired to create their own innovative path or individual  impact on the industry.
What are the areas you cover in your training? How does it work?
Each module 'tour', let's call it …has a theme, or overarching education focus. It's usually a topic that is trending in the industry, or that we believe from hearing from trade directly they want to learn about. Take Trash Tiki for example, Iain and Kelsey educated the trade on minimal waste practices and sustainability and the future direction of the industry.
They made it an approachable topic and easy to implement into any bar, not just high end cocktail bars.  Dandelyan has been named the world's best bar (twice), and named world's best cocktail menu, and James and Will educated bartenders on the behind the scenes of the venue, menu creation, and modern botany.
This year, we've gone even bigger. First up off the rank is Fancy free – four talented and inspirational blokes, building a brand, without a bar! Travelling the globe promoting the venue. We share their story, their new cocktails, and how to build the bar from nothing and the challenges faced. Then we have The World's Best Bartender (twice) Joe Schofield, the man himself hosting sessions down the east coast – sharing menu concepts,  thought processes on how to create drinks from scratch, and how to match the concept of your venue to your drinks. He will also discuss the "Sensorium Menus" he and Chef Ryan developed received recognition for "Top Ten Worlds Best Cocktail Menu at The Spirited Awards at Tales Of The Cocktail'. The remaining modules I cannot discuss yet, but we are in discussions with some industry heavy weights! 2019 will be huge!
JERRY
Proof & Company
Proof & Company has firmly established itself as one of the leading independent spirits suppliers in the Asia Pacific region over the last few years, and last year they combined force with Neat Spirits to enter the Australian market. In doing so, they also brought with them their online training platform, JERRY.
Nicole Smith is head of education for Proof & Company, and she fills us in on what you can expect from their JERRY platform.
Tell us a bit about your training program?
JERRY is a modern beverage learning platform that combines the best thoughts and ideas from three industries – education, tech, and hospitality. A project three years in the making and championed by the team at Proof & Company, JERRY was developed as a full featured training program that combines reading, testing, videos, hands-on activities, masterclass presentations, team performance tracking, and bespoke course authoring for beverage venues. As learners progress, they can elect to sit for one of three grand examinations to earn certificates in modern beverage that represent one, two, and three years of study.
JERRY is a cloud based learning management system. It's not an app, which means it doesn't take any storage space and updates automatically. JERRY performs as well on a desktop as it does on a smartphone.
What is the goal of your bartender training program?
E-learning is happening all over the world, in every industry. JERRY is an easy to use, affordable resource for industry professionals. JERRY is a professional development tool designed for all front of house service staff, including the host, server, bartender, and venue manager. JERRY doesn't replace good people, it helps develop them.
What are the areas you cover in your training? How does it work?
JERRY takes a holistic approach to learning. Courses are delivered in easy to digest 30-minute increments and fall into one of seven major subjects: beverage, hospitality, preparation, operations, leadership, ethics, and strategy. Courses are inspired by JERRY Professors, a rotating panel of industry experts who run some of the world's most memorable bars.
Venue teams can join one of five learning communities for cocktail bars, hotel bars, beverage retailers, pubs, and restaurant bars, and have access to 60+ courses that are organized from the easy to advanced. If a team is more experienced, they can skip the basics and move to more advanced courses. JERRY offers an ever increasing library of courses, cocktail practical activities, and beverage fact sheets.
The bespoke course authoring service is a customized offering for teams, that allows venues to put their employee handbook, videos, handouts, pictures, and cocktail menus online with testing. Onboarding a new team member has never been easier!
Grey Goose Vive La Vodka & De Kuyper The Works
Bacardi-Martini
Over the last few years, Bacardi-Martini have been educating bartenders through a couple of their in-house programs, which brings in international talent to share their experience and advice with the trade. They've got two that they focus on: one is the Grey Goose Vive La Vodka program (which sees both local ambassadors and global Grey Goose ambassador Joe McCanta rolling out the training around the country), and the other is the much-anticipated De Kuyper The Works program, which last year saw cocktailing legend, Dale DeGroff, travel the country and inspire bartenders.
We asked Bacardi-Martini Sponsorship, Experiential and PR Manager, Penny Sippe, to tell us a little more about each.
Tell us a bit about Grey Goose Vive la Vodka!
Grey Goose Vive la Vodka! is an interactive experience that immerses guests in vodka's rich and storied history, brought to life through a range of anecdotes and the chance to taste a selection of influential vodkas. The program motivates the trade to develop a deeper passion and understanding of the vodka category and the iconic cocktails, places and personalities that have shaped it.
Grey Goose Vive L'Espresso Martini is an engaging experience where guests discover what it takes to make an extraordinary version of the espresso martini cocktail, the definitive modern classic. With increasing popularity, using the finest ingredients is essential to partnering the burgeoning expertise in both the bartender and the barista world.   Keep in touch with your Bacardi-Martini Australia representative to for your chance to participate.
And what can bartenders expect from De Kuyper The Works?
De Kuyper, the world's number one selling liqueur brand, is proud to announce that The Works program will be returning to Australia in 2019. The Works is a series of inspirational workshops designed to upskill and inspire bartenders.
This year will be the fifth edition of De Kuyper The Works Australia, set to take place in various states. De Kuyper has partnered with world stars such as Dale De Groff, Jeff 'BeachBum' Berry, Alex Kratena and Nicolas St. Jean for previous years.
Attendees will have the opportunity to pick up new knowledge across the liqueurs category and inspirational creative mixology techniques, while learning about the craft nature of cocktails and the history and production of De Kuyper, from its origins as a small family owned distillery in Holland to its continued success as a global brand, rich in family history.
Stay tuned for more information and find out who the next legendary guest of De Kuyper The Works will be. Reach out to your local Bacardi-Martini Australia Representative and find out how you can attend the event in your area.
Mix it MONIN
MONIN
Monin is the maker of some of the world's finest syrups and fruit purees, and they've made deep inroads into the bar scene in Australia in the last few years.
Karel 'Papi' Reyes is their national brand ambassador and the guy leading their bartender training program around the country — we asked him to fill us in on what to expect from Mix It MONIN.
Tell us a bit about your training program?
'Mix It MONIN' is our signature, tailor-made training program for the Bar Professional. We'll introduce you to the art of mixing drinks in this laid back, hands-on workshop exploring the principles and techniques of what makes a truly great flavoured drink. Discover tips and techniques which will empower you to craft original cocktails, mocktails and sodas from over 100+ MONIN flavours & any bar ingredient.
What is the goal of your training program?
Our goal to is to provide the know-how and tools on the art of mixing flavours to create amazing tasting cocktails, sodas and coffee. Whether you are an experienced bar professional or a beginner, our goal is everyone will be shown techniques on how to create unique & beautiful combinations for their drinks which will delight customers.
What are the areas you cover in your training? How does it work?
We tailor every training session to our audience. However, in general we'll cover flavour trends and techniques to inspire to create signature recipes. You will gain the knowledge of 100+ MONIN natural flavours delivered by our beverage experts so you can create stand-out flavour combinations.  If you are interested in participating in a 'Mix It MONN' session, contact the MONIN Account Manager in your State or email monin@stalex.com.au.