Anthony Bourdain once said that "Travel is about the gorgeous feeling of teetering in the unknown." And if you spend a night getting around the bars of Shanghai, that's the gorgeous feeling you'll get.
Shanghai is loud, busy, a city that stretches into the sky for as far as you can see, full of humanity. There's some 24 million people — that's around the population size of Australia — jammed into an area half the size of Sydney.
We visited last November to attend the Drink Magazine Bar Awards when nearly 600 of China's best bartenders and bar operators — and some of the best from Asia and beyond — gathered to celebrate their industry's achievements and hand out some honours.
What we learned was that China's bar world is thriving.
ADVERTISEMENT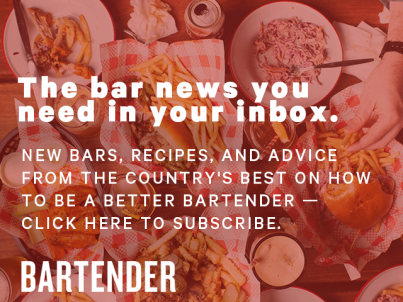 &nbsp
"[Shanghai] does change quite a lot, it's very different from what it is was 12 years ago — in a great way," says Theo Watt, founder of Drink Magazine. He's been in China for 12 years now, and sees a huge opportunity in the coming years. "99 percent of the Chinese people don't go out to Western bars and drink Western cocktails. Only one percent of Chinese people drink Western alcohol," he says.
"There's only one game in China, it's called the waiting game. It's being able to stay here and survive being here until the point that the trend picks up and everyone starts going, 'Yeah, actually cocktails are cool." And that's a generational change, not a bartender generation, a real generational change." 
Held in the grand ballroom of the Jing An Shangri-La, the crowd at DMBA 2018 was treated to some spectacular drinks before the awards proper began, with bars by London's The Connaught, Coupette, and Happiness Forgets, Singapore's Native, New York's Dead Rabbit, Shanghai's The Odd Couple, and Melbourne's own bar without a bar (yet), Fancy Free, taking care of the pre-awards drinks.
Some of the notable winners on the night included Agung Prabowo, bartender-operator of The Old Man in Hong Kong, who won the title of Bartender of the Year (Asia) as well picking up the award for Bar of the Year (Asia). Guangzhou-based Hope & Sesame took out the China Bar of the Year award, too, and you can read up on them in this month's Bar Profile on page 51.
And we got out into the bars to see them for ourselves (the best information, after all, is gathered in the field). Some tips though, should you — and you should — find yourself in Shanghai.
Just about everything there is done on that handy smartphone in your pocket — though one app, called WeChat. You can book cars, makes restaurant reservations, pay your tab — pretty much everything you need when you're out and about.
It is going to be far simpler — and you'll get more out of it — if you go with someone who knows the place, like we did (a big shoutout to Drink Magazine editor Elysia Bagley for her patience in escorting us around town).
Atelier
We hit this bar late on the night after DMBA, and were blown away by the hospitality. The entrance to the bar is lined with mood-lit racks where they've stored a bunch of barrel-aged creations; venture inside further and there's a large bar that wraps out and around one side of the big space. Think comfortable stools, and some very generous hospitality, and you're on the right track.
The Cannery
The Cannery is part bar and part restaurant, but we were here for the drinks. The cocktails at the bar are from Michael Chen (ex-Eau de Vie and Zeta Bar), and well-executed by the helpful team manning the island bar.
Chen has some hi-tech kit he gets to play with at the bar (along with a Hoshizaki ice machine that makes the largest cubes of ice we've seen), and there are tastes across the drinking spectrum to suit you, wherever your palate leads you.
Punch Room
Need a hotel bar to keep you centred whilst you uncover all that Shanghai has to offer? A place to revive your palate in between splashings of chilli oil and tongue-numbing Szechuan pepper? The Punch Room at The Shanghai Edition Hotel might just be your best bet.
It's a concept they've rolled out at their London and Barcelona locations and it's a small, 35-seater bar inside the hotel that you;ll find. Here you can expect the top flight service and some delicious Punch to bring you back to life.
Sober Company
Shingo Gokan is a well-known name in international bartending circles, and he's seemingly on a quest to take over Shanghai. .
Gokan is the guy behind three bars here: The Odd Couple is his latest (see below for more on that), Speak Low was his first (and features on any number of best bars lists), and Sober Company possibly his most ambitious.
There's three bars and a restaurant inside the building that holds Sober Company in the Former French Concession: at the ground floor Sober Cafe, you'll find a load of low-ABV and aperitif style drinks to get you going; on the middle level Sober Kitchen, you're going to get a range of classic Chinese dishes reinterpreted (the fois gras mapo tofu was a winner) and cocktails to match; and on the top floor, Sober Society has a speakeasy-ish vibe.
But what you want to do is to get into the third bar, the secret bar: we won't tell you too much about this, but there's no menu, you can have but one or two drinks, and you won't be disappointed — this was the best bar we found.
The Odd Couple
What do you get when you bring two of the world's best-known bartenders together? Shingo Gokan and Steve Schneider have their own approaches to bartending — Schneider the quickfire American from New Jersey, and Gokan started his career in Japan. Their Shanghai bar, The Odd Couple, is reimagining of the future from the vantage point of the 1980s" and here you'll find yourself having a good time. There's two sides to the menu where you'll Gokan's take on an ingredient alongside Schneider's. If you can swing it, try to nab the love seat behind the bar, and enjoy the show.
Union Trading Co
We visited Union Trading Co. to check out the guys from Melbourne's Fancy Free do their popup thing, but also managed to sink a few of the drinks from the house menu.
Here you're going to find cocktails with a fine balance that utilise local ingredients and champion those flavours, but most of all? This is the kind of bar we love to find in any city we get to, from Sydney to Shanghai and beyond: it's the perfect neighbourhood cocktail joint, with the warm and inviting hospitality to match.