The Duke of Clarence has an old-sounding name. It's down an alleyway. There's a small flight of steps, and through its door you enter inside the head of its co-owner, Mike Enright.
"I just wanted to create something that was really unique," he says. "But also you've got to be really really careful to not have like a concept bar and look like a fake. Like you see the chains of Irish bars and it's just carbon copy, you know? It just looks a bit crap
doesn't it?"
To do that, Enright used the designer he'd worked with before on his first bar, The Barber Shop, and asked her to source as much of the fit out from the 1800s as possible.
"The reason why we had the floorboards from the late 1800s was because they were already worn in," Enright says. "We wanted it worn in and comfortable and we spent a lot of time thinking about the lighting and the use and everything else, to make sure that we didn't cross over into that area because the last thing you want to be is a theme pub."
The Duke of Clarence opened in December 2017, and has had a pretty good time of things since then: they've expanded to trade seven days a week, from midday to 2am, and picked up a bunch of awards recognition — like the title of New Bar of the Year at the 2018 Bartender Magazine Australian Bar Awards.
ADVERTISEMENT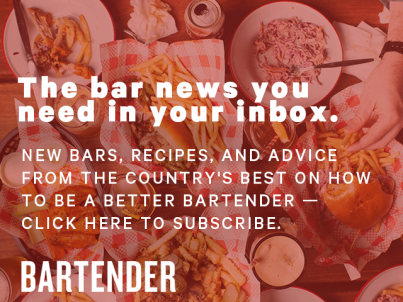 &nbsp
So, the day before the bar turned one year old last December, we popped by to chat to Enright about some of the challenges he's faced along the way.
Some of the challenges were quite unique to this bar, too. Like working with a UK-based stylist on the design.
"We had to brief her and she hadn't actually been to have a look at the space," says Enright. "In fact she only came after it was built and we were open. Which is unbelievable if you think of what a kind of a mind that woman has got. We were liaising with the UK at different times of night like, 'Do you like these pictures? Do you like these colours?' So the time difference was probably a bit of challenge."
And the problem with using stuff from the 1800s? You've got 21st century tradesman putting together materials from the 19th century.
"The builders were fantastic but because of the detail in the woodwork it just took so much longer to build it. So that was a bit testing and that's why we were pushed back until the first week of December [2017]," he says.
The Duke of Clarence sits on the site of the short-lived Easy Eight, a diner-cum-bar with a kitchen. The site offered Enright and his business partner, Julian Train, the chance to make choices: do they expand their already successful bar next door, The Barber Shop, (named as Australia's best gin bar three years running)? Or do they do something else — something new?
"We've got the space, and it all happened very quickly, and we're like right, what [are] we going to do?" Enright says. "In the interim to help us pay the rent we did the Dewar's Scotch Egg Club [popup bar] so that bought us time  for us to figure out what we wanted to do."
They ended up deciding to do something new, something that Mikey started thinking about after a conversation with his brother in a pub in Liverpool in England.
"I do remember us being in this shitty pub — it was awful — in Liverpool, and it was like there was karaoke going on, there was a slot machine in the corner, and you know, sport on the screens and stuff like that and I said to my brother, 'You know what mate, this is what I'm going to do, I'm going to do this.' And he went, 'What are you talking about? This is a fucking shithole!' And I went, 'I know.' From my side it was all the woodwork and all the etched glass on the windows and stuff from the Victorian era that I like went, 'But imagine if you kind of took all of this shit out of here — including the people — yeah? And you took that wood panelling and the windows and that sort of stuff?' So that's where it actually came from." 
The next plank to The Duke of Clarence for Enright was the beer, and this is where Enright's own experience informed his choices.
"That was the biggest challenge actually out of all of it," Enright says.
Nothing screams English pub more than a hand pumped ale. For the beer aficionados out there, this is a big thing. Think of hand-pumped, cask conditioned ale as like the slow food equivalent of beer, and you're getting the idea. You have to pull down on a big lever to pull the beer through the line from the keg, which is a skill all its own. It's as easy as pulling milk from a cow's udder and if you do it wrong, just as messy.
"There is a certain technique to it, but the main thing is you've just got to be patient," Enright says. "That's it. Don't go pumping the shit out of that stuff because you're just going to be creating lots of waste and lots of head."
The challenges lay in fitting traditional hand pump taps, designed for the UK, into the Australian system, fitting them to the bar so that they looked like they had been there for years. "I wanted all the hand pumps to look the same," says Enright. "For the carbonated beers — your lager, your pale ale, your cider and so on and so on — we had to change the mechanism in the pump so it would release carbonated beer, because if your pumping it, five times, it's going to go flat, so we had to change the mechanism. It was a mission and a half."
But it was a mission worthwhile. Enright's first experience with cask conditioned ale happened way back at the beginning of his career.
"When I was growing up, I looked very young for my age," says Enright. "When I was like 17 I looked like I was about 10. So all my mates were going to the pub and stuff and the legal age is 18, and they're fairly strict in the UK, so I was like, I can't go to the pub because nobody believes me that I'm 18, so I may as well get a job in one."
He picked up a job as a glass collector in a nearby pub, and quickly moved onto another — the Cock & Bottle — where he'd become the bars manager in short order and meet his first bar industry mentor.
"The landlady was wicked, her name's Ann Bailiff, and she would have Gin & Tonics in the summer and Brandy & Dry in the winter,:" he says. "I got on really well with her, her son and daughter who I'm still friends with today.
"We used to do a lot of the traditional cask conditioned ale there, but it was in the olden days where the kegs were wooden kegs, and you went on to rails, and from memory they were like 60 or 70 litres [each], so you had to rest them."
It's one thing to create a place, and another for it to mean the same thing to punters as it does to you, which has been another of the challenges that Enright has dealt with.
Because the fit out is so good at channelling that Victorian-era English tavern vibe, some of The Duke of Clarence's guests don't realise that apart from the great beer on hand pump, there's also top flight cocktailing to be had. Take the Clarence House Gibson, for instance:  they're making their own pickle distillate, smoking their pickle brine, and crafting tailor-made tinctures to lift the drink from Martini variation to a Martini-we-must-have-right-now (and one that we think is as good a reason as any for bringing back the three Martini lunch).
Climate has also been something that they've had to consider, too. That Victorian-era vibe plays well with the winter chill — they do after all have a library with a fireplace — but they've made efforts to counter that perception during summer.
[ultimate-recipe id="43619″ template="default"]
"We're really happy, we had a brilliant winter," says Enright. "You know it's always a tough one though, because you don't want to be caught out with becoming a winter venue, which I think we've done really well at The Barber Shop."
So, one year in, trade is going well — what's next for The Duke of Clarence?
"We couldn't have asked for a better year let's face it." Enright says. "We've got some ideas, where we want to be and how we want to get there, and we've got a bit of work to do.There's so much that I want to do."
But Enright and the team are not content to leave things as they are.
"I just think that there's more that we can do. It doesn't stop basically, and I really want to take The Duke of Clarence and The Barber Shop to the next level every year. And we're planning now for what activations we can do next year, to try and keep ourselves really fresh and evolved and stuff like that, I just don't want to drop the ball on any of it. And that's what keep us going really, that's the driver."