Who wouldn't love to jump in the old DeLorean and check out the bar scene in 2030? Robotic bartenders, bottled cocktails from vending machines, not a plastic straw or paper napkin in sight? Maybe you'll have to blend your own Pina Colada by riding on a stationary bike? Or maybe everyone will be chewing on alcoholic gummy bears?
Sadly, Griff's hoverboard never became a practical reality and a world with only robots for bartenders would be a really shitty concept. But what does the future hold for the bar industry over the next five to ten years? 
Technology
In 2025, kids who were born in 2007 will turn 18. These are kids who have never known a world without iPhones (the first iPhone was released in June 2007). They are so familiar with a swipe and a tap that they can't imagine a world before Snapchat and Instagram. Apps are already changing the was the way people interact in bars and it will only continue with the more tech-savvy generations coming through. 
ADVERTISEMENT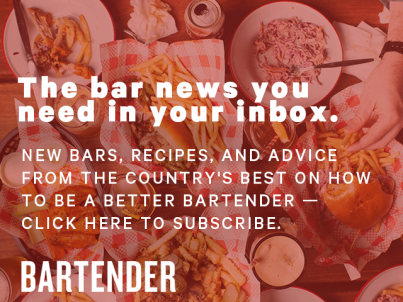 &nbsp
The pick-up one-liner is not near so common place as it once was. A decade ago bars were swamped with groups of males and females all out on the prowl. As of last year, Tinder claimed that 15 per cent of Aussies were using their services. That's a whopping 3.5 million people and it's on the rise. Now, it's far more common to see couples meeting for the first time on Tinder and Bumble dates, which for a lot of bars has not been a bad thing. 
Greg Sanderson, from the Speakeasy Group in Sydney and Melbourne, sites Tinder as the big change in dating and therefore dating in venues. "We notice that mid-week is the most popular times for dates (might just be our venues) and on some evenings we can have 80 per cent or more of our couples on dates from Tinder. In some of our venues Tuesdays have become 'Tinder Tuesdays'. As these couples have not met (like on a more traditional date) I have noticed that they draw in their bartender or server a lot more to assist in the breaking the ice and initial conversations. People that have met previously just want to be left 100 per cent alone in a dark corner with the person they have flirted with for months and finally had the courage to ask out. I think it makes these first unions more comfortable and less confronting being able to include the bartender or server in many of their conversations."
Other app technology that could offer up further impacts on the bar scene are the Uber Eats and Deliveroo style delivery platforms. Why leave the house when you can have fries, French Champagne and Fortnite in the comfort of your living room? 
Sanderson doesn't see the stay-at-home and order apps replacing the bar experience any time soon. "Guests have been able to purchase alcohol much cheaper from bottle shops and consume at home for as long as there have been bars around. People by nature are social creatures and want to be around other people. Bars will always be a great place to meet people of the opposite sex, socialise with friends and meet new friends."
One of the biggest impacts on the bar industry from a technological standpoint has been operational. And no, that doesn't mean robots, it means the software that is helping venues run their businesses more effectively on the day-to-day. Gone are the basic spreadsheets for rosters, hand-written booking diaries and huge folders of printed material for staff. 
"Now we have rostering software (Deputy), online reservation system (Open Table), a cloud base HRIS (Human Resource Management System) Employment Hero and a cloud-based PBX online phone system," says Sanderson. "These systems for us have in many ways automated and streamlined our operation. This means that as we have grown we have not had to stack on more staff. It also leaves more time for us to enjoy serving amazing drinks and food."
And what about those futuristic robots? We chatted to Hayley Morison, Hayley Morison, National Activation Manager from Beam Suntory, who says: ""I've seen this [robotic] technology at many bar shows and exhibitions, and I sincerely hope not! Just imagine how incredibly boring and sterile that would be not to mention concerning for our industry and employment rates." Rather, Morison sees great technological advancements in the way bars are built. "Two Schmucks are renovating their bar in Barcelona, and they used Behind Bars Agency and their virtual reality construction tech for the build," she says. "This helped Moe Aljaff eliminate mistakes and bring down costs that might have occurred later in the build. With this VR they were able to 'experience' what a night would be like in their bar, before making the physical changes. Genius."
Drinking Less but Better
What was once a cool phenomenon has now become a bit of a tired cliché – we're drinking less but better. But being a cliché doesn't make it untrue. 
Founder and Publisher of Bartender Magazine, David Spanton, thinks this process has accelerated even more in the past few years and sees it continuing into the future with a new generation who have grown up savvier than ever about health and wellbeing.
"I see these as really positive changes for Australia and hopefully we're moving away from the binge drinking culture to a more moderate, European way of appreciating alcohol," says Spanton. "I also think the drinks industry is very proactive because they understand that it's in their best interest for consumers to drink responsibly."
Sanderson says this has been most noticeable with a greater demand for no-alcohol drinks and mocktails and as a result they are putting a much bigger focus on their non-alcoholic offering, across all venues.  "We want all our guests to have an amazing experience and not just the ones consuming alcohol. With our latest Eau de Vie cocktail list we have six of our list cocktails that are also available with no alcohol. This ensures the guest still has an amazing Eau de Vie standard cocktail, looking fantastic and with all the theatre and not just a bunch of different juices thrown into a glass."
From a trend perspective, Hayley Morison says that consumer demands have changed dramatically and brands and venues have to keep up. "Environmentally speaking, brands and venues are focusing on products and ingredients that are being ethically produced with locally-sourced, in turn, environmentally-friendly ingredients. Provenance is no longer something that can be achieved with a few words on the back of a bottle of spirit. Also there has been a huge shift into healthier options. Now the non-drinker is a common customer and this has resulted in a shift in lower abv, and spirit free products.""
When it comes to the drinks themselves, a big trend in both food and drink has been in craft and artisan products. Bartender magazine Editor Sam Bygrave calls it the hipster apocalypse but it certainly looks like something that's here to stay, although expect to see some of the better brands claiming more market share as quality is put to the test. Sanderson says: "Many consumers are catching on and realising that "Craft" and "Handmade" does not always mean better."
Every so often, the media throws around the idea of increasing the legal drinking age in Australia. So far it has not gained much momentum but is it possible in the future? Spanton believes that 18 is the right age. "An 18-year-old is legally an adult making adult choices. What message are we sending about personal responsibility if adults are not allowed to make these decisions for themselves?" Sanderson goes a step further. "I would actually say that relaxing the drinking age somewhat would do more for the changing of our perception of alcohol and introducing laws like France would be the better move."
Sanderson suggests lowering the legal drinking age for wine and beer to 16 and keep spirits 18-plus. "I don't propose 16-year-olds be allowed to enter bars by themselves and drink," he says. "But within restaurants and at home younger individuals could have a wine or beer under the supervision of their guardians rather than hitting 18 and getting into beer, wine and spirits all at the same time with little or no experience and no guidance except their mates daring them to drink more."
Smoking Trends
Tobacoo has gone through huge change in the bar industry over the past 20 years. At the Business of Bars Conference during Sydney Bar Week in September 2018, our panel looked at the question of where the bar industry will be in 2025 and there was a lot of interest in the shifting tides of the tobacco business. In the last two decades we have seen smoking bans implemented in all venues and greater limits enforced on the sales of tobacco products. 
The hot topic at the moment is vaping and while countries such as Japan, New Zealand and the United States have moved forward with this next generation of tobacco products, it is still illegal in Australia. 
So what exactly are e-cigarettes? E-cigarettes allow a consumer to heat liquid flavours or nicotine through a chargeable hand-held device. Once heated, the liquid, transforms into a vapour..  
Part of the problem legislators are facing is that e-cigarettes are increasingly popular here in Australia but the e-liquids are supposed to be nicotine free. You simply need to hit Google to find a source for nicotine e-liquids and there is now a dangerous influx of unregulated products on the market. ABC News reported in January that many products being sold as nicotine-free have been found to contain nicotine and this highlightings the lack of regulation. Many health experts are calling for the products to be legalised and regulated, especially for those people who already smoke.
In 2016, the World Health Organisation said: "If the great majority of tobacco smokers who are unwilling or unable to quit would switch without delay to using an alternative source of nicotine with lower health risks, and eventually stop using it, this would represent a significant contemporary public health achievement."
Imperial Tobacco Australasia General Manager Wayne Merrett said while smokers would get the maximum health benefit if they completely quit nicotine, e-cigarettes offer a good alternative option. "We can't ignore research which shows the benefits of vaping. In 2018 the American Cancer Society released a position statement encouraging support for people who choose to use e-cigarettes instead of other quit methods.
"In markets where vaping has been legalised, we have a thriving and expanding Next Generation Products business because we are committed to creating something better for the world's smokers."
Philip Morris Australia Managing Director, Tammy Chan is also looking to the future. "At Philip Morris, we see a future without cigarettes, where smoke-free products such as e-cigarettes and heated tobacco products are made available to adult smokers. 
"The premise for our vision is clear: companies, where possible, should make less harmful products available to consumers. And consumers should know about them. And this should all happen with appropriate government oversight."