Bondi is set to welcome an izakaya into the neighbourhood when new bar Isabel opens in May.
Isabel is a collaboration between Geraint Coles and Mitch Slattery from Panama House, and Michael Riley of Milk Box and Sam I Am. The bar draws on the idea of an izakaya — which in Japan is a casual bar in which food and drink share equal billing — but it won't be your traditional izakaya.
That's because the drinks here are going to be a touch above regular izakaya fare. On board as general manager is Sydney cocktail maven Kate McGraw; below she answers a few questions about what to expect when Isabel opens.
Who is behind the venue?
We have a banging team driving this project. Geraint Coles and Mitch Slattery of have joined forces with Michael Riley of Milk Box/Sam I Am. They are the real driving force behind this. I signed on last September to lead the team and drive the beverage program.
What is the big idea driving the venue? 
Isabel is, at its core, a non-traditional izakaya. It's not a Japanese bar, but it's definitely inspired by their approach. They have a certain reverence for technique and their ingredients that I think fits really well into the culture of Sydney hospitality, and it's those sensibilities that we're bringing to Isabel. The great thing about Japanese izakayas is that they are completely non-discriminatory; you can come in and have a boozy night with mates, you can sit down and talk business, you can bring a tinder date along – that's the kind of environment that we want to bring to a Bondi bar.
ADVERTISEMENT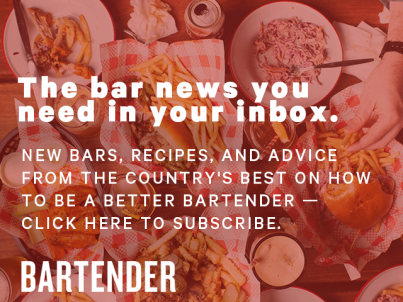 &nbsp
Why Bondi?
When the space in Bondi became available it was a no brainer. Location-wise it's outstanding – we're right across the road from the beach and next door to the super luxe QT hotel, and are surrounded with some really premium food and beverage offerings. This side of town is also notoriously difficult to get a small bar license, so knowing that was available to us from the start also made it super appealing. There isn't really a lot out this way that really pushes the envelope cocktail-wise, and there's a very high earning demographic who are hungry for this kind of bar.
What can we expect on the drinks side of things? 
All of the drinks are really focused around clarity of flavour. We have five or so high balls that will rotate, but you're always going to find some version of a whiskey highball on there, a gin and tonic and a vodka soda. We'll have an additional 6 signature serves where we get to have a good play around with the rotovap and do some cool stuff. With each menu we'll curate some classics and some premium drinks as well. We'll be running a kaiseki – basically a set menu of cocktails with accompanying snacks – so people get a chance to taste a bunch of different things as well as some bangers from the R&D lab. The wine list is natural bent, and there's a stack of sake that we'll pour as well. 
What is the service style and why?
We're keeping things casual but focused. It's all table service so that gives our team a chance to really curate the experience for all of guests. In Bondi you get all manner of different people so we definitely can't have a one size fits all mentality. I've pulled Edie Bannerman from Berts to really drive this – we're a service focused venue above anything else. 
Can you give us an example of a cocktail that will be on the list?
We're still deep in R&D for the first menu, but a real banger that we have marries burnt bamboo, de-aged Johnnie Walker Green, distilled matcha and some native nuts. Flavour and aroma-wise it is really evocative of a Japanese tea ceremony. We've also got a vodka 'soda' that uses rice whey in a kefir style mixer with some desert line which is pretty excellent.
You'll find Isabel at L103/180-186 Campbell Parade, Bondi and they'll be open Wednesday to Friday from 4:30pm to midnight, and from 12pm on Saturdays and Sundays.