The drink menu says a lot about a place. High concept menu? You're going to get a bar that runs long on ideas. A big compendium of cocktails, on the other hand, suggests a bar that gives you more space and time to settle in and look things over. Or perhaps you're a busy neighbourhood joint? Then you're going to want a menu that's sharp and to the point, just like menu that the very talented Elise Godwin has put in place at Fremantle bar Strange Company.
Godwin is the bar manager here and she's got a knack for flavour (we last saw her manning the stick at The Dominion League in Perth) and knows her way around a cocktail, so when we caught a look at the latest list, we wanted to know more.
What do we like about their new list? There's something to be said for the tight, short list; when the list runs at a dozen cocktails or less, there's no need for filler. It's also simpler for the guest to work out what they want quickly, and when you're as busy as Strange Company gets, you want to make the process as easy as possible.
Check out our chat with Godwin here.

For those of us who haven't been there, can you tell us a bit about Strange Company?
A favourite weekend hangout and late night local, Strange Company of Fremantle is a small wine and cocktail bar with a big reputation. Open from midday to midnight, seven days a week, the space alone is breathtaking, and with the delicious offering of tapas-style bar food to accompany the wide range of drinks, you won't want to leave. Although the thoughtful wine selection and the creative cocktail lists often steal the show, Strange Company also offers an amazing selection of Australian gins and guest beers on tap, as well as other bar staples. The bar also hosts an array of fun events such as bi-weekly Strange Tastes (free tasting event), Strange Tables (either Wine or Cocktails paired with a four-course meal) and the Sunday Street Series, a New Orleans vibe of live music, wood-fired pizzas and people spilling out onto the street.
ADVERTISEMENT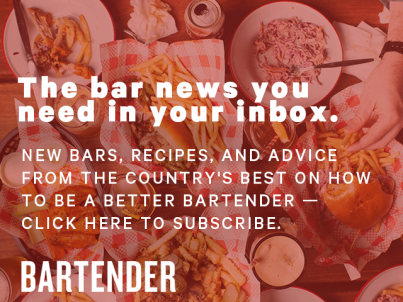 &nbsp
Can you describe the general idea behind the list?
Strange Company follows an over the bar style of service and on weekends it gets busy. The list is designed to be fresh, seasonal, and creative, but it needs to read well, and drinks need to be pumped out in an efficient manner.  We like to follow a layout of 10-12 cocktails into different styles. At the moment it's Spritzy, Fruity, Sour, Fresh and Bittersweet. This makes it really approachable for guests.
Do the customers get the idea of the list?
Being in Fremantle, our customers range from the young hipsters to the middle aged Sharons, Tourists and hospo industry. We are open until midnight, every night (even the kitchen!) so its often the last stop shop for a late night tipple or feed. Not only do we have a devoted local following, but we often have a lot of international regulars that say it's their favourite bar in the world, which is very humbling.
How was the menu developed, how long did it take?
I was super inspired by the way that Death & Co write their list so I was really eager to implement that when I started, especially since we have a core team of younger bartenders. Basically, I give everyone a list of the styles as well as some spirits to keep in mind. Everyone will go away and come up with a few ideas, then come together and brainstorm on paper.  As a group, the favourites will be chosen, which will effectively form the list and a week later, another tasting meeting will occur with constructive feedback to get the specs right. Another week to finalise recipes, prep lists, and costings. The whole process usually takes three to four weeks from start to finish. Of course, as in any good bar, our bartenders pride themselves in their custom cocktails too and we make anything off the list.