Back in 1800's America, you didn't start your day with a shot of wheatgrass or some vegetable and kale-laden cold-pressed juice designed to lift your energy levels. Instead of a whack of spirulina first thing, you'd start with a spirit.
Call it an eye-opener, a pick-me-up, a corpse reviver — no matter the name, if you were a sporting man, you'd have downed a drink like this Morning Glory Fizz.
But if the idea of snapping back a couple of shots single malt first thing in the morning seems rough, you might want to consider the times.
Its roots go back to O.H Byron's Modern Bartender's Guide, published in 1884, and the drink can tell you a bit about that moment in time. French absinthe gets a run; the drink was served without ice in a tall glass (all the more easier to throw it back); and the bartenders of the time poured fiery single malt Scotch whisky, as was the style of the time (blended Scotch didn't gain popularity until later).
ADVERTISEMENT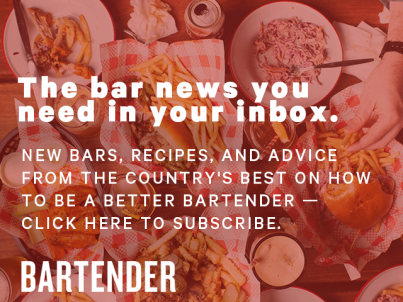 &nbsp
Morning Glory Fizz
Whilst never truly disappearing, The Morning Glory Fizz like Embury's book was, until now, something rarely stumbled upon although both in their day were important creations. The Morning Glory Fizz first appears in cocktail volumes in the late 1800s. Dale DeGroff in his new book The Essential Cocktail says that it first appears in O.H. Byron's Modern Bartender's Guide, in 1884. It certainly pops up in Harry Johnson's New and Improved Bartenders' Guide in 1900. Johnson describes the beverage as "an excellent one for a morning beverage, which will give a good appetite and quiet the nerves".
45 ml scotch whisky
15 ml absinthe (use French or Swiss)
15 ml lime juice
10 ml lemon juice
2 tsp sugar
1 egg white
soda water (to top)
Add all ingredients except syphon selters to your mixing glass.
Dry shake (without ice) to emulsify egg white.
Add cracked ice and shake briskly.
Strain into a highball glass and top with sparkling water.
Consume immediately.
1880's America saw great upheaval as the weight of population increasingly moved west: new western states would join the Union, there were ongoing wars against the native American populations, and all the while the number of people in America was exploding — some 12 million people were added between 1870 and 1880, bringing the population to well over 50 million people.
The 1880's saw Billy the Kid shot dead. It's the decade of Wyatt Earp and the gunfight at the O.K. Corrall — the stuff of western movie legend; there was violence against Chinese immigrants; and it's in 1882 that the notorious outlaw Jesse James is shot. 1883 saw riots and a bombing in Chicago as a general strike sought the eight hour workday. Added to all this upheaval, in 1881 the US saw another leader assassinated when President James A. Garfield was shot in the back, just four months in to his term.
If you had to read about this in the paper each morning, you too might throw down a Morning Glory Fizz.
What's in the drink?
Glenmorangie The Original 
This is a ten year old single malt and an elegant, floral spirit that strikes a balance between sweetness and complexity. 
Moet Hennessy