New(wish) Perth bar, Panama Social, has been getting a lot of attention of late thanks to the neotropical vibes (look it up — neotropical is a thing) and the service from the great team they've got on board.
The owners — Paul Aron, Michael Forde, and Brett Robinson — have opened an escape from the world outside and they're filling it with plenty of rum and good times drinks.
And appropriately for a venue that lends itself to the wonders of the tropical shirt, they've brought on board Tom Kearney (ex-Mechanics Institute and The Dominion League) as the bar manager to oversee the team.
But just what, exactly, is happening day to day to keep the drink program up to spec and maintain a high level of service three months in? We asked the talented bartender to break down a day in the life of Kearney.
Somewhere between 8am & 9am: Wake up, assess hangover. Drink bedside table water if the cat has left any.
ADVERTISEMENT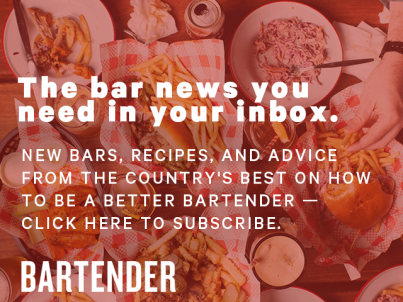 &nbsp
8:45am: Read over and try to make sense of last nights memo scribblings. Read and check emails, any projects involving the eastern states need to be sorted first thing. Create a list of errands I need to run before the days service starts — my memory is terrible (unless it's The Simpsons trivia).
9am: Breakfast, podcasts, yelling at the news with my lovely girlfriend.
10am: Now it's time to run any errands needed before service, usually will include Brewmart, Bunnings and a fresh market run. There is some fresh produce we use over the weekend that I would much rather hand pick than be delivered, to make sure that we get the quality we need.
12pm: Arrive at work, check off any last minute deliveries and put them away. I check on bookings, read and reply to booking enquiries and make sure everything is good to go for the weekend. I'll also chat to Chef about the night ahead, about bookings and timings as well as any menu changes. We'll then generally pick each others brains about flavours and techniques to improve whatever we are working on.
1pm: Batching cocktail kegs for service, we have four cocktails on tap, which we serve as singles or punch bowls so we absolutely smash through them. Making sure we have thoroughly prepped these is imperative so we can belt out cocktails with a relatively small bar space.
2:30pm: This time is spent prepping the run sheet, printing and updating new menus and making sure everyone has their sections and knows the bookings and menu changes for the evening.
3pm: Set up the bar! All syrups, juices, sodas, batched stirred drinks, garnishes and all types of ice are set up and ready for service.
4pm to 1am: Get spanked. I'll generally run the drinks pass from inside the bar space. I will direct dockets to the other two bartenders as required, whilst smashing out any docket with wines, beers, flights, neat rums and tequilas. I will check off all drinks hitting the drinks pass, making sure they are the best they can be.
1am: I will check on the status of our batched cocktails, and write a list of anything I will make to make the following day, and any fresh ingredients I will need to pick up.
1:45am: Call last drinks.
2am to 2:45am: Clean the bar, cash up, and finish my end of night reports.
3am: If I'm smart, then I will go home — usually I'm not very smart.