Employees Only Sydney has quickly established itself as the go-to destination for the city's hospitality tribes post-midnight (that 3am licence and no applicable lockout law certainly helps). But the bar is not just for hospo types, as bar manager Chris Garner explains, but for a range of people from open to close.
The list at Employees Only has a little of something for everyone, from big, New York-style booze-forward drinks, to lighter, more refreshing sippers (like the Bella Grazia we have featured here).
"There's definitely a lot of hospo after midnight, but we try to capitalise on every crowd that we can. We try to be the place you can go at any time, for whatever reason," says Garner.
"I think when you do an open to close shift, the fun bit is watching the drink orders change, from the 5pm beers and proseccos, and then you get the dinner crowd who are ordering wines and cocktails, and then you get the after dinner crowd, for who it's just cocktails, and then at midnight it's Gin & Tonics, Vodka Lime & Sodas, and shots and beers."
And as you'd expect from a bar that's trading everyday of the week until the wee hours, prepping for the list is crucial.
ADVERTISEMENT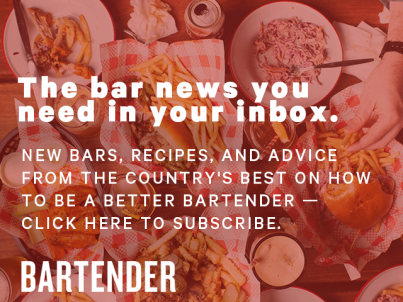 &nbsp
"We've got a lot of syrups and a lot of purees, so everything is done beforehand because we don't want to ever stop making drinks," says Garner. "We want to get you out a cocktail in two minutes time and have as good a cocktail as anywhere else faster and better."
Given that there are a number of Employees Only bars around the world — there is the New York original, Singapore, Hong Kong, Los Angeles, and Sydney — there are a few drinks on the list you'll find no matter which city you're in — the Common Sense and the Ginger Smash are two that we have featured here.
But other than that, the local bartenders are given free reign to get creative.
Take a look at three recipes below.
[ultimate-recipe id="48930″ template="default"]
[ultimate-recipe id="48927″ template="101″]
[ultimate-recipe id="48918″ template="101″]