April has kicked off, you've pulled the warmer clothes out from underneath the shorts and tees, and we're smack bang in Autumn. And if you're anything like us, you're are also wondering why time seems to fly as it does. We're already in April?
I guess we're just having a good time, right?
And we figure you have had a good time too. So, in case you might have missed one or two stories from last month, here's the biggest stories from March that you should be across.
1. Fancy working in Berlin for three months this summer?
ADVERTISEMENT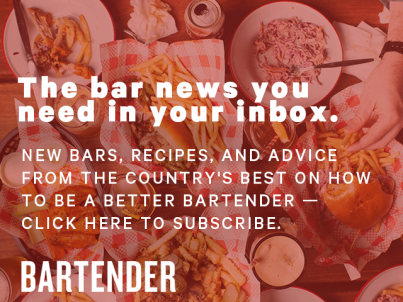 &nbsp
Are you into a vibrant bar scene, the most exciting nightlife in the world, workshops, master classes, heaps of events and quite possibly the best time of your life? Well, if yes, in 2019 Jägermeister will give the chance to three young talents to head to Berlin for three months.
Click here to read the full story.
2. How smart a bartender are you? Take this 10 question Bartender of the Year practice quiz
Australian Bartender magazine's Bartender of the Year sponsored by BACARDÍ & De Kuyper is the toughest test of bartending ability going around, and it's back again in 2019.
Taking place over two days during Sydney Bar Week (September 14-18 2019), the Bartender of the Year sponsored by BACARDÍ and De Kuyper has got a great prize in store for this year's champion. Not only will you score national bragging rights as the top bartender in the country, you'll also go on a bartending trip to remember to visit Tales of the Cocktail in New Orleans and receive a wildcard entry into the semi-final round of the next instalment of BACARDÍ Legacy.
Click here for the quiz — it gives you a sense of the the kind of things you'll be asked in the exam, but be warned: there'll be many fewer multiple choice questions.
3. How to get started with ferments in the bar (the Bulletin Place way)
For this month's How To, we spoke to Evan Stroeve, the bar manager at the much-lauded Bulletin Place in Sydney. Stroeve has been playing around with different fermented drinks for a while now, since his days at Shady Pines Saloon.
4. Kate McGraw on what to expect when Bondi bar Isabel opens
Bondi is set to welcome an izakaya into the neighbourhood when new bar Isabel opens in May.
Isabel is a collaboration between Geraint Coles and Mitch Slattery from Panama House, and Michael Riley of Milk Box and Sam I Am. The bar draws on the idea of an izakaya — which in Japan is a casual bar in which food and drink share equal billing — but it won't be your traditional izakaya.
5. What to expect when Bar Margaux opens from the team behind The Everleigh
There's a new bar coming for Michael and Zara Madrusan, the people behind the Made In The Shade Group which owns some of Melbourne's best bars, The Everleigh and Heartbreaker. The group plans to open Bar Margaux in May, in a basement on Londsdale street in the Melbourne CBD.
Click here for the full story.
6. The Royal's Stephanie Haile talks hospitality & training a big team
When a company like hospitality heavyweights, Merivale, take over a locals' pub, there can be challenges — sometimes, the locals might be wary of a bigger company taking over their favourite watering hole.
But that's why Merivale has managers like Stephanie Haile. Haile is the bar manager at The Royal and Totti's in Bondi, and actively worked to reach out and court the locals, building lasting relationships along the way, as she explains here.