If you follow the bar world like we do, then you'll no doubt be aware: there is always something on the go with the Speakeasy Group. They're the group behind bars like Eau de Vie in Sydney and Melbourne, Boilermaker House, Nick & Nora's, and of course, the viking-inspired eaetwery and bar that is Mjølner.
It seems like a week doesn't pass without a new announcement from the group: they're opening a Nick & Nora's in Melbourne; they're crowd-raising investment in their company; they've developed a mentorship program — the list goes on.
And we suspect that's why Alex Dahlenburg, Mjølner Sydney's general manager, likes working for the venue which recently turned two years old.
Here she details what a recent day was like for her, and spoiler alert: it includes the launch of their very own whisky, and a whole lot more.
As told to Sam Bygrave.
ADVERTISEMENT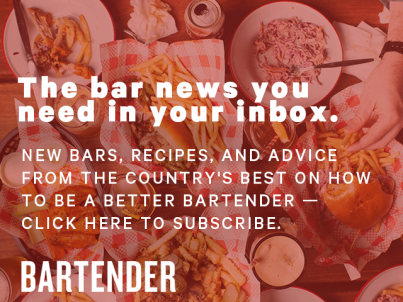 &nbsp
7:30am: My angry alarm goes off – SNOOZE.
7:39am: My angry alarm goes off – SNOOZE.
7:48am: My Angry alarm tone yells at me to get up – I get up! For those of you who have dropped in to Mjølner unannounced you'll know I look like I've just rolled out of bed and pulled on a distillery shirt, ripped jeans and boots. That's because I literally just have.
8:11am: I'm pulling on my Durango boots and walking out the door.
8:17am: I'm at Essence Coffee Shop, every day, rail hail or shine. It's a hole in the wall in Neutral Bay, their coffee is my crack, with a side of toast with peanut butter. 
8:25am: Turn on some country music, jump in Prada, my VF black Commodore and start the drive. Some mornings it takes me 25 minutes driving to work, sometimes its 40 minutes to travel the 9.5km.
8.50am: I arrive at work and I always like to do a walk through with the cleaners when they're done. I check closing procedures sheets and the cleanliness of the venue. Then I go over the bookings and make sure the rosters are all good for the next 48 hours. Last night the team did awesome figures with a 97pax dinner service on a Wednesday which ran incredibly smoothly from the nightly report.
I like to be in early so I can get a lot of my work done before the team comes in so I can focus on them when they're in. They're the heart of this operation and they keep the day to day going, which allows me to look at the big picture of looking after the business. I'm on the door at least two services a week but the venue is my home 24/7 – I don't and never will work from an office offsite and I sit next to the hammer every day. Sometimes I'm working on projects until late at night, sometimes I cancel my plans because we've had a sick call or the bookings increase and I'm getting down and dirty on the floor with the team. Sometimes I go to amazing whisky events; sometimes I get to go home.
9:45am: Phone call with our events and merchandise manager Kate on merchandise par levels for up coming external events like Meatstock and Comicon in both Sydney and Melbourne. We've sold over 1000 horns since we started our merchandise in venues and now we're live on our website. We also talk about the designers we're enlisting to do our t shirts. She's just converted some huge events for Mjølner in the last 24 hours and she's excited. She's awesome and loud!
10.15pm: Check into Ananas, our training platform recently launched by [Speakeasy Group directors] Sven [Almenning] and Greg [Sanderson], check over my team's scores and the new starters to see how their progressing. We have a new training to do on company policies.
11:00: I have a phone call with our HR manager Katina O'Dwyer about putting together The Speakeasy Group Mentorship program for Sydney, Melbourne's Mentorship program is currently in its recruiting process for the second time. The first year was super successful with Brandon Jo our first mentee being nominated for hot talent award at Melbourne Time Out Bar Awards.
11:30: We have some pretty big projects that are finally coming to fruition after a year's worth of work, one is a potential pop up in Singapore taking our drinks, food and whisky love over there. I have a phone call with Maddie Nunan, our amazing National Media, Events and Communications manager (she's badass) about the gist of the events, the exposure and the equipment logistics. So far we've hauled knives, horns, shot glasses and napkins all over Australia and for this event we're talking international shipping of weapons. 
11:50am: This is where the kitchen team start rolling in and delivery time starts, peace and quiet has finished for today. Boxes are loaded down, checking off the weights, produce, invoices and temperatures of the deliveries. We order around 1 tonne of short rib a month and haul it down 2 full flights of stairs every day
12pm: Our new apprentice in the kitchen starts today, we have his training manager in and we sign his life away. I love getting a new member to the family, they're always enamored with the venue and it renews my love for it.
12:30pm: my weekly kitchen catch up with Joachim Borenius, our Head Chef. I have a weekly catch up with all our managers and I do fortnightly catch ups with the assistant managers. We go through what's on, team management and any help they need with their projects or management issues they are having. 
Chef and I set a date for our April planning session for our new menu roll out. This is about 4-6 weeks of work we will be managing to release the new menu. I work off pictures with my process, he's magic in making some of my visions feasible and brings his own awesomeness to the plate. My next obsession is crab and mallets!
1.15pm: I head back to my emails and I get a very exciting email saying that the whisky we are releasing soon with a very exciting Scottish distillery has an arrival date to Australia. I am so fucking excited about this, this has been a year long project and I can't wait to hold the bottle. I jump up and down, do a little happy dance, I may cry and run around and tell the whole kitchen team… They don't share my enthusiasm.
1.20pm: My professional composure returns and I compile a very professional email response.
1:23pm: I put on some Johnny Cash to celebrate – the kitchen team still doesn't share my enthusiasm.
1.55pm: Alissa Gabriel and Ben Hunter arrive at the venue. Alissa is currently working on four cocktails for the launch of the highly anticipated Game of Thrones whisky at the venue next week. Ben starts prep and this is usually where I lose control of the music. We move to nineties dance favourites, Benny's preference being Spice Girls or Disney theme songs. 
2.03pm: I call the legend Dan Hutchins-Read (DHR) from Baranows Emporium to set up a virtual tour of Westward Distillery for our team for a whiskey training session. I was fortunate enough to do a bit of a tour with Miles Munroe, Head Distiller while he was at Whisky and Dreams (and debauchery) in Melbourne (Thank you Gin Palace and Hats and Tats… I'll never be the same again). DHR and I also talk about the new Adelphi allocation for The Speakeasy Group and a consumer dinner with a pretty big name in whisky, Alex Bruce who is touring in June. Happy Dance Volume two ensues. 
2.28pm: I set aside some time today to write up a yearly performance review for one of the team. I type this up on while attempting to make friends with a salad wrap, wishing it was a burger and hot chips.
2.53pm: I get a confirmation email from Greg that we are executing the new Duty Free Highland Park releases with Mjølner in both Sydney and Melbourne international airports. Bringing Duty free releases into our venue and sharing the Mjølner love with all in bound travellers. I share this with the team and put it on the agenda for the management meeting that happens every Friday. We'll be doing some Mjølner training out with the airport teams.
3pm: Restaurant team start arriving and setting up. The fiercely competent Elizabeth Iglesias is running the restaurant tonight and we've got around 70pax on the books. This is generally where I get the low-down about last night's after work team shenanigans. I live vicariously though them.
4pm: Family dinner time. Kitchen puts up food for everyone and the team sits down and eats. We usually try and keep staff meals healthy.  The team get really spoilt with meals. The kitchen team constantly try and one up each other when it's their time to cook staff meal, it's really important that the team are well fed.
4.06: I have a meeting with the wonderful Annique Claire from Asahi to check out the new range of Schweppes sodas and talk about Nikka whisky products.
5pm: Our event manager and I have a site inspection with Sweet and Chilli regarding the Game of Thrones Whisky launch and going over final run sheets and drinks.
5.25pm: Quick chat over the pass with the restaurant team about hiring, as we have some team members stepping up into new roles so we need to hire a few more guns on the floor (if you're interested flick me your resume to alex@speakeasygroup.com.au)
5.35pm: I don't have an office at Mjølner so there's no place for me to really work once we're open so I leave the venue and drive home, mostly swearing at the Sydney traffic and I generally use this time that I'm trapped to make any phone calls I have missed during the day. Today I call my Mum and [Balvenie ambassador] Ross Blainey – two of my favourites!
6:15pm:  I'm home, first thing is first… I take my jeans off which is the best part of my day. I hate pants. Opening my laptop again, I post the roster with the final changes to it for the event next week and send off the wrapped up email to Singapore with all my fingers crossed. Getting my best work in now the social constraint of jeans is no longer enforced.
7:00pm: Time to jump in the shower and get pretty because I'm going out tonight with the traitor that is Ross Blainey who is off to Trump Land. Jeans, distillery shirts and boots is my comfort zone so this is always a traumatic experience and I generally trash my units with failed attempts of outfits. Hopefully I'll wake up fresh and do it all over again tomorrow, hopefully….