When we ask people who know the Brisbane bar scene well just who it is we should be keeping an eye out for, one person has consistently come back at the top of the list: Kayla Reid. She runs the show at Savile Row, the Fortitude Valley bar that was awarded the 2018 Best Bartenders' Bar title (and is owned by Martin Lange), and has been making quite the name for herself in the process. Below, she tells us about her journey so far, and some of the challenges she's faced.
As told to Sam Bygrave
I am the venue manager for Savile Row in Fortitude Valley, I've been part of the team since we opened. I moved over from Cobbler, Marty [Lange, owner] thought I would suit the Valley and suit the pace better. 
From the outside, it's pretty hidden — a lot of people don't know what it's like until you walk in and there's this grandiose chandelier and this absolutely stunning back bar. You see people's faces drop, it really does have that X factor. Even when I walk in there it's still like, holy fuck, this is one of the most beautiful bars I've ever seen.
We have a lot of whisky, but we don't like to call ourselves a whisky bar — we like to call ourselves a cocktail and spirits bar, because we do everything. We like to cater to everybody, no matter what you're looking for, we're going to be able to provide it at Savile Row. We just have a passion for what we do. I like to think that cocktails play a massive part in what we do at Savile Row — most of us have a pretty strong background in cocktails.
ADVERTISEMENT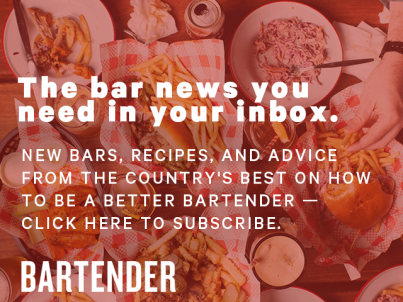 &nbsp
A lot of people give competitions a lot of shit these days, but I think it's an integral part of becoming a great bartender, because it forces you to do this background research, it forces you to look further into things, because you really need to prove you know what you're talking about. I think it helped me exponentially in my career, to network and to put my face out there and for people to see what I am capable of. I loved it — I have a pretty competitive streak and I thrived up there, I thought it was so much fun.
When I took on the role, it was a big one for me — I'd never taken on a position this big. Marty approached me, and I didn't know, but he said that he wouldn't have asked me if he didn't think I could do it. It was the next step for me to move up into that position, and I'd been there since the beginning so I knew the ins and outs of the venue. But I had a lot of self-doubt, moving into that role at what people do call one of the best cocktail bars in Brisbane, this was a huge move for me.
I was 24 when I took the role on, which is still quite young for someone to take on a venue manager position of that magnitude, so I think I was doubting myself a lot going into it. 
But Marty has always had my back, he's always pushed me and over those 10 months I've been doing it, he's like, "Man, you've grown so much, and I really appreciate it. I'm proud to have watch you grow and move into this role and make it your own."
I don't like saying that being a female makes it harder, but I think there are few more stepping stones. Especially working in a bar that has so much whisky, a lot of men just look past you because you're just this little blonde girl. But I think it's changed a lot even in just the past year at Savile Row.
I've been in hospitality for probably 10 years, I did cafe work for a long time and was a head barista for four or so years before I decided I wanted to broaden my horizons and start bartending. 
I started out at Archive Beer Boutique, in West End, and I learned a lot about craft beer. I was also working upstairs in Loft, their cocktail bar, so that was where I cut my teeth in learning about the beginnings of booze. 
I was offered a job at Lychee Lounge, which is back when it was the A-Team, when it  Pez Collier, Cameron Pirret, and Thomas Ham were working there, just before the Moubaraks sold it — I was lucky to squeeze in there and get the final hurrah of that era. I learnt so fucking much from them just in the four months I was there. I was in that sponge state, where I was taking in every single thing I could take — I feel so lucky to have worked with all of them.
Right toward the end of my time there, Dave Marshall offered me a job at Lefty's — that's where I really learned how to sling piss. I was running the cocktail bar at the top, Mermaid, and I was dancing on the bar top most nights, spraying people down, taking my clothes off and just having a fucking good time, right? So my time eventually came to an end there — I was there for about a year and a half — and I don't think I could have lasted much longer.
I messaged Marty one night, and said I was floating around and did he need a rockstar [shift]? I went in there, and it was awesome — I loved it. From the get-go I loved the team [at Cobbler], Samuel Tripet had just started working there, Alex [Lange] was still there, Eliot Pascoe was still there, and it got to the end of the night and Marty was like, "Hey, do you want a job?" I was like, fuck yes. I guess the rest is history.
It's cool to have worked with some weapon bartenders that have come through Marty Lange's doors and be a part of that. I think the new generation of bartenders is rising now, obviously I'm still young, but it's cool to be moving to the other side and to see the greener rookies moving up, and seeing how Brisbane is changing and how everyone is developing.