We're big fans of Sydney's very own dive bar (with added cognac), Ramblin' Rascal Tavern — we even asked them to take over the mag for a month last year (and yes, we're still surprised they didn't burn the whole thing down).
In addition to celebrating their fifth birthday earlier this month, they've also made a few changes to the team at Ramblin' Rascal, as the owners look to open their second bar in the Sydney CBD, Double Deuce Lounge.
That new team has seen them release their latest cocktail list, which pays homage to the great bars of Sydney that the Rascal crew count as friends: you'll see a drink called The Baxter Tin (the inspiration behind which we really need not explain), and the Maybe Sammy tribute, the Definitely Sammy.
You get the idea.
Below, we speak to Charlie Lehmann about the new cocktail list for Ramblin' Rascal, the new team, and just when to expect Double Deuce Lounge to open its doors.
ADVERTISEMENT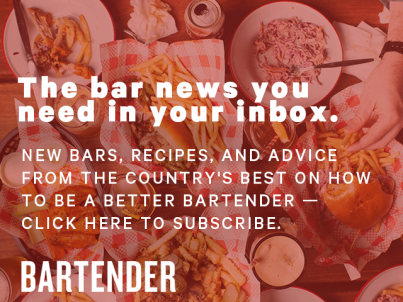 &nbsp
What's the big idea behind the list?
We wanted to show some love to our mates, the ones who put up with us when we shred through their joints leaving a trail of boozy love. We think we'll continue with the theme because its a whole lotta fun coming up with twists on names of some of our favourite joints.
How important is the sense of community between the bars you've chosen to pay homage to?
It's very important for us. These are peers, mates and mentors, bars who we frequent and want to see do well and we are only just getting started, wait until we release "Plain Enslaved" (Fancy Free) or Sunny Palms (Shady Pines) we want to rip into everyone we love coz thats what mates do.
Who developed the drinks on the new list? How long did it take?
This one was an all team effort with each team member dedicating a drink to the list and all of us sitting down and tweaking the drink if need be. From concept to execution it took around a month to punch out and then out to paper/menu.
Tell us a bit about the current team at Rascals?
The current team is the youngest to ever work behind the stick at Rascal. Our rookie is Amy Hilder who is a killer lady from Frankies and a short stint at Shady Pines. We also have Olly Hedges who is ex-Big Poppa's and grew up in Oxford but didn't got to the famous college no matter what shit he tries and spills to you. Our top dawgs are Marty Bailey, general manager and all round top bloke, who has been running the show while we try get Double D off to a flying start. He embodies everything the big three in Dardan, Cosmo and I are and then some. His second in charge is Dylan, ex-Wild Rover, funny bastard and spicy boi. We also have Angus "Beef" Thompson, local heart throb, from the Northern Beaches who'll be joining us at Double Deuce when we get it open. We cannot leave out our life blood bar backs in Phoenix Angel, the man I paid $100 to shave his hair like George Costanza and Johnell Farrell who has the most luscious long hair you ever damn seen!
Also those three dick heads on the coasters float around getting saucy on the regular.
When the hell does the new joint open?
Imma say next week after Easter and will this thing into existence!