It seems to be the thing to do these days before you open a bar: take the bar on tour.
We'd seen Melbourne's Fancy Free team do their thing in Shanghai, of all places, long before they got around to opening their Little Collins street venue a couple months back. The talented Kate McGraw took forthcoming Bondi izakaya, Isabel, on the road to Melbourne a few weeks back too, showcasing her own particular brand of drinkmuaking at the iconic Black Pearl. And Double Deuce Lounge, the new bar soon to open from the team behind Ramblin' Rascal Tavern, also popped up recently at Fancy Free.
It's also what the team behind forthcoming Brisbane bar the Lucky Duck Club will be doing as well. The trio behind the bar — Nick Miles, Kyle Weir, and Dave Marshall — have got a number of tour dates lined up, kicking off in Noosa this weekend on Saturday 27th at Village Bicycle.
The trio have some good form: Miles is the 2018 Brand Ambassador of the Year (and formerly the national ambassador for Sailor Jerry); Weir has spent a significant stretch of time with Solotel; and Marshall was leading the charge at Lefty's Old Time Music Hall for years. They plan on bringing their own dive-bar-meets-delicious take on hospitality and drinks around the country — take a look at the dates below — so we asked them to shed some light on what the punters can expect, and what's the big idea with touring a bar before the bar opens.
Who is behind the Lucky Duck Club?
Nick Miles: Well! There's the three of us, Dave Marshall, Kyle Weir and myself. We all met in the early stages of our hospitality careers in Brisbane's Fortitude Valley, bonded over many (sometimes) memorable nights and developed a great rapport between each other. Years went passed where some of us migrated interstate but always kept in touch. A few months ago we found ourselves all back in Brisbane and wanting to create a concept of our own. We sat down, had a few beers, pooled our considerable knowledge in the hospitality industry and created the concept of the Lucky Duck Club.
ADVERTISEMENT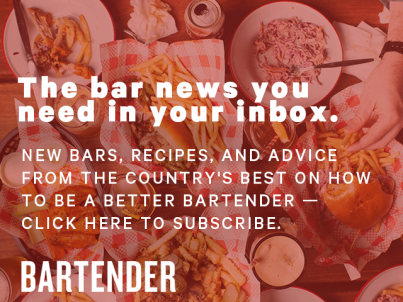 &nbsp
What is the big idea behind the concept?
Kyle Weir: The Lucky Duck concept is a collaborative dream bar between the three of us and we believe it could fit in the Brisbane hospitality world nicely. We base the concept off pure fun and accessibility with a huge customer experience focus combining this with our favourite venues around Australia. We'll be creating a bastard crew as a result… no holds barred when it comes to providing a kick arse event. (Sometimes a driver might be required to scoop us up after a particularly huge day… Dads are always good for that, aren't they?)
Why are you doing these popups?
Dave Marshall: We sat down and spoke about our goals and what we want out of these pop ups and came to the conclusion we want to raise awareness for our future brick and mortar venue we're hoping to open up down the track. Initially, we'll be showcasing what we're about and putting our ideas for the beverage offerings into practice to gain feedback, while at the same time throwing one hell of a party. The regional areas won't be forgotten with events from Noosa to Melbourne being just as exciting as the CBD events (Brisbane). We're pretty psyched to share our new venture with everyone around this beautiful rock we call the great Down Under!
Tell us a bit about the canned cocktails you're doing — why? What are they?
Nick Miles: The canned cocktails idea came from us wanting to elevate both the quality of our beverage offerings alongside the efficiency side of things. As we all know, it's often tricky to get both of these factors happening when your punters are 10 deep. We can focus our time and energy into by prepping in advance, canning then carbonating the drinks, which leaves us more time providing killer service and hopefully developing loyal customers. They'll be the classics alongside some unique recipes that we want to challenge ourselves with. We're also psyched with being able to recycle all of our cans and strive to have the same can back in hand in four weeks!
What an we expect on the drinks side of things?
Dave Marshall: I think our natural instinct is to push boundaries and that's what we aim to do. We definitely don't want to open a venue of our own and it be the same as the bar down the road. We aim to take away the sense of theatrics of cocktails and just focus on how they taste and what you experience when you drink one of them.
They'll be from our library of classics with a spin to completely original recipes pushing boundaries of what regular consumers know about brands we're pouring.
Our beverage offering will range from super low ABV drinks to the likes of unique Boilermakers… we want to offer something for everyone and we couldn't have done this without our sponsors Bacardi and Young Henrys.
What is the service style and why?
Kyle Weir: These pop up events are pretty much to showcase that a killer dive bar team can still make killer drinks and cater for any crowd, regardless of gender and work backgrounds. An "all is welcome" policy will be implemented on the door and this will continue all the way through until the close of the venue. (Dickheads obviously not welcome.)
The three of us have been in the game for a long time and we know how important our customers' experiences are. This is our number one priority so offering the elevated level of service in a pretty rock n' roll way is everything we want to be about.
When are you planning on opening the permanent home to LDC? Where will it be?
Nick Miles: If only we had a dollar every time we've been asked where we'll be setting up shop. But honestly we are taking our time and don't want to rush anything yet. There are opportunities there we're closely looking into and until we find that dream place we want to make sure it's a solid choice. Gotta get those ducks in a row.
Lucky Duck Club Tour Dates
Saturday 27th April — Village Bicycle, Noosa
Sunday 26th May — Brisbane (Indie Spirits Tasting After Party)
June — Melbourne
June — Sydney
July — Adelaide
Follow the guys on Instagram at @luckyduckclub for more details and updates.