You know what the thing is about Hobart? It's really hard to hate. It's hard to dislike. It looks pretty. There are plenty of bars (and one of our favourite pubs, ever). Then you have all the lovely produce and wine and spirits, and the people? Well they're great too.
Needless to say, if you like your cities chaotic and indifferent to your very being — as I like my cities — Hobart is going to be a challenge for you.
But it's a challenge for which it's worth getting over yourself, for all those reasons mentioned above.
We were down there back in February for one night — it was a Sunday, and as you might expect there were a few bars we were keen to get to that were closed for the night. But we got in a few great ones — a special shoutout goes to Gold Bar for putting up with a group of 10 of us swamping their small space — and got a taste of the good stuff that Hobart is doing for the Australian drinking scene.
Here's a few of our favourites from the trip.
ADVERTISEMENT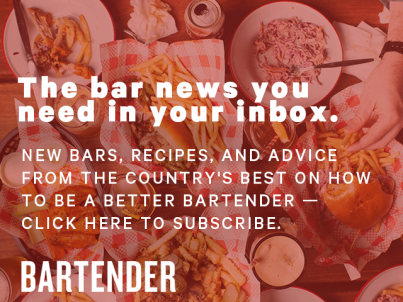 &nbsp
New Sydney Hotel
87 Bathurst St, Hobart
We love cocktail bars and small bars and dive bars but you know what? Sometimes we like — nay, need — a great little pub. The New Sydney Hotel is the answer to that need.
Yes, the Guinness here is good and yes, there's plenty of bric-a-brac plastered across the walls, but there's also — should you desire to complicate matters — a range of Australian craft spirits that would put most cocktail bars to shame, and plenty of crafty beer on tap (you know, if hops are your thing). 
It's the kind of place where the bartenders on a Sunday afternoon know all the old boys as they roll in, greet them by name, pour their regular beer and have a chat.
IXL Long Bar
25 Hunter St, Hobart
We've been hearing about the IXL Long Bar for a while (they've been a regular fixture of the state awards categories at the Bartender Magazine Australian Bar Awards since their inception), but it took until this visit to realise the genesis behind the name: IXL, as in, where the IXL jam factory used to be. 
The thing we liked about this place was the cocktail list: it's one of those no-nonsense lists that put classic cocktails front and centre, with the occasional modern classic mixed in for good measure; we hadn't had Sam Ross' Paper Plane for a while (check the Classic section up the front of the magazine this month for the recipe), and the guys behind the bar did a great job on the drink's execution.
Our advice? Get here as the sun goes down, grab a cocktail and sit outside (they don't even mind if you put your feet up).
The Glass House
Brooke Street Pier, Franklin Wharf, Hobart
The Glass House is blessed with a crazy beautiful view. It virtually juts out on the water at the end of Brook Street Pier, and is as good as you get when it comes to rooms with a view.The drinks here, too, are as good as you're likely to find anywhere, be it in Hobart on across the country more broadly. Give their Antipodean a go; it's  a delicious riff on a Bamboo cocktail with Aussie ingredients; their Tres Amigos is so delicious it should be illegal. 
The staff, led by award-winning Hobart bartender Niall Maurici, are super attentive and doing a fine job with the drinks.
Gold Bar
Suite 3, Ground Floor/11 Morrison St, Hobart
This bar has to be one of our favourite finds this year. We love Melbourne's Bad Frankie for their singular focus on Australian spirits, and whilst Gold Bar isn't as zealous on the only-Australian selection policy (there's a bunch of good stuff from outside our fair shores should you decide you need it) they've gone hard into the Aussie craft stuff. The space is small — what we understand is a labour of love for its owner, Ian — and there's some blues playing on the jukebox, but the service is intimate and friendly and knowledgeable, and the drinks memorable. If you ask us, it's a must do on any visit to Hobart.
Evolve Spirits Bar
18 Hunter St, Hobart
You know, if you don't like dead stuff and bones, you may wish to skip this place. There's a great big skeleton of some sort of animal in the middle of the room (that frankly we were too taken with the drinks to notice the name of). Located in the MACq 01 Hotel building (again, down on pier jutting out over the water), the view is as picturesque as the drinks from bar manager Daniel Gregory are delicious (which is to say a lot). 
They've got some great local Australian spirits, as well as rare stuff from around the world, some of which you can purcahse by the bottle and leave at the bar for your next visit.
Rude Boy
130 Elizabeth St, Hobart
Rum delights and tiki good times are perhaps not the first thought your brain skips to when you think of southerly Hobart, but the guys at Rude Boy thankfully don't seem to care.
The team here is handy with a Daiquiri, and the interior screams You're Gonna Have A Good Time. They're making some ridiculously delicious Caribbean-inspired eats as well (you're going to want the spiced chicken ribs whilst you drink), and tapping some of their own sodas to boot. Throw in a fantastic rum selection (and a killer wine list), and yes, it would be rude not to have a good time.