The Indie Spirits Tasting Brisbane is back for its fourth year at Lefty's Old Time Music Hall on Sunday May 26 from 1pm till 4pm. The event is presented by the team here at Australian Bartender, the country's leading drinks mag for the bar industry, and will give you an inside track on the latest indie spirits to hit the market, with a focus on handcrafted and locally-made hooch. Tickets are just $55 and includes snacks, seminars and tastings.
There are 27 exhibitors at Indie Spirits Tasting Brisbane with more than 100 spirit brands on show including loads of local brands and little known drinks. Here is the full list:
Agave Love – Agave Love Book
Alpen Liquor Wholesalers – Feingeisterei Wahrer Vodka, Feingeisterei 5 continents Gin, & Absacker Black Label
Brix Distillers – Brix White, Brix Gold & Brix Spiced
ADVERTISEMENT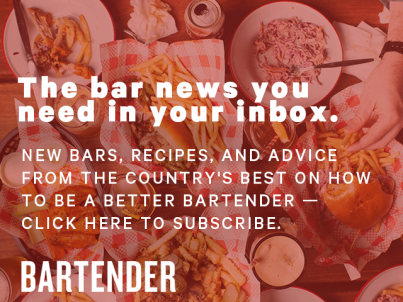 &nbsp
Calibre Craft Spirits – Whipper Snapper Distillery, Hellfire Bluff distillery, Mount Compass Distillery, The Grove Distillery
Cerbaco – Distillerie et Domaines de Provence Aperitif 'Rinquinquin a la Peche' (Peach), L.N. Mattei Cap Reserve Rouge (RED), L.N. Mattei Cap Corse Quinquina Blanc, Dubonnet Rouge Aperitif, Massenez Pastis 1811
Charles Oates Distilling/Sullivans Cove – Sullivans Cove XO Single Cask Brandy, Sullivans Cove XO, Double Cask Brandy, Charles Oates Fine Apple Brandy Single Cask, Charles Oates Blanco Apple Spirit, Charles Oates Pommeau (TBC)
Chase Distillery – Chase GB Gin, Chase Pink Grapefruit Gin, Chase Sloe & Mulberry Aged Gin, Chase Rhubarb & Bramley Apple Gin, Chase Seville Marmalade Gin, Chase English Potato Vodka
Fonzie Abbott – Wishbone gin & vodka
Four Pillars Gin – Four Pillars Rare Dry Gin, Navy Strength Gin, Spiced Negroni Gin, Sherry Cask Gin No. 2, Chardonnay Barrel Aged Gin No. 9 & 2019 Bloody Shiraz Gin
Husk Distillers – Ink Gin, Husk Pure Cane & Husk Virgin Cane Rum
Kalki Moon – Kalki Moon Premium Gin 42%, Kalki Moon Pink Gin Liqueur & Kalki Moon Choc/Hazelnut & Vanilla
Lacey's Hill Distilling Co – Neutral Australian Vodka, Dry Australian Gin, Lemon Myrtle Dry Gin, Moreton Sunrise Botanical Gin, Apple Pie Moonshine
Lord Byron Distillery – Lord Byron Distillery Vodka, The Promise Aged Rum, Silver Rhum Overproof, Silver Rhum, Limoncello, Cellar Door Gin
Luxe Wine + Spirits – Elephant Gin, Cambridge Distillery Japanese Gin, Linie Aquavit
Melbourne Gin Company – MGC Dry Gin & MGC Single Shot
Milton Rum Distillery – Spiced Cane Spirit
Never Never Distilling Co – Triple Juniper Gin, Southern Strength Gin, Juniper Freak Gin & Fancy Fruit Cup
Noble Spirits – Artisan Drink Co., FAIR., StacheHouse
Applewood Distillery/ Økar Amaro/ Carter's Original – Applewood Australian Gin, Applewood Myrtle Gin, Carter's Original Coffee Liqueur & Økar Amaro
OGS Distillery – Finesse Vodka, Finesse Gin, Finesse Gold Standard Vodka, Finesse Gold Standard Gin, East Coast Kaoliang, East Coast Kaoliang aged on American Oak, East Coast Kaoliang Aged on French Oak
Old Young's Distillery – Old Young's Gin & Vodka
Prohibition Liquor Co – Prohibition Gin, Prohibition Bathtub Cut Gin
Proof & Company – Ableforth's Bathtub Gin, Ableforth's Sloe Gin, Ableforth's Rumbullion, Ableforth's Cherry Brandy, Mancino Secco, Mancino Bianco, Mancino Rosso, Mancino Chinato, Rinomato Aperitivo, Rinomato Americano Bianco
Southtrade – Mr Black Coffee Liquor, Mr Black Amaro Coffee Liquor, Starward Two-Fold Whisky, Starward Nova Whisky, Adelaide Hills Distillery 78? Degrees Gin, Adelaide Hills Distillery 78? Degrees Sunset Gin, Adelaide Hills Distillery and Something Wild Green Ant Gin, Cape Grim 666 Original Vodka, Cape Grim 666 Autumn Butter Vodka, Cape Grim 666 Lemon Myrtle and Honey Vodka
Think Spirits – Cargo Cult Rum – Original Spiced Rum + Banana Spiced Rum, Italicus Rosolio di Beramotto Aperitif Liqueur
Vanguard Luxury Brands – GlenAllachie Whisky, Barsol Pisco
White Light Vodka – White Light Vodka Original, White Light Vodka 47, White Light Vodka Barrel Aged, Triple G Gin – Australian Dry Gin
Tickets to the Indie Spirits Tasting are $55, which includes your tasting ticket, eats, and access to one of a kind seminars — but if you book yours now you can lock in the early bird price of just $35 plus booking fee. Click here to get your ticket before the early bird price goes.
Book now!
What: Indie Spirits Tasting Brisbane
Date: Sunday 26 May, 2019
Where: Lefty's Old Time Music Hall, 15 Caxton Street, Petrie Terrace
Time: 1pm to 4pm
Tickets: $55 — click here to get yours.
Indie Spirits Tasting tours the country with events in Sydney, Brisbane, Perth & Melbourne. For more information visit www.indiespiritstasting.com.au
To exhibit at one of our Indie Spirits Tasting events email david@spantonmedia.com