She's been working since the age of six, and has put in stints at Palmer & Co, Zephyr, and Button. Most recently, the Door Knock bartender has established herself as one to watch.
Below, she talks to Sam Bygrave about her career so far.
As told to Sam Bygrave
This would be my almost third year of bartending. I started out
as a cocktail waitress at Palmer & Co when I was a fresh 18. I think everyone did that fast food thing before they turned 18? I did the
Grill'd in Town Hall.
That was my first official job. I'm Asian, so I've been working illegally for my parents in the bakery since I was six years old. Like, you just walk into the bakery and there's no adults, just the six year old girl saying, "Five dollars please."
ADVERTISEMENT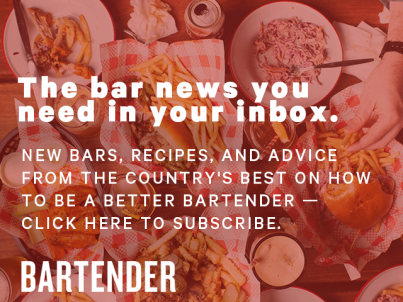 &nbsp
After I turned 18 I really wanted to work in a bar. My parents used to tell me all these cool stories of how my cousins, before they went to university they went overseas, and worked in a bar to make extra money. This is a way to travel. 
It was three years ago when I started at Palmer & Co. It was crazy busy, and I'd never worked in a bar in my life, but back then I worked with a lot of amazing bartenders who really encouraged me to learn and get behind the bar – the first cocktail I ever tried from there was a Twentieth Century, and it blew my mind.
I was at Button — from the House of Pocket — for about a year and that's where I really developed my knowledge and skills. I left Button eight months ago to come here to Door Knock.
It's interesting when people come to Door Knock for the first time, because we have a really creepy, long staircase; it looks rapey but once you come inside I promise it's really cosy and inviting. You find the door, there's a golden pineapple on it, you knock three times and we'll let you in: it's a beautiful and cosy wine and cocktail lounge.
We have a pretty extensive wine list for a cocktail bar, and we have a lot of sherry — everybody here loves sherry. I think the majority of our cocktails use some form of sherry in them.
Bartending is really challenging — I started bartending as a side thing when I was at university, I'm clearly not at university anymore. I dropped out of four degrees before my parents realised I wasn't going back to study. It took about two years into bartending, where I started to accomplish things, where they were like, "Oh, she's not just working in a shitty pub — she's actually doing something here."
I did law for a semester and it killed my soul. With each degree, it wasn't that I wasn't good at it, they just weren't that engaging — I wasn't passionate about it. Whereas bartending, you have to be engaged and focused on five things at one time… it's constantly physical and mental the whole time, so you've got to be switched on.
It's the really small things that you do that makes people's night — making the drink is only one part of being a bartender, and it's not the most important thing. Talking to the customers, having fun with them, or even just refilling a bowl of truffle popcorn that we have here; seeing them super happy and lose their minds about a bowl of popcorn? It's sweet, it's the small things that count.