The Everleigh is one of Melbourne's — and indeed, Australia's — best cocktail bars, and it has always been in the mould of the old school. It's not just the decor or the adherence to a drinks philosophy that priortises the classic over the quackery; it's in the service and in their welcome. It's old fashioned hospitality they practise here.
Overseeing the hospitality is venue manager Bianca Wendt, and she's responsible for making sure that you're having not just a good time, but an experience, as she describes below. So this month, for our look at things on The Other Side of the bar, we asked Wendt to talk us through how service works at The Everleigh, and she points out the importance of not just a hearty welcome into the venue, but the importance of a satisfying goodbye.
As told to Sam Bygrave
I'm the venue manager here at The Everleigh and have been for about eight or nine months now, but I've worked for the company for almost three and a half years. I've had a few different roles, I started off at Heartbreaker, came over to The Everleigh, then moved into a kind of EA role with Michael [Madrusan] and Zara [Young] doing a lot of event based work. Then I was really itching to come back into the service-service-side of things.
When this role came up, I was more than happy to take it on. It's a big challenge, but I absolutely love it.
ADVERTISEMENT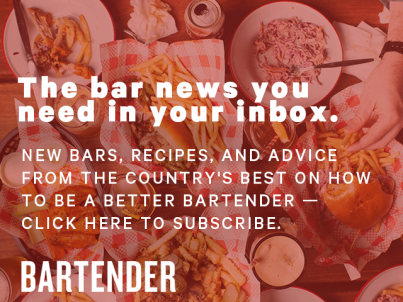 &nbsp
What we really focus on is an experience — we want to offer hospitality at its finest. Whist the drinks are going to always be amazing, that should always be a given — we want people to be warmed by us. You shouldn't have to think about whether or not your drink is going to be good, it should always be good — the rest of it is about our style of service: we want you to feel welcome, to feel comfortable, we want you to have an amazing night — we want to create memories with you.
I started in hospitality when I was about 19 or 20 — it was to earn a bit of extra cash on the side because I was working full time. I started off at Oxford Arts Factory in Sydney when it first opened. When I moved down to Melbourne, I was working at the Red Cross actually, and my partner and I were doing that thing where dining and drinking was a hobby — we loved it, it became such a big part of our life. And then we were sitting down and thinking, this has to stop being just a conversation — let's make it a reality. We both quit our jobs, wrote down some bars we wanted to work at, and it all sort of worked out.
First and foremost, a big hello — we're such a big fan of the big hellos and the big goodbyes [at The Everleigh]. Sometimes as a staff member when you're doing that it can feel disingenous, but then when you hear it — it's so amazing. It instantly connects guests with the people who work here. It's so important for us to break down barriers — we don't want to be an occasion bar, we want you to come and enjoy us any night of the week.
We don't care what you wear, we just want you to come in and have a good time. We're trying to make you feel comfortable.
You have a lot of date nights, occasions — but then again we get so many phone calls where people say they are just wearing thongs and shorts and can they come in? Absolutely.
I'd say we're 70—80 percent table service. The seats around the bar came in last June with the renovation, along with the standing area. That change was a massive shift for us in the bar. When you walk in now you can feel that energy, the casualness of people standing around.
People come past the bar [on their way out] and there's a bartender here, there's someone else here at the pass garnishing drinks, the host is here — you're walking past our people, you're going to get those goodbyes. All it takes is that trigger — if I hear someone saying goodbye instantly I'll swing round and say goodbye. I've topped up their waters, I've engaged with them on some level, I've also welcomed them into the venue too, so it's so important to say goodbye.
Generally, I'll touch every single table — if I've sat them I will be back at some point, topping up waters, finding out how things are going. You have tone knowledgeable about what's happening in each area of the bar.