Every July, bartenders and cocktail mavens from around the world descend upon New Orleans for the drinkapalooza that is Tales of the Cocktail. And it is at the end of the six day festival each year that the Spirited Awards take place, recognising the best bars, bartenders, brand ambassadors and more from the USA and around the world.
They've just announced the top 10 finalists for the 2019 Spirited Awards, and four Australian bars have made the cut this year: the Black Pearl in Melbourne has picked up two nominations, Scout Sydney is up for best new international cocktail bar along with Maybe Sammy, whilst Maybe Sammy's sister bar, Maybe Frank, has picked up a nomination for best international restaurant bar.
Take a look at the full list below.
AMERICAN CATEGORIES
American Bartender of the Year presented by Amaro Montenegro
Julio Cabrera – Café La Trova, Miami, FL
Kevin Diedrich – Pacific Cocktail Haven, San Francisco, CA
Ignacio "Nacho" Jimenez – Ghost Donkey, New York, NY
Julia Momose – Kumiko, Chicago, IL
Mary Palac – Paper Plane, San Jose, CA
Ezra Star – Drink, Boston, MA
Sother Teague – Amor y Amargo, New York City, NY
Masa Urushido – Katana Kitten, New York City, NY
Jillian Vose – The Dead Rabbit, New York City, NY
Christine Wiseman – The Broken Shaker, Los Angeles, CA
Best American Brand Ambassador presented by Tales of the Cocktail Foundation
Camille Austin, Montelobos Mezcal
Megan Breier, Beam Suntory
Kiowa Bryan, Spiribam Fine R(h)um Specialists
Jennifer Contraveos, Bacardi Limited
Tim Cooper, Fords Gin
Sebastien Derbomez, Hendrick's Gin
Earlecia Richelle Gibb, St~Germain
Lacy Hawkins, The Bon Vivants
Vance Henderson, Monkey Shoulder
Johnnie Mundell, Beam Suntory
Trevor Schneider, Reyka Vodka
Natasha Sofia, Davos Brands
ADVERTISEMENT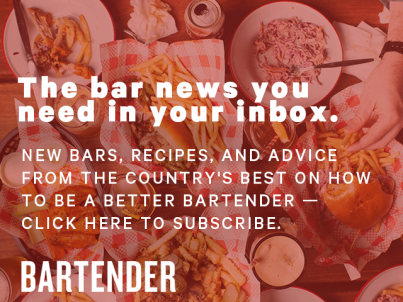 &nbsp
Best American Bar Team presented by William Grant & Sons
Amor Y Amargo – New York, NY
barmini by José Andrés – Washington, D.C.
Broken Shaker at Freehand LA – Los Angeles, CA
Clover Club – Brooklyn, NY
Dante – New York, NY
Herbs and Rye – Las Vegas, NV
Leyenda – Brooklyn, NY
Lost Lake – Chicago, IL
Nickel City – Austin, TX
Polite Provisions – San Diego, CA
Best American Cocktail Bar presented by Select Aperitivo Montenegro
Amor Y Amargo – New York, NY
Attaboy – New York, NY
barmini by José Andrés – Washington, D.C.
Best Intentions – Chicago, IL
Drink – Boston, MA
Julep – Houston, TX
Leyenda – Brooklyn, NY
Navy Strength – Seattle, WA
Pouring Ribbons – New York, NY
Trick Dog – San Francisco, CA
Best American High Volume Cocktail Bar presented by Grey Goose Vodka
Bitter & Twisted Cocktail Parlour – Phoenix, AZ
Half Step – Austin, TX
Harvard and Stone – Los Angeles, CA
Herbs and Rye – Las Vegas, NV
Jack Rose Dining Saloon – Washington, D.C.
Nickel City – Austin, TX
Occidental – Denver, CO
Sportsman's Club – Chicago, IL
The Dead Rabbit – New York, NY
The Roosevelt Room – Austin, TX
Best American Hotel Bar presented by Altos Tequila
Broken Shaker at Freehand LA – Los Angeles, CA
Compére Lapin at The Old No. 77 Hotel & Chandlery – New Orleans, LA
Libertine Social at the Mandalay Bay – Las Vegas, NV
Midnight Rambler at the Joule – Dallas, TX
Sable Kitchen & Bar at the Palomar Hotel – Chicago, IL
The Hawthorne at the Hotel Commonwealth – Boston, MA
The Living Room at The Dewberry Hotel, Charleston, SC
The NoMad Rooftop Bar at the NoMad Hotel – Los Angeles, CA
The Normandie Club at the Hotel Normandie – Los Angeles, CA
The Sazerac Bar at the Roosevelt Hotel – New Orleans, LA
The Spare Room at the Hollywood Roosevelt Hotel – Los Angeles, CA
Best American Restaurant Bar presented by Woodford Reserve
Bar Agricole – San Francisco, CA
Better Luck Tomorrow – Houston, TX
Dante – New York, NY
Empire State South – Atlanta, GA
Gramercy Tavern – New York, NY
Kimball House – Decatur, GA
Nopa – San Francisco, CA
Otium – Los Angeles, CA
The Baldwin – Woburn, MA
The Rieger – Kansas City, MO
The Silver Dollar – Louisville, KY
Best New American Cocktail Bar presented by Elijah Craig Bourbon
Cafe La Trova – Miami, FL
Cleaver- Butchered Meats, Seafood and Classic Cocktails – Las Vegas, NV
Death & Co. – Denver, CO
Existing Conditions – New York, NY
Jaguar Sun – Miami, FL
Katana Kitten – New York, NY
Mr. Coco – Las Vegas, NV
Pearl Diver – Nashville, TN
Raised by Wolves – San Diego, CA
The Polynesian – New York, NY
INTERNATIONAL CATEGORIES
International Bartender of the Year presented by BACARDÍ RUM
Moe Aljaff – Two Schmucks, Barcelona, Spain
Lorenzo Antinori – Four Seasons Hotel, Hong Kong
Monica Berg – Tayer and Elementary, London, UK
Marcis Dzelzainis – Sager and Wilde and Fare Canteen, London, UK
Philippa "Pippa" Guy – The American Bar at The Savoy, London, UK
Vasilis Kyritsis – The Clumsies, Athens, Greece
Tess Posthumus – Flying Dutchman Cocktails, Amsterdam, Netherlands
Kelsey Ramage – PrettyUgly Bar, Toronto, Canada
Remy Savage – The Artesian at The Langham, London, UK
Matt Whiley – Scout, Sydney, Australia
Best International Brand Ambassador presented by Tales of the Cocktail Foundation
Georgie Bell, Bacardi Limited
Dickie Cullimore, Bacardi Liimited
Gareth Evans, Absolut Elyx
Martin Hudak, Mr Black
Daniyel Jones, The House of Angostura
Roberta Mariani, MARTINI & ROSSI
Joe McCanta, Grey Goose
Luca Missaglia, Italicus Rosolio di Bergamotto
Lauren Mote, Diageo Reserve Global Cocktailian
CoCo Prochorowski, Hendrick's Gin
Meimi Sanchez, Havana Club
Best International Bar Team presented by The House of Angostura
Artesian Bar at The Langham – London, UK
Black Pearl – Melbourne, Australia
Fifty Mils at the Four Seasons – Mexico City, Mexico
Happiness Forgets – London, UK
HIMKOK – Oslo, Norway
La Factoría – San Juan, Puerto Rico
Licorería Limantour – Mexico City, Mexico
Lost + Found Drinkery – Nicosia, Cyprus
Connaught Bar at The Connaught – London, UK
The Old Man – Hong Kong
Best International Cocktail Bar presented by Maison Ferrand
Atlas Bar – Singapore
Candelaria – Paris, France
Le Syndicat – Paris, France
Native – Singapore
Satan's Whiskers – London, UK
Swift – London, UK
Tales & Spirits – Amsterdam, Netherlands
The Old Man – Hong Kong
Three Sheets – London, UK
Two Schmucks – Barcelona, Spain
Best International High Volume Cocktail Bar presented by Beam Suntory
Baba Au Rum – Athens, Greece
Black Pearl – Melbourne, Australia
Callooh Callay – London, UK
Central Station Boutique Bar – Beirut, Lebanon
Dirty Dick – Paris, France
HIMKOK – Oslo, Norway
La Factoría – San Juan, Puerto Rico
Oriole Bar – London, UK
Panda & Sons – Edinburgh, Scotland
Schumann's Bar – Munich, Germany
Best International Hotel Bar presented by Perrier
Artesian Bar at The Langham – London, UK
Beaufort Bar at The Savoy – London, UK
Charles H. at the Four Seasons – Seoul, South Korea
Fifty Mils at the Four Seasons – Mexico City, Mexico
Fragrances at The Ritz-Carlton Berlin – Berlin, Germany
Lobby Bar at The London EDITION – London, UK
Manhattan at Regent Singapore – Singapore
Punch Room at The London EDITION – London, UK
Scarfes Bar at the Rosewood Hotel – London, UK
The Bamboo Bar at the Mandarin Oriental – Bangkok, Thailand
Best International Restaurant Bar presented by Tales of the Cocktail Foundation
Danico – Paris, France
Hawksmoor Spitalfields – London, UK
Le Mary Céleste – Paris, France
Les Grands Verres – Paris, France
Maybe Frank – Sydney, Australia
Sexy Fish – London, UK
The Bon Vivant – Edinburgh, Scotland
Tippling Club – Singapore
Tjoget – Stockholm, Sweden
Zuma Dubai – Dubai, United Arab Emirates
Best New International Cocktail Bar presented by Tales of the Cocktail Foundation
Aperture – Montpellier, France
Drink Kong – Rome, Italy
Electric Bing Sutt – Beirut, Lebanon
Lyaness – London, UK
MAYBE SAMMY – Sydney, Australia
Punch Room at The Barcelona EDITION – Barcelona, Spain
Scout at The Dolphin Hotel – Sydney, Australia
The Donovan Bar – London, UK
The SG Club – Tokyo, Japan
Homeboy Bar – London, UK
GLOBAL CATEGORIES
Best Bar Mentor presented by BARSMARTS
Tony Abou-Ganim
Bridget Albert
Colin Asare-Appiah
Jackson Cannon
Dinos Constantinides
Laura Cullen
Iain Griffiths
Nectaly Mendoza
Ivy Mix and Lynnette Marrero
Ago Perrone
Best New Spirit or Cocktail Ingredient presented by TABASCO® Brand
Bacardi Gran Reserva 10
BERTOUX Brandy
Calle 23 Criollo Tequila
Del Maguey Single Village Mezcal Boca del Cerro
Fords Gin Officers' Reserve
Future Gin
Plantation Xaymaca Special Dry Rum
Privateer Rum – New England Rum, Bottled in Bond
Probitas by Foursquare Rum Distillery
Westward Whiskey Stout Cask
World's Best Cocktail Menu presented by Wine & Spirit Education Trust
American Bar at The Savoy – London, UK
Bitter & Twisted Cocktail Parlour – Phoenix, AZ
BlackTail – New York, NY
Clover Club – Brooklyn, NY
Dante – New York, NY
Lyaness – London, UK
Mace – New York, NY
Punch Room – London, UK
The Old Man – Hong Kong
Trick Dog – San Francisco, CA
World's Best Spirits Selection presented by Beam Suntory
Amor Y Amargo – New York, NY
Atlas Bar – Singapore
Bar Swift – London, UK
Leyenda – Brooklyn, NY
Raised By Wolves – San Diego, CA
Rumba – Seattle, WA
Sexy Fish – London, UK
The Beaufort Bar at The Savoy – London, UK
The Hawthorne at the Hotel Commonwealth – Boston, MA
The Office – Chicago, IL