Back in March we brought you the news that two of New Zealand's best bartenders, James Millar and ex-pat Englishman, Barney Toy, had bought one the country's best loved cocktail bars, Mea Culpa, in Auckland.
The duo have since shuttered Mea Culpa, and will — with co-owner Jacob Briars (whom you may know as Bacardi's global advocacy director, or as the creator of the Corpse Reviver Number Blue) — relaunch the bar as Clipper, following a brief renovation and complete refit.
"About a year ago, Barney and I were chatting about how he was looking to relocate to New Zealand," says Briars. "In the meantime I've been involved in a couple of bar projects over that time but both of the bars I had the strongest associations with closed at the end of last year. It's always been both professional and personally interesting to me to keep involved in bar projects, and at the same time Barney was chatting about the sort of concepts he would go to make, and what New Zealand was missing.
"Barney was the driver for it and I simply helped put up some money, because I want to see great young bartenders — younger bartenders [Toy has just turned 35] — get an ownership stake in bar projects. We have a lot of shared things about what we think Auckland and New Zealand is missing, and fortunately we don't think the same all the time so it was obvious I could add some things that Barney didn't [have] and likewise," he says.
And they're hoping to bring something a little different to the Auckland bar scene.
ADVERTISEMENT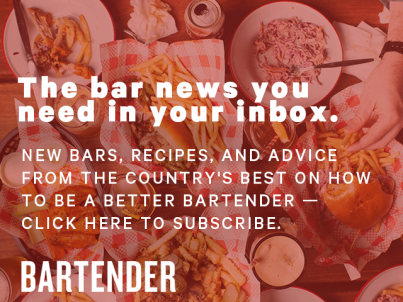 &nbsp
"In New Zealand, that speakeasy vibe has just got there and [Clipper] is the polar opposite, where everything is light and bright with lots of greenery, a kind of Miami hotel lobby bar feel," Toy says.
The idea behind the bar is inspired by what Briars describes as the "international golden age of travel."
"We both have a shared love of great Cuban drinks, but also this golden age period between world war one and 1960, where everything was still quite exotic," he says.
It was that era that inspired Toy to create his Bacardi Legacy cocktail in 2015, The Pan Am Cocktail. That drink saw him go all the way to the global finals in Sydney in that year and narrowly miss out on winning the title.
"The Pan-Am is going to be the house drink," Toy says.
And though there is quite a strong Bacardi family link at the bar — co-owner James Millar also represented New Zealand at the global finals of the competition in 2018 — Briars says that they won't be a Bacardi bar nor a Cuban-themed bar.
"It's the kind of bar where an international golden age of travel theme gives you a lot of licence to play around and not necessarily do only the speakeasy drinks of 1900 or only do locally sourced ingredients — it gives you a lot of freedom," he says. "There's no end of things we can riff on for Clipper."
They are completely remodelling the space, which has a long history in the bar world of Auckland. Mea Culpa began life in 2005, and has had some stellar bartenders do time behind the stick (like former Australian Bartender editor and ambassador extraordinaire, Simon McGoram); Millar was previously bar manager of the bar.
But before it began life as Mea Culpa, says Briars, it was a drag queen bar called Surrender Dorothy's.
"Drag queens used to dance on the bar in stilettos, and the bar is not that high," he says.
When Mea Culpa opened in 2005, Briars was a ready patron.
"I had just moved to Auckland at the time, and I was from Wellington which had four or five really strong cocktail bars, and Auckland didn't necessarily have them," he says. "This was the first neighbourhood cocktail bar [for Auckland] so I immediately gravitated to Mea Culpa pretty quickly, and forged a strong relationship first with Simon and then with the various owners. For me there's a long personal connection."
Given the talent and knowledge of the ownership trio, you'd have to bet they'll be fostering many more personal connections with their guests in the years to come.
You can follow their progress on Instagram here.