For many hospo lifers, one of the hardest things to contend with is the juggle of shift work and consequently how it messes with your sleeping and eating habits. Truth is, we are a 24-hour society, and shift work keeps the cogs of our economy in motion whether it be nurses in emergency, the dude at the BP Express or the glassie tidying up the bar long after the last patrons have gone home. 
There are costs associated with working outside of the conventional nine to five and anyone that does night shifts knows the pitfalls. Sadly, the stats aren't uplifting: shift workers are significantly more likely to experience type 2 diabetes, cardiovascular disease, heart disease and stroke. But does it have to be that way?
We asked Ceri Kidby-Salom (aka Healthy Party Girl), who juggles the hospitality industry with her career as a health coach and nutritionist, to weigh in on this topic and give her top tips for resisting the temptation for grease over greens.
As told to Amy Spanton
Healthy Party Girl started as my health and fitness blog back in 2009. I was working in the Melbourne dance music industry as a music journalist while juggling my day job in marketing and promotions for a label, pole dance and cheer training, and various hospo side-gigs plus studying to be a personal trainer. I wanted to show people that you could be immersed in that environment and still be healthy. It was pretty hard to avoid burning out with so much on my plate, and I ultimately did, but my nutrition was always on point. I think I was able to keep going a lot longer than I would have been able to without taking such good care of myself. I moved to Brisbane and retrained as a health coach and Nutritionist but when I finished I realised that I still wanted to be behind the bar and working with wine and spirits. When I realised I could use my training to help the industry, everything started to fall into place.
ADVERTISEMENT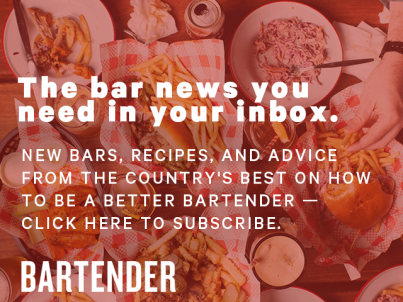 &nbsp
I think it's really easy to fall into bad food habits in bars because the shift work throws out your circadian rhythms. There can also be financial impacts with casual work with cheap food often being bad for you. Also, late nights mean less options for grabbing a good feed on your break (if you get one). It's a high-adrenaline environment and both alcohol and sleep deprivation make it so much easier to justify bad choices that night and the next morning. When you're tired or super hungry, your body already wants the highest amount of energy as quickly as possible so physiologically, a salad isn't going to be as appealing as an HSP (Halal Snack Pack). You have to make sure you don't get to that point of desperation.
As a nutritionist, I'm fastidious about meal planning. I put industry events, masterclasses and bar openings on my planner. It is essential to know what is coming up and when my shifts are so I can plan ahead and not be caught out. I can also have a few extra healthy meals planned to balance these events out. I prepare meals ahead for the pointy end of the week and load up on nutrient dense meals wherever I can so that if I do end up having bar food for dinner one night, it doesn't make too much of an impact overall. Knowing which venues around you have some healthier options helps if you can't bring your own meals to work, and there are some pretty decent pre-prepared options out there these days if you're not handy in the kitchen.
I've been known to stash snacks in my bag or apron for mid-service—much to the amusement of apprentices and dishies—whether it's a protein ball or a half a peanut butter sandwich. It helps reduce the likelihood of murders in the bar. I've learned to eat a properly balanced meal before service even if I don't feel super hungry, because Murphy's Law says we'll be 4-deep when my stomach starts to rumble if I risk it. Not getting well-timed breaks can really mess with your blood sugar levels and concentration, so having a bite available to tide you over is really important—and prioritising that over smoko—because it's not always practical to take a break when you're starving and getting cranky.
A lot of it seems like common sense, but I see so many people in the industry living off coffee, post-mix, energy drinks, booze, cigarettes, and junk food. It's not a great way to keep your energy levels up and your physical and mental health in check long term. It doesn't have to be overly complex or boring, just a few tweaks. I make sure to load up on extra green vegetables, supplements and water when it's been a while between AFDs, because they are all great for supporting the liver to process and regenerate. I realise I'm in a unique position as a health professional and bartender but it's not rocket science, it's just putting in a little effort to bring things back to equilibrium so I can keep doing what I love. 
Ceri's top five ways to eat well when you work late
Plan ahead:take the time to work out your schedule and meals for the week.
BYO: bring your meals when you can and have healthy snacks available.
Family meal: eat before your shift starts and get a well-balanced meal in; even better if you can get the whole team in on it.
Midnight-3am snack: Have small protein-heavy bites ready in the fridge for when you finish to take the edge off, which will be easier on your digestion than a large meal.
Sleep is key: your body will crave sugar and carbs if you're not well-rested.