Drinking and bartending are many things to many people. Sometimes it's not about the most refined articulation of an Old Fashioned. Sometimes it's more about the party, and Frozen Margaritas, and getting a little risqué (or a lot).
And that's precisely what this Brisbane popup event is all about.
Cream is something of a popup with an agenda, one that is something the organisers — all busy venue managers themselves — feel strongly about and want to champion. They're three women who run some of Brisbane's best bars: Gibby Odlum (venue manager of Blutes), Kayla Reid (venue manager of Savile Row) and Allison Jones (venue manager of Super Whatnot), and launched Cream as "something kinda sex positive and a bit weird."
The first incarnation of Cream was held back in February, and billed as an "all inclusive, safe, judgement free zone for all walks to express their uninhibited selves." And the theme for that first one? Here's what they said: "We're going to take you on a wild ride of porn through the ages. The theme for this particular edition will be 70's porn party! Think go-go boots, mo's and fro's."
(It seems like 70s porn chic is having a bit of a moment right now.)
ADVERTISEMENT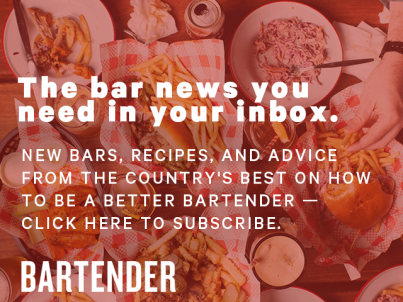 &nbsp
The trio behind Cream are working on their next event, which takes place on Monday 15 July at Black Bear Lodge, so we thought now would be a good time to ask them about what they've learned from their fist outing and to share their experience.
How did Cream get started?
All:Cream started out from a stream of weekly Margarita nights where we'd rally other folks around us and have a moment to breathe from being on the other side of the bar. We know it can be debilitating almost from when you're running/working in venues and rarely get a chance to unwind with friends who are in the same career path as you or better yet talk about something not shop related at all. One of our friends Aidan Beiers [owner-operator of Black Bear Lodge, Fortitude Valley] approached the three of us to do a pop up at Black Bear Lodge back in February and it all took off from there. We're not all too sure whether he regrets recruiting three bad-arse ladies to take over his fortress for the night or not but alas, we're on to our next instalment.
How would you describe Cream?
Jones: Cream is an inclusive space for all walks of life (not just hospitality) to express their true uninhibited selves. We hold parties for folks, who like us, love to let their hair down, get a little weird and have no judgement around doing so. When we started in February we only had a very vague understanding about what we were getting ourselves into. Without giving too many spoilers away it's safe to say you don't wanna wear something you're afraid of getting dirty to this event. It's pure fabulous filth.
What's the big idea behind it?
Reid: We really wanted to give back to the hospo community but we also didn't want to do just another run of the mill pop up. When we first put our thoughts forward on doing something kinda sex positive and a bit weird. We got a lot of "No one will respect you if you do this" and we were like no, fuck you! We're taking back our sexuality and being proud to do it. We aren't objects and if we choose to parade around and pour cream on our boobs for auctions, we goddamn will! Everyone should be able to feel respected and safe wherever they go regardless of their gender, race, sexual orientation or other. We want to make a space that promotes that for everyone and get a little wild with it.
What have you learned putting on these nights?
Odlum: When people tell you that frozen margarita machines are heavy, you should really listen to them. You think "sure they are heavy but it's only three flights of stairs, we'll be fine." It was not fine, those things are heavy!
Months of work goes into preparing for nights like these. It's very hard when all three of us are running our own bars to match up schedules at times but Brisbane has such a supportive hospitality network, they are always ready to get behind new concepts and get wild with us.
What are three tips you'd share with other bartenders wanting to do something similar?
Reid: I'd say don't let people hold you back, take a risk, follow your instincts and above all have a ball.
Jones: Honestly reach out to those around you who have a wealth of skill in similar or completely polar opposite fields. We've been able to use (and abuse) amazing friends who are graphic designers, incredible DJs, bands and photographers. We've been so lucky to be able to share this event with all walks of people. It just reminds us how epic Brisbane is for camaraderie.
Odlum: Pick a theme you love and don't take it all too seriously. You are doing this to create a fun environment for everyone including yourself. So make sure you have fun with it.
The details
What: Cream Galactic Rodeo
Date: Monday 15 July
Time: 7pm
Where: Black Bear Lodge, Fortitude Valley
RSVP: Take a look at the event page open Facebook here.