We've written before about how we think that the Manhattan and its trinity of whiskey, vermouth and bitters is the high-flying benchmark of whiskey cocktails (sit down, Old Fashioned). If you're making a stirred down whiskey cocktail, you really need to ask yourself — should you bother? Should you, perhaps, just make a Manhattan instead?
It is hard to improve on the Manhattan; there's already a bunch of cocktails out there, named for the other boroughs and districts of New York, that riff on the Manhattan: take the Brooklyn, for instance, which adds a little lick of Amer Picon; or the Red Hook, which takes on some Punt e Mes and maraschino. The Greenpoint, on the other hands, subs in Yellow Chartreuse for the maraschino.
You get the idea. The Bensonhurst builds upon that theme. Its signature variation? The inclusion of a little bit of Cynar.
Named for a New York Italian-American neighbourhood and created by Chad Solomon in 2006, it's a delicious drink.
ADVERTISEMENT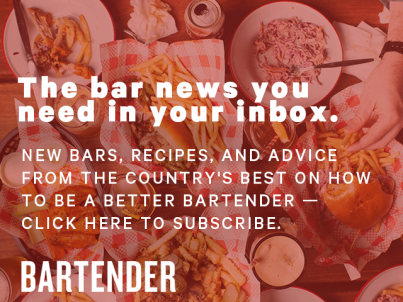 &nbsp
We first came upon this recipe when we conducted a tasting of John Dewar & Sons Fine Whisky Emporium drams with ambassador Georgie Mann a couple of months back — she suggested subbing out the rye whiskey in the drink for Dewar's The Monarch. Present at that tasting was Stuart Morrow, The Baxter Inn general manager — and one of our go to guys for all things whisky — and his spec for the Bensonhurst reads 40ml of rye, 30ml dry vermouth, 10ml Luxardo, and 10ml Cynar, whereas what we have here is a little closer to Solomon's original.
The Bensonhurst
60 ml Jack Daniel's Rye
30 ml dry vermouth
10 ml Luxardo maraschino liqueur
5 ml Cynar
Stir ingredients well with ice.
Strain into a chilled cocktail glass.
Adapted from a recipe by Chad Solomon, Clover Club, NYC, 2006.
What's in the drink?

Jack Daniel's Tennessee Rye
This rye from the famous Tennessee distillery is a typically spicy rye — thanks to its 70 percent rye mashbill — but is also one that has been mellowed by the Jack Daniel's charcoal filtration process. Brown-Forman