You guys like your rum, right?
It's nearly time for the announcement of all the finalists for the 19th Annual Bartender Magazine Australian Bar Awards. Ahead of the announcement in the July issue — which lands in bars next week — we thought we'd reveal the finalists for a few awards this week. Yesterday we announced the best whisky bars in Australia — the 10 finalists for the 2018 Whisky Bar of the Year — but today we're talking rum.
These are the 2019 best rum bars in Australia — the 10 finalists for the 2019 Rum Bar of the Year.
The Bar Awards takes place on Tuesday the 17th of September this year, and is just one of the 35-odd events in store for Sydney Bar Week this year, which takes place from September 14th to the 18h — click here to visit the barweek.com.au and check out the full timetable.
Take a look at the 10 best rum bars in Australia below.
RUM BAR OF THE YEAR
Proudly sponsored by BACARDÍ

To be eligible for this award, the bar must have a broad selection of rum, highlight rum cocktails where cocktails are listed, and employ staff who are knowledgeable on the category.
Blue Kahunas NSW
Burrow Bar NSW
Flamingos Tiki Bar QLD
Hains & Co. SA
Jacoby's Tiki Bar NSW
Rude Boy TAS
Rum Bar Airlie Beach QLD
Sneaky Tony's WA
The Lobo Plantation NSW
The Rum Diary Bar VIC
Blue Kahunas, Newcastle
3/146 Hunter St, Newcastle
bluekahunasbar.com
Blue Kahunas is a newcomer to the Australian bar scene, and a newcomer to the Bar Awards. It's rum-loving bar that brings a touch of tiki escapism to Newcastle.
Owners Prudence Farquhar and Byron Marzinotto have brought a touch of the tropical to a site which was previously a newsagency. They've got a short sharp list of 12 cocktails, with standard bearers like the Mai Tai and Zombie sitting alongside some signature serves from the bar.
Added to all that a healthy selection of rum, and you've got a tropical oasis brightening up the options for Newcastle drinking.
Burrow Bar, Sydney
Burrow Bar doesn't present as your typical bar devoted to rum — though they're fond of a tropical shirt or two, the bar is much more of your neighbourhood cocktail joint than tiki paradise. But rum features plenty in their drinks, and they certainly know and love the stuff (here's a very healthy selection for you to get stuck into, too).
The team here know what they're doing, so it is a perfect place to sit at the bar and get your rum on ± you may even learn something in the process.

Flamingos Tiki Bar, Cairns
14 The Esplanade, Cairns
flamingostikibar.com.au
Cairns and tiki and rum — it's an equation that just makes sense. Rum is purpose built for long, refreshing (and boozy) cocktails, and that's what you get with tiki — plus a great deal of escapism.
Flamingos Tiki Bar provides all that and more, with a comprehensive and extensive selection of rum on hand and a banging little cocktail menu full of tiki standards and their own modern interpretation of the genre. Flamingos Tiki Bar opened in 2018 and it looks like they'll be kicking goals for years to come — this is their first time on the top 10 lis for best rum bars in Australia.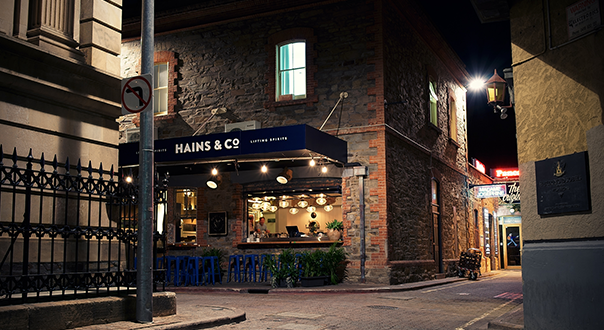 Hains & Co. Adelaide
hainsco.com.au
23 Gilbert Place, Adelaide
2019 sees Hains & Co make yet another appearance on the top 10 list. This place is the kind of place you'd walk into if you're just looking for a good time. In fact, they've adopted the motto of "Lifting Spirits" for that very reason. But if you're looking for the details, you'll find those too.
The back room is tiled in racing green and reminiscent of the art deco work in London tube stations in the pre-war era; the arched ceiling above is timbered, each slender beam shaped to resemble the bow of a ship and put painstakingly in place by Motteram — read our profile of Hains & Co, here.
Jacoby's Tiki Bar, Sydney
jacobys-tiki-bar.com
154 Enmore Road, Enmore
Sitting on Enmore Road in Enmore, between Queens Hotel and the Enmore Theatre, it's like the neighbourhood tiki bar you've always needed but never knew you did.
It's also a killer rum bar, winning the title of 2018 Rum Bar of the Year at the Bartender Magazine Australian Bar Awards last year.
What can you expect here? Well, a high standard of cocktails is a given — and they're get the balance right with their classic-heavy tiki menu — but they importantly get the escapism of tiki right. Once you're through the door, and the music comes up as the light goes down, you'll be happy to be out of your world (and into Jacoby's).
Rude Boy, Hobart
rudeboyhobart.com.au
130 Elizabeth Street, Hobart
In Hobart — a place that is just about as far as you can possibly get from the tropics without requiring some sort of ice breaking ship — there's this little oasis of rum: Rude Boy.
There's floral prints on the wall and a great cocktail list (they're rather handy with a Daiquiri, too), and there's plenty of rum to boot. They've also got some delicious Caribbean-inspired eats to go with your rumbo.
The Rum Bar, Airlie Beach
rumbar.com.au
303 Shute Harbour Rd, Airlie Beach
Long before rum was a thing in the best bars in the land, Mark Wyatt of the Rum Bar Airlie Beach was flying the flag and singing its praises. With a selection that now runs north of 560 different rums from all parts of the world, Wyatt — also known as Dr Rum — offers the kind of assistance into the world of rum that only the experience of the better part of three decades can offer.
It's no surprise to us to see these rum bar pioneers on the list again for the fourth year in a row — the bar is an institution.
Sneaky Tony's, Perth
38 Roe St, Northbridge
facebook.com/sneakytonys
Walk down the streets of Perth's Chinatown, search for the unmarked door and you'll be greeted with over 260 rums.
The bar is inspired by 1920's Californian rum-runner Anthony 'Tony the Hat' Cornero. The Admiral, as he was also called, counted bootlegging and illegal offshore gambling operating among his his illustrious exploits (he would go on to run legal casinos in Las Vegas).
The Lobo Plantation, Sydney
thelobo.com.au
Basement, 209 Clarence Street, Sydney
The Lobo Plantation is always at the pointy end of anyone's list of rum bars, and the two-time champion of the Rum Bar of the Year title at the Bar Awards has just celebrated its sixth birthday.
The Lobo Plantation redefined the way Sydney looked at rum; while embracing the agricultural origins of the spirit, it also added a touch of glamour and high-end style to the category and to the cocktails, one that you wouldn't have found out of place in the Art Deco Prohibition period.
They've got an outstanding collection of rums, from across the globe, with a killer cocktail list and great staff behind the stick. Add to that the atmosphere of the place when it's humming — and that's something you're going to want to sample — and you've got a truly world class bar.
Rum Diary Bar, Melbourne
rumdiarybar.com.au
334 Brunswick St, Fitzroy
You've got to admire a bar whose house made spiced rum blend is so good that it becomes bottled and made available around the country, and that's exactly what has happened with this Melbourne rum bar.
The Rum Diary Bar is one those little bars in Melbourne that build up a big reputation, wiht a welcoming sense of hospitality, and enough rum to make you not want to leave for a while; we also have loved on their cocktail list in the past — take a look at here — and the way in which they've demystified the back bar.
The bar's ownership has now changed hands (former owner Hamish Goonetilleke sold it a few months back to Jacob Goss), but the rum-fuelled good times continue to thrive.