There are busy bars and there are high-volume bars, and then there is Opera Bar. The harbourside bar enjoys an unrivalled view of the Sydney Harbour Bridge, and when you combine that with the dedication to service that the Opera Bar team brings, well, you've got a lot of customers to contend with day and night.
And that means, that if you're the one running the joint as the venue manager, you're going to be busy and you'll need to be organised. Just how do you do it?
To find out, we asked Opera Bar's venue manager Steve Davis — who is nominated this year for Bar Manager of the Year — to tell us what a typical day is like running one of Australia's most iconic venues.
(Spoiler alert: it's a long and full-on day).
As told to Sam Bygrave
ADVERTISEMENT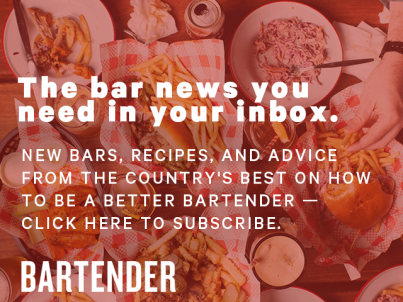 &nbsp
7:05am 
Alarm goes off. Depending on how late I got in yesterday, I might snooze a bit.
7:20am 
Preliminary look at the emails form yesterday – the EON [end of night] report is the main one. Any maintenance issues need to be dealt with first thing – it's no good having tradies underfoot during lunch service. 
7:30am 
Shower, dress, leave. Depending on what I've got on that day I may or may not drive. Not driving has it's advantages – you can get on top of all your emails before you even walk in the door. Driving is great because it's a "generally" quicker (and you can belt out some tunes or laugh at a podcast without the public judgement that comes with doing so on public transport). 
8:00am (ideally) 
Arrive at work. The very first thing I'm doing (after coffee) is checking the floor setup. We have a big function later in the evening with a pedantic client and I make sure that all the seating is correct. The banquettes weigh over 100kg each so moving them during trade is not an option. 
8:20am 
I'm looking at staffing for the day. Outside of the usual influences like sickness (common enough in a large team), we have the weather to think about. If it's forecasted to rain, we're moving start times back to try and give everyone a fair shake – shifts will inevitably be shorter but we try and avoid sending people home after the minimum 2 hours. Security falls under the same umbrella. 
8:30am 
Morning cashup. A lot of times I wriggle out of this because we have amazing office staff who are happy to help. 
9:15am 
I'm hitting my to-do list (and my second coffee). For me, this is a live Excel document that, in tandem with outlook calendar, runs my life. When a task comes up, it goes in there with a date. I can see the time elapsed and I try to use the morning to get on top of things tasks that have been dragging on for too long. 
9:45am 
Time to get venue ready for open. Checking in with the wait staff, making sure the kitchen is aware of any lunch bookings, making sure the bar is good to go. Details like the polishing of back bar mirrors get scrutinised at this time. Walk around and check each table isn't wobbly and all the legal signs are in place. CCTV is working. 
10:00am: 
Volume up, venue open. 
10:01am 
An automated attendance report for shows at the Opera House is sent out. It's my last chance to panic about up to 4000 theatregoers who might be coming past for a meal in the space of 90 minutes this evening. I call in one more waiter because the shows are the same as yesterday and the EON said it felt short-handed last night.  
10:05am 
Back to the to-do list. Vivid is coming up and we generally like to offer some fun cocktails during the festival. The brief is to make them colourful so it's a great chance to be a little bit naff. Blue? Green? Bright orange? Pick a colour and work backwards. It's a fun process because it's literally the opposite of how we normally do things. 
10:30am 
Get an email from a fabricator about the two-up ring I commissioned last week. He's sent though a render of the design so I grab a tape measure and go to step it out on the floor. It's not quite right so I send him some notes back. This is the first time we've EVER been approved for two-up at Opera Bar, as there's a "no gambling" clause in our service agreement. But – exceptions be praised – it's going ahead, so I want it to be awesome. Working within heritage guidelines is always a challenge and a construction like this has to be approved by a lot of stakeholders, which can slow things down if you don't know the approval parameters intimately. 
11:00am 
Meetings. Today it's with some researchers that have been collecting data across the whole Opera House site. They're presenting some super interesting findings there's a lot that we can pull out and use. We ask lost of questions and take notes. 
11:30 
Budgets and forecasting. It's getting towards the EOFY so it's time to start thinking about the plans for the following 12 months. It's as riveting as it sounds. 
12pm 
Flitting between helping in the bar, running food and the next things on the list. Responding to emails as they come in. Laura Baratto (our amazing exec chef) continues working on the budget and forecast with our director and I pop in periodically to help with the spreadsheets. 
3pm 
Service lull: back to the Vivid cocktails (25 mins was not enough time). 
3:15pm 
Get an email from AV supplier about costs for some Vivid installations. A couple of weeks ago we had a brainstorming session about how we could activate the space. Every year we go big in terms of ideas and then whittle them down to what will work in terms of budget and execution. I need to have these discussions with stakeholders and drop the ideas into a proposal for the Opera House – due in 4 days. This immediately becomes my priority.  
4:00pm 
Night managers arrive. They'll be briefed on anything out of the ordinary as well as the usual update on staffing and trade. 
4:10pm 
Back to those vivid cocktails. We've got it sorted now, just need to name them (my weak point) and format for print/press release, as well as schedule a photoshoot. That will definitely not get done today, so it goes in the spreadsheet. 
4:30pm 
Quick chat with supplier of our "GPS" system. This is what tells our food runners where to go based on the location of the table number in the venue. We want to add some more functionality to it and we talk through some basic installation ideas for new screens and keypads. 
4:50pm 
Move laptop back to the office – admin is finished for the next little while. 
5:00pm 
Final walk through of the function space. 
5:30pm 
Pre-theatre crowd starts coming in. The SSO are performing Harry Potter again, and there's also a popular Opera on. West Side Story on the harbour is also on. We get mercilessly rammed for the next two hours. 
7:00pm 
Band starts. Live entertainment happens every day here and it's a crucial part of our mid-week offering. A lot of patrons are about to leave to go to their shows and the right band and vibe will hold the remaining guests after the exodus. It also plants the seed with theatregoers that "this is a good spot to come back to."
7:30pm 
The aftermath of the rush. Clean and reset. The patrons left behind are our focus now – readjusting lighting and volume to make the venue feel like an awesome spot to stay. Today the residual crowd is pretty big and the venue feels vibrant. 
8:00pm 
Depending on how the admin part of the day went, I'm heading back to the office to finish some things off. If it's Friday or Saturday, I'll stay out on the floor until required. Today everything is under control so it's home time! A cheeky beer on the way out and I'm done for another day.