There's not too many bartenders we know of who have had the kind of hospitality experience that Joseph Chisholm has had. Yes, he has waited tables — but plenty of you have done that. And yeah he's blagged his way into jobs he was under-qualified for — but so too have many of you. But how many of you have 'Butler' written on your resume?
Here, the bar manager at Brisbane bar, The Boom Boom Room, talks in his own inimitable way to Sam Bygrave about his career thus far.
As told to Sam Bygrave
I'm the bar manager here at The Boom Boom Room, it's part of the Ghanem Group, and my role is pretty much everything beverage within these four walls. I look after cocktail menu, the wine list, beverage program, training the staff — and anything that's drink-related, that's all me. I'm the beverage man.
ADVERTISEMENT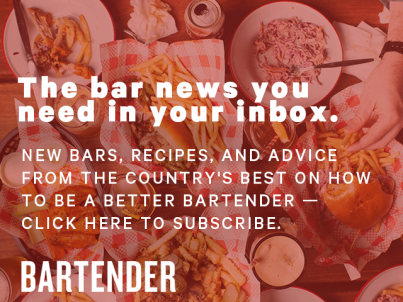 &nbsp
I've been around a few places. I've done hospitality for 10 years now, I'm 28 next week — I started as a function waiter and wine pourer at Sirromet winery, then I went overseas and worked in five star hotels in London — working room service, fine dining, things like that.
Yeah I legit was a butler. It was at a hotel called Corinthian Hotel, just near Embankment station. It was ridiculously long hours of just being awake [for] when people need things — just like the movies, they ring a bell and I arrive and say, "Hello, what can I get for you?"
There was a sultan or something and he and his wife came to this hotel, and they booked out the top five levels. Me and this other guy were a butler for him and his children, and there was a female team for the wife on her side. Everything they needed, whatever they wanted, whenever they needed it. It was pretty cool. The full gloves, penguin suit, hands behind the back, silver service – the whole thing. It was good fun — it's that next level of service. You'd stay in the hotel, you'd get a room down the bottom somewhere, and you'd just be on call — you'd get no sleep.
I did some dumb jobs too. I did this dumb event where I had to just literally stand there, in the whole getup with the white gloves, holding this giant metal tray of just orange juice for like six hours. So there's perks and there's sad bits.
Then I went to Edinburgh. I bullshitted my way into a whisky bar, called the Whisky Rooms; they were big on their whiskies with more whiskies than Marty [Lange] has, a thousand and something. Everything from old school 1920s bottles to weird vintages and cool rare stuff.
I lied my way in there, spoke to the owner and told him how much I liked rugby union, Australian rugby, and how John Eales was my hero, and I got the job. This is a true story. To which the venue manager at the time hated it because she knew I was useless. The rugby chat didn't work with her; I had to come up with something else.
Then I fell in love with the brown liquor. I went to every tasting available, immersed myself fully in the Scottish culture, went to a few distilleries, and that's where my passion for whisky comes from.
I moved back to Brisbane and walked into Cobbler — it had only been open a few months at this time. I just rolled in, went, 'You're a whisky bar, I love this stuff — give me a job.' At the time Dominic Xavier was there, and he asked me what's in a bloody Daiquiri, and I said: "It's frozen, and it's delicious." He was like, you're a fucking idiot, get out. All I knew was the cheesy shit, I was not a cocktail bartender back then. I definitely had a lot of things to learn.
Eventually Marty [Lange, Cobbler's owner] gave me a job — out of spite maybe. He broke me down and turned me into the bartender I am today. I walked into Cobbler thinking I was the biggest dog in the room and quickly realised I wasn't. It was great.
I'm a nerd. Every distillery is different, it's the same category but everything is different: everything from the grain, the mash bill, what type of grain they use, the amount of yeast they use, what kind of yeast; the size of the stills, the length of the arm, whether they have a reflux or not — there's a million little factors that can change in the journey from a simple beer malt to this beautiful product at the end. Then there's the type of barrels they use — there's so many things you can do with whisky.
There's a lot of demand for whisky in Brisbane. It's still a growing market. Martin Lange's done four Cobblers and they're all amazing, all with 700 bottles on the back bar. Without Marty, there wouldn't be as much love or attention — he's done quite a lot for the whisky world, and especially the bar world in Queensland.
I go back to the early days. Dominic Xavier taught me to push the boundaries of flavour and to always push every ingredient to its maximum; Hugh Taylor taught me how to actually be hospitable within a bar, he's a lovely bloke; and then Cameron Pirret taught me how to really balance a drink and to pump piss out at a really fast rate. But then when I was at Seymour's, I hold Alex Boon as one of my biggest mentors — he shaped the rough and ready person I was into what I am now.
And working here, Aaron Clark has really opened my eyes to what a proper mentor should be. I respect him a lot, he's a great bloke, he knows his shit, and he's been around for 100 years — he's OG, he's before everyone. He's 105 years old this year and still going strong, still uses peach in his drinks. He's a weapon.
In all seriousness, he holds a really high level of integrity, and a skillset a lot of people want to achieve, He's held in a lot of respect by a lot of people. You ask anyone who has worked Brisbane, they know who Aaron Clark is and what he's done.