What makes a great bar last? In an era of short attention spans and micro-fads driven by the need to be seen (on social) at whatever is the latest Instagrammable popup, how do you create a bar that can ride out the storm?
It's something that Julie Reiner has achieved with her Brooklyn bar, Clover Club, which has just turned 11 years old.
Reiner has rightly exalted status in the global bar world: a brief rundown of her accolades would include opening Flatiron Lounge (2003), Pegu Club (2005), Clover Club (2008), and Leyenda (2015) — all of which have picked up awards of one sort or another — and Clover Club featuring on the World's 50 Best Bars list. She has also been one of the few individuals to win the Spirited Awards title of Best Bar Mentor at Tales of the Cocktail.
But you wouldn't know it to talk to her: she's at turns humble and hilarious, and is focused very much on the people in her bars — be they guests, or her staff.
Back in May, Sam Bygrave sat down with Reiner on the sidelines of the 2019 BACARDI Legacy Global Cocktail Competition final in Amsterdam, to talk about the bar's longevity, the special 10th anniversary menu they created to celebrate the milestone, and what Reiner looks for in a bartender.
ADVERTISEMENT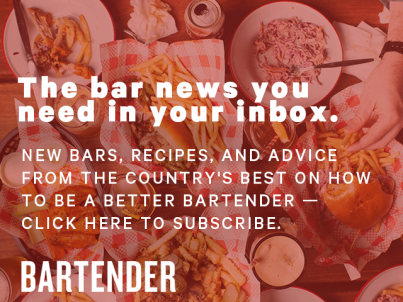 &nbsp
What does it take to keep a bar around that long?
It takes a very dedicated team of people. My partners there, all of us are involved in the day to day. There are four of us, and we're all on Smith Street everyday. And because we are as involved and dedicated as we are, we have a really fantastic staff who don't leave, and who know what the vision is and know how to represent us.
Has what you do at Clover Club changed over that 11 years?
I think it has evolved, certainly. The menu concept is very much in the same sort of vein, it's just grown — I think with every head bartender. We've only had four [head bartenders] in the 11 years — and one, Tom Macy, is actually a partner now, but he started as a barback five or four months after we opened, then became a bartender and then the head bartender. And then he became a partner. But that's also how we keep people, we give them opportunities to move up. 
But the menu, it's always been very classically focused to a degree, and then seasonal — we used to change the menu four full times a year, and then it kind of morphed into twice a year with small seasonal tweaks between spring and summer, and fall and winter. 
Can you tell us about the most recent menu?
Yeah we did this really cool 10 year anniversary menu, we wanted to do something special to celebrate 10 years. I was talking to Jill DeGroff, who does a lot of caricature stuff, and she had drawn me and had already drawn quite a few of the people who had worked for us. I thought it would be fun to do a yearbook kind of idea, that would have the caricatures — and because our staff has not turned over, it's really been a handful of incredibly talented bartenders who when they leave Clover Club go onto do other things in the industry; they don't leave us to go bartender at another bar, generally. The menu turned out awesome.
It was sort of a best of, Tom and I went through and pulled out this huge list. And then we sat down and made a bunch of them we hadn't in quite a while, and sort of chose the golden offerings of the Clover Club. 
What do you look for in a bartender? What makes a good bartender become a great one?
For me, I always hire on personality. I always say that half of the interview for me is the person's walk from the door to sit down. Because it's like, how do they make me feel before they even speak? And that's one of the marks of a great bartender: somebody who can approach you at the bar, and before they even say, Hey, how's it going? There's an energy, you know? It's not something you can teach — either they have it or they don't have it. I can teach anybody how to make drinks over a certain amount of time, but I can't teach you how to have a personality. We have a lot of people who start with us as barbacks, who become bartenders, or hosts who become servers, and servers who become bartenders — we're always looking to help people better themselves and move into the next thing if they're interested. It's pretty rare that we hire a bartender just off the streets — some of the bar stars out there, it doesn't always work well. They work here for a year and then they work there for a year, you know. I prefer to invest in people and have them invest back in us.
How does someone become head bartender then?
They have to show leadership skills, first of all — Tom and I have been talking bout passing the reigns onto another person to take over as head bartender, and they have to show leadership skills, they have to have creativity, and have produced cocktails that are menu-worthy, and have to understand how to produce a menu. That's one of the biggest things of being the head bartender: working collaboratively with all the other bartenders to get them to produce drinks that you want to put on a menu. I'm always like: why am I going to put this version of a drink on the menu when it's not as good as a Collins that we did two years ago that we sold the shit out of and was cost-effective? I'm not reinventing the wheel here.
So if you come with some creative, new ideas — and it's harder to be creative and new these days, everything's been done — and the ability to lead. Which is not necessarily the same as being a good bartender. There are good bartenders who would not be good head bartenders.
So what is a menu-worthy drink for Clover Club?
It varies, because we can have stuff that is esoteric but also interesting, and also people in Brooklyn are very savvy when it comes to cocktails; we are super-spoiled. I consult on stuff, and there are drinks that we put on the menu at Clover that I would never put on a menu on a place in suburban whatever, because it's just too weird. We look at the menu as a big picture: you want crowd-pleasers, and that it's well rounded, and that every drink is there for a reason. And that people can explain that to the guests. When bartenders come to me with a drink that is strange, I ask them: have you sat down and drank a whole one? Because so many bartenders are behind the bar, thinking that "this is delicious! I'm a genius!" Sit down at the bar, drink a whole one, from start to finish, and see if you want to order a second one. 
And sometimes there are drinks that you'll only have one of before you move onto something else, and that's ok. But so often they have a sip and think, "I'm amazing! My suspenders are so tight!" 
What's next for Julie Reiner?
I'm working on some different things with Tom Macy, and we're looking to do some expansion — we have Leyenda across the street — and we may be looking to expand with that concept. But that's as much as I can say.