I have something of a soft spot for large format drinks. It goes back to my time studying in Madison, Wisconsin. It's a college town and despite the valiant efforts of a couple of craft cocktail bars, that means it's a town of cheap, smashable booze. One of their specialties, at least when I was there in 2010, was the Fishbowl. 
It's exactly what it sounds like. A not insignificant volume of booze of indeterminate origin and questionable quality mixed with a splash of fruit drink (no fresh juices here, friend), served up on petrol station ice in a bowl shaped goblet the size of a fishbowl. They suck, and they are a lot of fun. It is, however, a stupid drink, and it is reckless, and it certainly isn't doable in any place with even a semblance of responsible service of alcohol laws. It certainly isn't a habit one wants to indulge in on the regular if one wants to avoid gaining a reputation.
But you can go the other way, and that's something we're seeing more and more. Small serves are in. As Eros Pedone tells us when we visit Maybe Sammy for this month's photoshoot — the cocktail above is one of theirs — smaller serves are proving a big hit for their customers. "People come in with their friends and will try them all," he says.
Maybe Sammy features four small serves — described as The Minis — on their list: The Frank (pictured here with Wild Turkey Rye, dry vermouth, and Campari); The Dean (Plantation 5 Year Old, Calvados, Swedish Punsch); The Sammy (Never Never Gin, mint, and sweet vermouth); and The Mini Martini, in which you choose vodka or gin, and an olive or citrus.
It solves the essential conundrum of stiff drinks: faced with a delicious selection of options, how do you choose? Drinking all of them at full-size isn't an option for most of us, unless the aim is to channel our inner Deano, get a little splashy and bang out Volare.
ADVERTISEMENT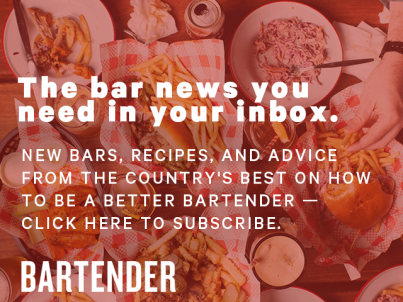 &nbsp
Maybe Sammy isn't alone, either; the recently opened Bar Margaux in Melbourne has a brace of snack size Martinis and Manhattans on hand. 
So raise a (small) glass to this trend, something we hope we'll be seeing more and more — they're a perfect way to take a break between Fishbowls.