On a recent visit to Melbourne we finally got ourselves to Capitano, the Italian-ish restaurant and bar that took over the site of the old The Beaufort back in 2018.
We'd heard about the bar side of the operation for a while — it's one that more than a few of our favourite bartenders had recommended, with all of talking about the stellar drinks that Capitano bar manager Darren Leaney is putting out.
And when we arrived, we weren't disappointed: not only are there some rather delicious wines on the list, they've pulled together a short but spot-on cocktail list with some rather fine and elegantly crafted drinks. A Clarified Tiramisu Punch delighted, with layer upon layer of flavour — one of those drinks that leaves you wanting more.
For this month's Bar Profile we got in touch with Leaney, and fired a few questions his way so as to better understand how they go about making drinks, and what Capitano is all about.
What is Capitano about?
Capitano is an Italian-ish restaurant with an Australian and New York bent towards the food and drinks. Wines are either of Italian origins or made with Italian grapes with a decidedly natural persuasion. Our kitchen works closely with local farms meaning we see an amazing rotation of seasonal produce through our doors every week. Simply put we are a neighbourhood restaurant that takes food, drinks and hospitality seriously.
ADVERTISEMENT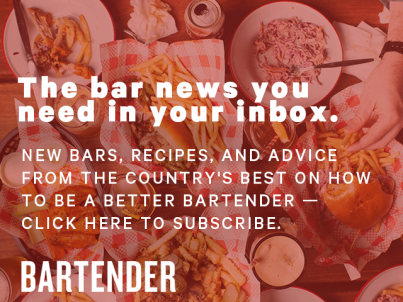 &nbsp
Our owners are Michael Bascetta (who also owns Bar Liberty and Worksmith), Casey Wall (Bar Liberty) and Manu Potoi (Bar Liberty and Above Board) and our key staff day to day consist of venue manager Sam Rogers, head chef Blake Giblett, restaurant manager Andy Tate and myself heading up the bar.
Could you briefly outline your general approach to the drinks and the list at Capitano?
We look to take great produce at the height of its season and either use it fresh or look at the best way of preserving it (shrubs, alcoholic fermentation, tinctures, kombucha, cordial etc.). Aside from a few drinks we deem untouchable and part of our identity we try to keep the drinks list rotating as often as possible to reflect whatever the current season may be (an example of this would be we currently have a Manhattan variation with almond oil bourbon and vermouth enriched with figs, dates, honey and cacao that will soon be swapped out for a Rob Roy using a pomegranate wine we've turned into a vermouth).
Where possible we try to hack drinks with technique to make bevvies that are recognisable yet ultimately new and different and most importantly [which] people will want to drink. All this also has to have a tie into Italy as we always want our drinks to link back to where our food is inspired by which creates a cohesive dining experience.
How much prep goes into the drinks side of things at Capitano? How do you manage this?
Quite a bit of prep goes into the drinks with almost everything having bespoke ingredients, where possible we will try to build an ingredient around a drink so while this is a great way to create the exact drink you want it can be a little tricky to manage. Currently it is only myself and one other bartender (Sam) so it can be a bit of a juggling act to say the least! We are always trying to improve how we communicate effectively between one another.
We use a Google sheet that we can both edit with everything we make in house on it that once entered will tell us exactly what we need to make. We have a section for notes so if there's anything that needs to be done ASAP or a component has been started either Sam (usually the one doing the prep) or myself can see what's going on nice and early and plan a strategy of attack early on in the day. We also use Slack as our in house messaging system which is great for sending files or just general emoji coded love messages.
Can you walk us through the development and creation of one of the cocktails on your menu?
It can happen in so many different ways. Maybe it's a classic we want to twist, or a specific combination of flavours, or even a drink to suit a certain time of year or season (that might not use a seasonal ingredient, easy, right?). Once that is set, we can look at what we want the finished drink to say. Some examples of this: our Bellini we wanted to be nostalgic in flavour yet look nothing like the original, thus making it unrecognisable yet familiar. Our Olive Oil Martini is designed to be recognisable immediately yet to taste the drink is familiar yet different, with an intensified viscosity due to the olive oil fat washed into the gin.
This was how we made our Celery Gimlet (gin, fino sherry, grappa, saline, fermented celery cordial). We were looking to make a savoury winter gimlet variation with a fermented funk and freshness but the true hero of the drink is salt. We took celery, sugar, water and some cider yeast and mixed it all together (just finely sliced celery) and left it for a week to ferment. Then we strain the celery wine and leave it to clarify for a few days and then it's time to make our cordial.
Before we commit to anything we run a few tests with varying sugar and acid percentages in small 100g batches to find out what we think will work best in the drink. We find the happy spot at 17% sugar and 1% acid (mix of citric and malic) with the low sugar really allowing the saline, savoury nature of the celery to shine through. Now it's just a matter of finding the balance of alcohol. Going into this we know we want the drink to have a base of gin with a little bit of grappa for some of that floral, nutty funk (also here is our tie to Italy). The drink at this stage is nice but pretty meh, there's no spark. We try the drink with some fino sherry to help boost the salinity but also to lend a different level of acidity and funk. The drink is now starting to feel complete, we play with the ratio of alcohol, eventually deciding to really lower the grappa, minimise the fino and go heavy on the gin. A dash of saline at this stage almost feels like overkill but it just completes the drink, and helps bring this real pop of flavour.
To finish we float a nasturtium leaf which is not only aesthetically pleasing also has this wonderful peppery spice that complements the savoury nature of the drink. Easy.