On the sidelines of the Bacardi Legacy Global Cocktail Competition, held in Amsterdam last May, we had the chance to speak to some bar luminaries from around the world. (It's one of the perks of the gig). And one of our favourite chats was with this man, Yao Lu, the owner of Shanghai's favourite, Union Trading Company, and the recently opened Birds of Paradise (strong tiki bar name, right?).
What Lu gets right at Union Trading Company are the basics, and by the basics we mean good old fashioned hospitality. In a city of 25 million people, a city of concrete and glass skyscrapers, he managed to open a world class neighbourhood bar.
Here Lu tells us a bit about what makes a great neighbourhood bar — it's not as easy as you might think — and about the way he approaches the hospitality of bartending.
I'm originally from Houston, Texas, and I used to work with Bobby Heugel at Anvil Bar Refuge in Houston. I'm currently based in Shanghai, and I own a bar called Union Trading Company.
We've been open for about five years now, we've seen a lot of success: Asia's 50 Best Bars each of the last four years etc etc. It's a good time.
ADVERTISEMENT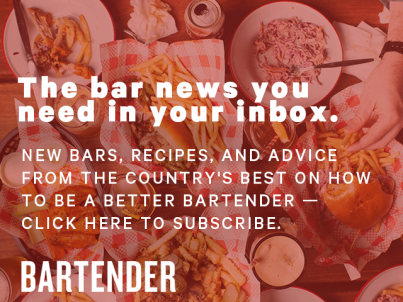 &nbsp
I don't even know why I'm here [in Amsterdam] right now. Because I'm mad? In exactly six days now we'll open our second project, Birds of Paradise. The whole idea is that it's something that we like to define as a modern tropical bar, you know, with a lot of tiki accents and things like that but at the same time, much more modernised to either the palate or the sensitivities of where we're living right now.
Whenever we think of a concept we want to do, the first question is: how do we make it fun? How do we make it stupid?
When it's something that is both fun and stupid, it's the ultimate definition of escapism. And I think when people come to restaurants and go to bars, that's exactly what they're looking for. Sure, there are these Michelin tier bars and restaurants, that's a whole different experience. What we're good at is doing something much more down to earth.
People want escapism, and they want to leave slightly happier than when they came in, regardless of the reason why they came in.
What makes a great neighbourhood joint? First of all it needs to be genuine. The style of hospitality needs to be cosy; everyone who comes in, you treat them as a friend. Knowing that, if they enjoy what you provide, they will come back, and eventually they will be your friends. Most of the friends I have right now I met through Union. 
It's really important to be part of the community. There's been various times when we've done charitable donation fundraising, and it's just a great way to give back — whatever we can do to help you [the community] out. Ultimately, a bar at the end of a day is a means to connect people, a means to establish relationships. Yes, booze is what we use to pay rent, but ultimately our business is really about establishing those personal connections and relationships. I think that is something really special.
A great cocktail — it's a tough question.  A good cocktail obviously needs to be balanced. For me personally, I like to [be able] taste every single element that's in the drink; they need to merge well, but not so well that you don't know what you're tasting. Surprise us, man — I love being surprised.
That is a constantly evolving thing, year after year. If you asked a year ago, what makes a bartender great, obviously the fundamentals of being a good bartender is being able to make good drinks, and once upon a time that was good enough. The next tier up is someone who can be empathetic towards the guest, who has that charm and connection, with the people that he or she is serving. 
I remember someone told me this before: you could win all the cocktail competitions in the world, but if you're a fucking asshole no-one is going to come to your bar; you're still an asshole. 
The people I keep going to are the people I have a connection with. I can buy a bottle of Tsingtao anywhere in the world, but if I'm going to this bar because of this guy, that bottle of Tsingtao is going to be the best fucking tasting Tsingtao in the world. Just because of the presence of the bartender themselves.