One of the most exciting openings of 2019 has been Maybe Sammy. The hotel cocktail bar (without a hotel) in The Rocks in Sydney has made waves since it opened, and it comes from the team behind Maybe Frank (which itself has picked up a slew of nominations in the awards world, as well as having been named Restaurant Bar of the Year in 2018 at the Bar Awards).
Eros Pedone is the bar manager at Maybe Frank, and you'll often see him popping behind the bar at Maybe Sammy, too. He's a guy who knows how to make a good drink, and an embodiment of the hospitality-first ethos they push at  the bar group.
Here, lightly edited and condensed for clarity, he tells Sam Bygrave a little about his journey thus far.
I'm the bar manager for Maybe Frank, and a bartender at Maybe Sammy as well. I don't mind working in all three venues, because I can actually express myself at Maybe Frank, and I like to be part of a big team; I like to work in Sammy as well because it's a big window for me — a lot of opportunities will come up for me as a part of this place.
At the same time it's still me, Stefano, and Andrea — we're one. We're still the little Italian family, making a joke of everything but taking what we do seriously.
ADVERTISEMENT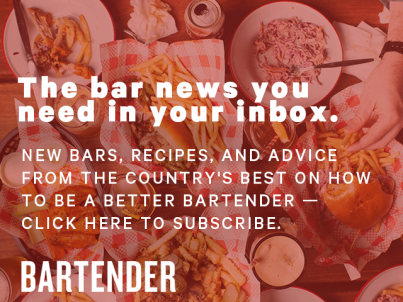 &nbsp
I love the atmosphere here at Maybe Sammy. Since I've been in Australia, I've never seen a place that looks like this. And now I realise that I'm in this place. We're trying to bring that London style, New York style in a city like Sydney. 
What I like as well, in terms of the signature drinks and the style of the cocktails as well, we still look to the future. So the style inside is very 50s, but we still like to be futuristic in our creations — it's a mix of the past, the present and the future. That's what I like.
Because we don't have a lot of foot traffic here [at Maybe Sammy], people get to know this place and they come straight here — they organise their night to come here, it's a destination. People have begun to know us well, and they spread the word which is amazing.
I'm from a very small place in Italy, in the north of Italy on the seaside — very busy in the summer and very quiet in winter. I never worked in a bar in my life in Italy, but I was still in hospitality, as a waiter and things like that. 
Then I moved to London, and I saw that bartending was what I would like to do. This mix of working and creativity — I thought cool, let's try it. In London I gained a lot, because I met a lot of people who were taking it seriously — I started thinking that it could be a great project for my life.
I was a barback for one year, and I learned all the classics first. And then I began to come up with my creations here in Sydney, not in London. 
I like to keep it very Italian. The Italian style is about hospitality. It's about the people. Obviously I love the creative point of bartending, because I like to do competitions as well to show off my creations, but I always start from that people point of view — I just want to make people happy when they come to the bar.
It doesn't matter what they ask, or what they want to drink — I never complain. As soon as you're happy, I'm happy too. I like to be a bartender for the people and not just for my personal career. 
Since I worked as a waiter, when I was a teenager and just working to get some money, I've always had this thing — I just care about the people, easy or not, that's it. That's why I feel a bit of pressure when I'm working, because I'm very focused on the people, and I care. 
Aperitivi and just making Nergonis and Aperol Spritzes all night, you don't need to be creative, you just need to make sure that people stay together and they have fun.
Study the basics. Start always from the ABC, don't pretend to do massive things, the big bartender stuff. I was dreaming about that. But first I knew I had to polish a lot of glasses, then make a lot of classics, and then after that you start to do your own things.