Singapore is one of the world's great cocktail cities.
What do you need to know? Well for a start, it's hot and humid here, any time of year. When we visited, on the return journey that had seen us hit London for one night of power, then Amsterdam for a week of frivolity and Bacardi Legacy competition. Drinks had been consumed throughout the course of the trip, and so there was ample booze to be sweated out in Singapore.
Singapore has become something of a destination for bartenders from across the globe; more than a few Australians are living in the city state, working for brands and running bars. 
Like former Speakeasy Group drinks creative, Andy Griffiths. Yes, he's a Kiwi originally but as is the case with all the best New Zealanders, we'll happily claim his as One Of Us. He's in Singapore running the relatively new Idlewild, one of our favourite bars on this visit. And then you have the brand types, like ex-Black Pearl and former brand ambassador of the year, Samuel Ng, who is based there in his role as brand ambassador for Four Pillars (and the guy to speak to if you're after some places to eat), and the likes of Jason Williams, the chief creative wunderkind for Proof & Company (and there's many more).
It all kicked off in 2011, the year that both Jigger & Pony and 28 Hongkong Street opened, and has only gathered pace since then. No fewer than five bars from Singapore landed on the World's 50 Best Bars List last year; Manhattan, inside the Regent Singapore, landed at number three. 
ADVERTISEMENT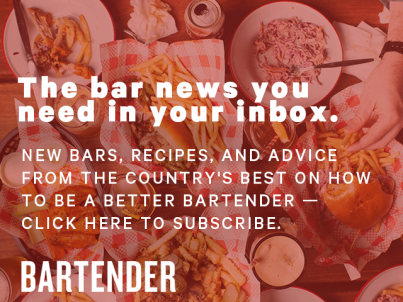 &nbsp
It's a city that punches well over its weight in the craft of the cocktail.
That's in no small part down to Singapore's status as a travel hub, connecting flights from the rest of the world to Asia and beyond.
So what do you do if you've got one night in town en route to someplace else?
Our advice: stay in a hotel which has a great bar. Once you've checked in, showered, and ventured outside your room, there's nothing better than hitting a top quality hotel bar, and Singapore has a few. We stayed at The IntercContinental on Middle Road, because Griffiths is the man running the relatively new Idlewild and we know that his drinks are world class. But we'd also recommend — if the budget allows — the Regent Singapore to hit up Manhattan (where ex-The Barber Shop general manager, David Nguyen-Luu, has recently taken the reigns).
Or perhaps you're a little old school, and appreciate the classics, in which case you might like to stay at the iconic Raffles and hit up the Long Bar, where two of Australia's best — Priscilla Leong and Paul Hammond — are plying their trade.
Once your stay is sorted, it's time to hit the bars. Get a cab, work out a hawker centre to stop at along the way for good eats on the cheap, and get going.
Atlas
Parkview Square, 600 North Bridge Road, Singapore
Atlas. We'd seen the photos of this room before, of course; it's an impressive room but the sheer scale of it doesn't hit you until you step inside and see it in real life. 
We visit in the afternoon before flying home to Sydney, and there's a brigade of floor staff buzzing around, a dozen-odd tourists are inside — not paying customers, mind you — taking photos of the space. The service is exceptional, and we're quite partial to their signature drink, the Atlas Martini. 
It is a must visit on any trip to Singapore — you just gotta see that room.
Idlewild
InterContinental Hotel, 80 Middle Road, Singapore
When we visit Idlewild, bar manager Andy Griffiths (ex-Speakeasy Group) tells us that the bar, which opened in February this year, is slowly being discovered by locals and blow-ins alike. It sits within the InterContinental on Middle Road, and it can be a little difficult to find. But once you're inside and in the capable hands of Griffiths' team, you're going to get really delicious drinks in a glamorous room that you won't want to leave. 
The idea behind the place? They're inspired by the golden era of travel, and the cocktail list roams the globe in search of flavours.
The Old Man
55 Keong Saik Road, Singapore 
The Old Man is the second outpost of one of Asia's most awarded bars, from one of Asia's most acclaimed and respected bartenders, Agung Prabowo.
The Hong Kong bar opened up in Singapore this year and has been turning heads thanks to its Ernest Hemingway inspired  concept. (Prabowo opened a new Hong Kong bar this year as well, called The Sea — one senses he's a bit of a fan of Hemingway).
The drinks are high-concept cocktails that have a bunch of technique thrown at them (there's a rotovap sitting in the middle of the bar), but the emphasis here is really on the service. When you walk in the bar, you might feel a little disoriented — it feels as though you walking behind the bar, and it's quite an intimate space. If you want to watch the bartenders do their thing, you can sit at a long table jutting out from the bar; alternatively you can snag a low table in the back of the well-appointed room.
Native
52A Amoy Street, Singapore
If there's one thing you've heard about Singapore's Native, it's probably the chat about their waste: the word is, the only rubbish they're really throwing out at the end of a night is stuff that has been brought into the bar by guests from outside — they can fit the waste from service into a schooner glass.
Which is a remarkable achievement. But the bar is more than just an experiment in sustainable environmental practices. They're championing the local here, and the cocktails are at the progressive end of the spectrum. Some might be a little too esoteric for most — their Oysters From Ubin (oyster distillate, miso cured eggs, kampot pepper, coriander shoots, calamansi) could have been mistaken for a savoury entree — but they are precisely constructed and employ a set of flavours you're unlikely to taste in Australia.
It's also a damn good time, too.
Jigger & Pony
165 Tanjong Pagar Road, Singapore
Jigger & Pony is one of the OG Singapore cocktail bars. It's been around since 2011, but if you've been to the bar at the previous site on Amoy Street, you might not quite recognise the new Jigger & Pony. 
That's because these days it resides in the lobby of Amara hotel and it has had a smart update — it's the very model of an elegant and chic hotel bar.
Jigger & Pony became known not for throwing a science lab at their drinks, but for the good times hospitality their bartenders bring to you. 
28 Hongkong Street
28 Hongkong Street, Singapore
Another of the Class of 2011 cocktail bars, 28 Hong Kong Street is the mack daddy. It;'s a place to let loose late at night, all the while enjoying attentive service and some expertly crafted drinks. It was the first bar build by the owners of Proof & Company, the company that is part spirits distributor, part consultancy, part hospitality group..
And it was a statement. Few would deny the effect this bar has had on the Singapore scene. Since 28 opened  Singapore's cocktail scene has attained world class status, and this was the bar that set the benchmark.
When you're here you're going to want to drink classics — a Daiquiri here to close out the evening is a delicious way to spend one's time.
Junior
43 Tanjong Pagar Road, Singapore
This little bar lies just off the Proof & Company office, around the corner from The Old Man. 
And it's a very small bar indeed. With roomfor around 10 people only, the space is something of a changeling: every six months they switch the bar's concept. 
Past concepts have seen takes on Mexcian spirits and New Orleans culture, and when we swing by they're deep into a tiki swing.
Given the people both behind the stick and in the back office, no matter which mood you catch them in you're in for a treat.,
Panamericana
Sentosa Golf Club, Sentosa Island, Singapore 
If you're trying to jam as many bars into one night as you possibly can, then you're going to need some sustenance to get you through. Panamericana has you covered.
Set atop Sentosa Island, it's about 15 minute drive from the city centre in a taxi and well worth a visit. It opened up in 2018, and comes a from long-serving veteran of the Sydney cocktail scene, Julian Serna (ex-Eau de Vie, Hemmesphere and many more).
Named for the 30 thousand kilometre patchwork of highways that traverse the Americas, here the cocktails are great — Serna knows what he's doing — and the eats are delicious. You're going to wanted to order up some big platters of food whilst you sit on the balcony, look out to sea, and think about just how damn lucky you are.
Ain't travelling grand?