---
Who are the big hitters in the bar industry? Who are the operators making trends and pushing design into the future? Who are the bartenders leading the wave of sustainable bar practices? Last night, at brand new bar, Double Deuce Lounge in the city, the country's leading names in the bar industry gathered together to find out who are the Top 10 Most Influential voices in their field.
In a new twist the Top 100 were also listed in order simultaneously so all the nominees could find out exactly where they ranked — take a look below.
Every two years since 2009, Australian Bartender magazine, the country's leading bar industry title, announces the Most Influential List, the Top 100 names from the bar industry; the people who have led the charge to make this industry the innovative and entertaining game it is. And again this year, The House of Angostura jumped on board to sponsor the event, helping to make it bigger and better than ever.
The Top 100 was voted for in an online poll by members of the bar trade, whittling down the thousands of potential names to just 100 (see full list below in ranked order). This is a list of the industry's movers and shakers, the big names who have lead the charge to make this industry the innovative and entertaining game it is.
ADVERTISEMENT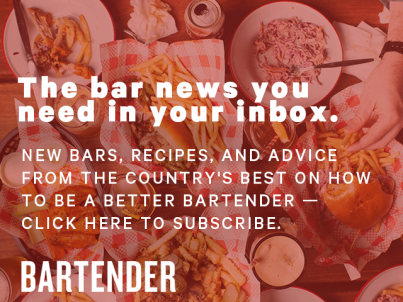 &nbsp
On the list this year are bartenders (of course), bar owners and managers, brand ambassadors, writers and party-starters. "This year we've seen a lot of new faces on the list, with a lot of young people stepping up," said David Spanton, publisher of Australian Bartender. "It just goes to show what an exciting era of drinking we have in this country right now," he said.
Last night the top ten was announce Melbourne powerhouse bar operator, Michael Madrusan taking out the top spot, on the back of the success of his innovative Melbourne bars, The Everleigh, Heartbreaker and the brand new Bar Margeaux. "Madrusan has brought three stellar venues to Melbourne from the rock n roll pizza bar Heartbreaker, the top notch cocktail bar, The Everleigh and his new French-themed small bar, Bar Margeaux. His bar teams are some of the best in the country, says David Spanton. The Top 10 is as follows:
Michael Madrusan, Made in the Shade
Anton Forte, Swillhouse
Martin Lange, Cobbler, Death & Taxes, Finney Isles, Savile Row
Paige Aubort, Coleman's Academy
Matt Whiley, Scout Sydney
Sam Egerton, Merivale
Ollie Margan, Maybe Mae, Adelaide
Jenna Hemsworth, Swillhouse
Sven Almenning, Speakeasy Group
Penny Sippe, Bacardi Martini Australia
For the Top 100 listed in ranked order please click on the attached image.
The Bartender Magazine Top 100 Most Influential List sponsored by The House of Angostura is just one of 38 events happening during Bar Week this year (14-18 September). You can find out more by heading to barweek.com.au.