Photography: Christopher Pearce & Jim Barker
What a night that was! The Bartender Magazine Australian Bar Awards is done for another year. 2019 was the 19th instalment of what is the Oscars of the bar industry, and some 40-odd awards were handed out on the evening recognising the outstanding achievements of the country's best bars, bar operators, and bartenders.
Despite torrential rain, the bar industry showed up in force, enjoying pre-drinks in the comfort of Doltone House Loft bar before 650 people packed the dining room and were led through the proceedings by Logie award winning actor, Rob Carlton.
And our Bartender of the Year sponsored BACARDI & De Kuyper this year didn't disappoint, with our first appearance in the final 8 by a Darwin-based bartender, the return of a previous winner, the first from a regional centre, and the return of Joe Sinagra, who this year made his sixth straight appearance at the pointy end of the competition.
Happily Joe secured a top three spot taking out the bronze medal. Lee Potter-Cavanagh, former winner, veteran bartender and owner of Sydney new bar Rosenbaum & Fuller took out second place. The winner for 2019 was Alex Gondzioulis from Sydney cocktail mecca and multi-award winner Bulletin Place.
ADVERTISEMENT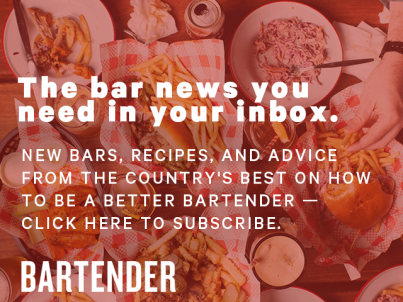 &nbsp
In other awards news, the tiny-garage-turned-tiny-bar in a Sydney laneway, Cantina OK!, had a great year taking out the prize for New Bar and Tequila Bar while Geelong favourites, 18th Amendment Bar were popular winners for the Regional Bar category. Perth newcomer Tiny's took out the Restaurant Bar of the Year award. Melbourne bar operator Michael Madrusan won the title of Bar Operator of the Year thanks to his impeccable Melbourne stable of bars – The Everleigh, Heartbreaker and newcomer, Bar Margaux. Adelaide also had a notable win, with its cocktail bar, Maybe Mae winning the hotly contested Cocktail List award. The coveted Cocktail Bar of the Year award went to Sydney bar Maybe Sammy who also got a nod for the exemplary Bar Team.
A highlight from the event would have to be the Outstanding Achievement award. This year it was presented to Anton Forte & Jason Scott from Swillhouse who have had a demonstrable effect on the bar industry in Australia with their venues Shady Pines, The Baxter Inn, Frankie's Pizza and Restaurant Hubert. Their speech had the whole room hanging on every word. A big nod of respect for two of the industry's best blokes.
Take a look below at all the winners from the evening.
BAR OF THE YEAR – STATE AWARDS
PROUDLY SPONSORED BY LITTLE DRIPPA
ACT: HIPPO CO
NSW: THE BAXTER INN
NT: HOT TAMALE
QLD: DEATH & TAXES
SA: CRY BABY BAR
TAS: EVOLVE SPIRITS BAR
VIC: UNION ELECTRIC, MELBOURNE
WA: TINY'S
COCKTAIL BAR OF THE YEAR – STATE AWARDS
PROUDLY SPONSORED BY GRUPPO CAMPARI
ACT: MOLLY
NSW: MAYBE SAMMY
QLD: SAVILE ROW
SA: MAYBE MAE
TAS: THE GLASS HOUSE
VIC: THE EVERLEIGH
WA: LONG CHIM PERTH
ROOKIE OF THE YEAR
PROUDLY SPONSORED BY THE BLEND
SARAH MYCOCK PS40 SYDNEY
COCKTAIL BAR OF THE YEAR
PROUDLY SPONSORED BY CAMPARI AUSTRALIA
MAYBE SAMMY SYDNEY
NEW BAR OF THE YEAR
PROUDLY SPONSORED BY THE HOUSE OF ANGOSTURA
CANTINA OK! SYDNEY
BEST SUSTAINABLE BAR PROGRAM
PROUDLY SPONSORED BY 42BELOW
BULLETIN PLACE SYDNEY
BAR MANAGER OF THE YEAR
PROUDLY SPONSORED BY PERNOD RICARD
EVAN STROEVE, BULLETIN PLACE, SYDNEY
RUM BAR OF THE YEAR
PROUDLY SPONSORED BY BACARDÍ
JACOBY'S TIKI BAR SYDNEY
PUB OPERATOR OF THE YEAR
PROUDLY SPONSORED BY THE EXCHANGE BY CCA
MERIVALE
NEW PUB OF THE YEAR
PROUDLY SPONSORED BY BACARDI
THE HOTEL ESPLANADE, ST KILDA MELBOURNE
NIGHTCLUB OF THE YEAR
PROUDLY SPONSORED BY JÄGERMEISTER
THE CLIFF DIVE SYDNEY
RESTAURANT BAR OF THE YEAR
PROUDLY SPONSORED BY MOET-HENNESSY
TINY'S WA
HOST OF THE YEAR
PROUDLY SPONSORED BY THE HOUSE OF ANGOSTURA
BIANCA WENDT, THE EVERLEIGH MELBOURNE
BEST SPECIALTY BEER VENUE
PROUDLY SPONSORED BY ASAHI SUPER DRY
BOILERMAKER HOUSE MELBOURNE
BAR TEAM OF THE YEAR
PROUDLY SPONSORED BY THE EXCHANGE
MAYBE SAMMY SYDNEY
OUTSTANDING CONTRIBUTION
PROUDLY SPONSORED BY BACARDI & BARTENDER MAGAZINE
ANTON FORTE & JASON SCOTT
BRAND AMBASSADOR OF THE YEAR
PROUDLY PRESENTED BY AUSTRALIAN BARTENDER
ROSS BLAINEY – THE BALVENIE
TRAINING PROGRAM OF THE YEAR
PROUDLY SPONSORED BY AUSTRALIAN BARTENDER
CAMPARI ACADEMY
PUB OF THE YEAR
PROUDLY SPONSORED BY BUSHMILLS
THE LINCOLN MELBOURNE
WINE BAR OF THE YEAR
PROUDLY SPONSORED BY UNICO ZELO
BAR LIBERTY MELBOURNE
COCKTAIL LIST OF THE YEAR
PROUDLY SPONSORED BY WILLIAM GRANT & SONS
MAYBE MAE SA
SMALL BAR OF THE YEAR
ABOVE BOARD MELBOURNE
BEST HEALTH & WELLNESS PROGRAM
PROUDLY SPONSORED ST~GERMAIN
GOOD TIMES ONLY GROUP
BEST BAR FOOD
PROUDLY SPONSORED BY MOET HENNESSY
ALBA BAR & DELI BRISBANE
REGIONAL BAR OF THE YEAR
PROUDLY SPONSORED BY THE BLEND BY BEAM SUNTORY
THE 18TH AMENDMENT BAR GEELONG MELBOURNE
GIN BAR OF THE YEAR
PROUDLY SPONSORED BY BOMBAY SAPPHIRE
THE BARBER SHOP SYDNEY
WHISKY BAR OF THE YEAR
PROUDLY SPONSORED BY BUSHMILLS
DEATH & TAXES BRISBANE
BAR OPERATOR OF THE YEAR
PROUDLY SPONSORED BY KETEL ONE VODKA
MADE IN THE SHADE
LIVE MUSIC BAR OF THE YEAR
BROOKLYN STANDARD BRISBANE
TEQUILA BAR OF THE YEAR
PROUDLY SPONSORED BY JOSE CUERVO
CANTINA OK! SYDNEY
HOTEL BAR OF YEAR
PROUDLY SPONSORED BY WILLIAM GRANT & SONS
EVOLVE SPIRITS BAR – MACQ01, HOBART TAS
BEST BARTENDERS' BAR
PROUDLY SPONSORED BY JÄGERMEISTER
HATS & TATTS MELBOURNE
BAR OF THE YEAR
PROUDLY SPONSORED BY LITTLE DRIPPA
THE BAXTER INN SYDNEY
BARTENDER MAGAZINE BARTENDER OF THE YEAR
PROUDLY SPONSORED BY BACARDI & DE KUYPER
3rd place: Joe Sinagra, The Halford, Perth
2nd place: Lee Potter-Cavanagh, Rosenbaum & Fuller, Sydney
WINNER: Alex Gondzioulis, Bulletin Place, Sydney
The Bar Awards is part of Sydney Bar Week – 38 events over five days. For more information go to www.barweek.com.au