It looks like the life, right? The brand ambassador is that person who is always on the town, drinking at the best bars, hanging with bartenders and flying around the country (the expense account doesn't hurt, either).
But the modern ambassador role is about more than just dropping the company card at the end of large night, shouting bartenders drinks, and hosting 'activations'.
These days, you've got to be a master of admin, spreadsheets and scheduling — in addition to the traditional brand evangelism, training and yes, spending. 
(That travel isn't as easy as it looks, either, just by the way).
So we got a panel of brand ambassadors together for some advice: Peter Hollands (Bacardi-Martini), Erica Richards (The Exchange), Garth Foster (Moet-Hennessy), Thalita Alves (Brown-Forman), Martin Hudak (Mr Black), Karel 'Papi' Reyes (Monin), Alice Newport (Les Nouveaux Distillers), Charlie Ainsbury (Proof & Company), Tristram Fini (Campari Australia), Andrew 'Hemingway' Ratcliff (Proximo Spirits), and Morgan Flanagan (Hendrick's). Here, they shed some more light on what they do, and get their tips for travelling like a booze industry pro.
ADVERTISEMENT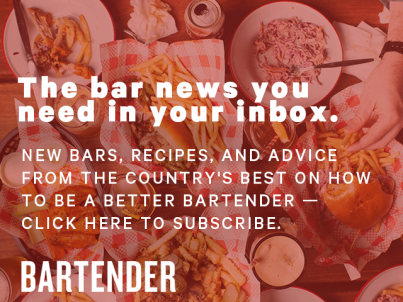 &nbsp
What makes a good ambassador great?
"Understanding that it's a two way street between brand and community, and that you should be passionate about them in equal measure. If you prioritise one over the other you can run the risk of losing your credibility or forgetting who is paying the bills. One of my favourite events that we do is Bacardi Softball, which I think gets the balance just right." — Peter Hollands
"Reading your crowd. Trying to explain the intricacies of distillation to a young bartender who doesn't know the difference between Scotch and bourbon is going to alienate them and make them feel small. Try to remember that everyone needs to start somewhere, and be patient when explaining fundamentals. And remember your sense of humour! We work in a fast faced and often crazy industry. If you forget how to laugh at life and yourself, you'll miss the best bits." — Erica Richards
"The thing that I most value though is story telling- knowing the temperature of the 2nd level of the 3rd column in distillation is great but I really want to engage with a story about the distillery or behind a cocktail or drinking culture – so tell me that." — Garth Foster 
"One thing that I didn't truly understand before jumping into this realm was the concept of balance. This isn't just work-life balance, but a balance between how you are perceived within the market you are engaging with as not only the tangible face of [the brand] but as a person." — Tristram Fini
"Ambassadors tend to be naturally outgoing. They do love sharing all things about their brand. They enjoy to socialise, engage, to tell stories. But that doesn't mean it is all they can do. BAs that go beyond their job description are better ambassadors. They truly engage with their company. They can take part in different projects beyond their role, learn from very experienced people about digital marketing, brand strategy, project management… the list is long. These tools not only make us good at the job we currently have but will contribute to literally anything we want to do next." — Thalita Alves
"Flexibility and adaptation. When you're travelling to different countries and their bars to present your brand you need to quickly adapt to their habits, levels and set ups. And always be nice! They doing favour to you to host you and welcome you." — Martin Hudak
"Understanding your product and knowing how to give its users solutions to their problems. For me that is being an educator, a delivery man and an encyclopaedia!" — Karel 'Papi' Reyes
"The other thing is that they're authentic, they show up when they say they're going to, they support the events, work with the little guys, pull guest shifts, host events, do all of that stuff, but then they actually respond to an email, remember something you said, Christ, remember something about the bartender they spoke to last time. They're present and they're real." — Alice Newport
"That inherent hospitality I talked about before; having empathy goes a long way. And above all, commitment. Imagine a friend of yours lands a gig as a brand ambassador. After saying congratulations, you might ask them why they took the gig. If they tell you it was for the money, the better hours or the benefits, then chances are I'm not getting behind that brand. I want to hear them say, 'Why wouldn't you want to be their Brand Ambassador?'. I want to see passion, a genuine love for the brand, and if they're committed to it, I, as a bartender, will be committed to them as well." — Charlie Ainsbury
"When I think of a great BA, I think of my friend John Gakuru. He embodied the ethos of his brand, was always helpful and always went above and beyond." — Andrew 'Hemingway' Ratcliff
"A great brand ambassador is able to balance these essential basic admin skills, an understanding of the commercial  and business aspects of our industry, a brilliantly creative mind and an energetic charisma. The BEST brand ambassadors are those that quietly achieve the work behind the scenes while  creating and championing programs that excite and improve bartenders the world over." — Morgan Flanagan
What is it — do you think — that bartenders don't often really understand that is part of an ambassador's job?
"The admin. There is a lot that goes on behind the scene to bring the trainings, cocktail competitions and parties to the bartender community. There's nothing that will get you invited back to the next event faster than a prompt RSVP to an email." — Peter Hollands
"Ambassadors generally start life as bartenders, and there isn't an awful lot of call for understanding PowerPoint or Excel as a bartender…. but when you start as a Brand Ambassador, large parts of each week are taken up answering emails, processing expenses, pulling together training documents, and generally staring despairingly at a laptop screen, wishing you were behind a bar making an Old Fashioned." — Erica Richards
"Absolutely nothing – it's exactly how it seems. We Brand Ambassadors have a secret agreement between us perpetuating the false hood that actually lots of work, back of house preparation, reporting and after hours follow up. Don't listen – it's awesome!" — Garth Foster
"In every single liquor company the Brand Ambassadors are the ones championing bartenders and the programs to support and grow them. When you don't turn up to a training you've rsvp'ed to, when an event we've worked on for months to bring to your area has poor attendance, it makes it harder to convince the powers that be to invest in bartenders and in different areas." — Morgan Flanagan
"We no longer clock off at 3am, but the work is still demanding. It's a real job too. A job which is more than just announcing a party or hosting a tasting. Firstly because of the time that goes into pre-event planning through execution and measuring the investment post-event. Secondly because Brand Ambassadors are involved in other aspects of their companies beyond what they show on Facebook." — Thalita Alves
"Apart from amount of paper work and reports it will be responsibility for the name of the brand. We are literally preaching about brand even outside of working hours and our private behaviour has reflexion on a brand. It's not an 8-5 job but a 24/7 full-time lifestyle." — Martin Hudak
"The role of the ambassador looks glamorous but it requires you to be very nimble. Your day starts when the marketing team wake up and it ends when the bartenders go to bed. Anything could happen in that 20 hours. It keeps it all fresh." — Karel Papi Reyes
"Having to be at the office for a 9am meeting, when you went for a Martini or a whiskey to wind down when you finished hosting at 10/11pm is tough. While I've been doing the nocturnal bartender/day walker life for a long time, it's freaking tough and it never gets easier. So, managing that, and managing your life in the right way so that you don't have to life the equivalent of a clo-pen every day is tough and something you really have to do." — Alice Newport
"I think there are a lot of similarities to bartending than one may realise. There's an inherent hospitality that you need for the job which explains why so many bartenders transition into the role. Like a bartender, you are always in front of varied audiences that you have to please and take pleasure from doing so. We have to multi task, adapt to different situations and whilst maintaining our cool. Like a bartender is the first impression of a venue, we're the first impression of the brand." — Charlie Ainsbury
"Probably the business side of things. Understanding marketing plans, replying to emails, planning travel, destroying your expense card limit (I'm not alone here… Cameron Pirret?)." — Andrew 'Hemingway' Ratcliff
"The ability to connect.  Being able to connect the bar community, its individual venues and bartenders not only from a brand perspective but creating a genuine link between yourself and your experiences takes it from being a brand information session to an experience of connection.  You can teach anyone knowledge, but you cannot teach how to connect with another person." — Tristram Fini
Advice for travelling the brand ambassador way
"Take some time to get settled in your room. Unpack your suitcase, iron your shirts, plug in your laptop and phone etc.
Check in online the night before. Not only will this usually snag you some slightly better seats but depending on who you fly with this can save you a lot of time when you arrive to the airport." — Peter Hollands
"When I got started based out of WA in 2016, I had the pleasure of travelling into Adelaide frequently and was lucky enough to be put in contact with Josh Dolman (Sunny's Pizza) by a member of our SA team.  I spent the first couple of nights out with Josh and being shown as much as you can from an insider's view, meeting bartenders, waitstaff, managers and owners along the way.  I guess the tip here is getting to know your locations, not just by reviewing publications and articles, but grab a guide and hit the town; experience as much as you can and immerse in the culture of where you are." — Tristram Fini
"Take some time for you. The entire Balvenie Ambassador team calls it 'Robe Time' (check Ross Blainey's facebook if you ever need evidence of this). Even an hour where you take some time to relax and get centred is insanely important. It might be a quick gym session, an episode on Netflix, giving your partner (or even a mate) a call, maybe even breakfast with the newspaper with your phone turned off. This will help you get some zen and be more present, more focused, in whatever your day or night has to bring." — Morgan Flanagan
"Live in the moment! You may only be in this city or in this bar for a short time so make the most of it — emails and social media can wait until the airport (on that note – apologies to anybody that is waiting on an email response for me)." — Garth Foster
"You have to sleep! It's ok to stay in and rest. Find time for walks, gym, plenty of water, especially when travelling outside your normal time zones. There will always be another party invite, it is always someone's day off. You will "burn out" in no time if you try attending everything. Eating healthy is an obvious addition." — Thalita Alves
"Have comfy clothes for long flights … it's not your first date! [And] eat and sleep well — you don't wanna perform without power." — Martin Hudak
"Airport security is tight. No knives, no tweezers, no ice picks, no anything else sketchy. Pace yourself. Travelling a lot can burn you out. Make sure you stick to a good working routine. And make absolutely sure you phone your wife every day. Twice." — Karel 'Papi' Reyes
"If you have comforts at home that you need to get through the day, you probably need them when you're travelling. Most of the time, I use a sleep mask, so I take mine with me when I travel – it's a bloody godsend when I'm on a plane. I always have snacks in my carry on. Clothes that don't crease easily are your friend. If you can, travel with only hand luggage because you may waste precious hours of your day waiting at the carousel and airlines sometimes like to lose luggage." — Alice Newport
"Keep a well-packed Dopp Kit on you at all times. If you're constantly in and out of meetings, sitting idly on planes, drinking a lot of coffee or eating on the run, it pays to be able to duck into the nearest restroom and freshen up. Especially if you're not too keen [taking care of yourself]." — Charlie Ainsbury
"I always pack my running shoes, so I can get up early and explore my surroundings. My favourite moment on my recent trip to the Old Bushmills distillery was watching the sun come up over the Antrim coast. My other piece of advice is from the late, great Anthony Bourdain; 'Drink heavily with locals whenever possible'. I've had better history lessons drinking in dive bars from Boston to Belfast than I've ever had in a classroom." — Andrew 'Hemingway' Ratcliff