There's a new venue on the way from the Liquid & Larder group; The Gidley will open in a basement on the corner of King and Elizabeth Streets in the Sydney CBD in November.
The Gidley will join Liquid & Larder's other venues Grandma's, The Wild Rover, and Bistecca, and will be inspired by a classic American-style steakhouse. Expect many cuts of meat, a stellar wine list compiled by Alice Massaria (who is responsible for the list at Bistecca), and plush leather lounges and woodwork.
But it's the bar side of things we want to know about, and at The Gidley they're putting together a cocktail list that leans toward the spirit-forward, classic style, says Liquid & Larder's group bars manager Jono Carr.
"The brief was for short and sharp cocktails with a few fun tall numbers and a dessert-style offering too," he says.
Which sounds simple enough, until you hear what they've got in store for the bar setup.
ADVERTISEMENT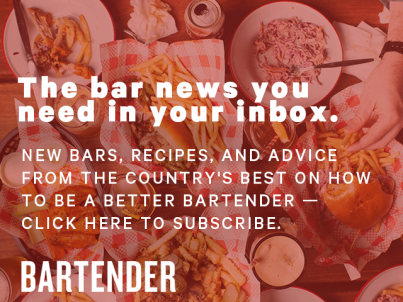 &nbsp
"The way the bar lounge is set up is as if you were entertaining in your lounge room from a galley-style kitchen," says Carr. "The challenge is being able to produce high-end cocktails with as minimal movements as possible. As such the cocktails will be largely batched, bottled and pre-diluted [and] served over Bare Bones ice. Think Old Fashioned, Manhattans, Martinis, Juleps and an over the top Stinger."
Who doesn't love a Stinger after a classy steak dinner?
The idea of dispensing with the traditional bar setup is a rather novel one, but as is the case with the bar offerings at their other venues, the idea is driven by the style of service.
"We wanted an open service environment, no separation between the bartenders and guests and to our knowledge no one has ever had a bar without a bar top?" says Carr.
"The idea of not having any sort of barrier between the guest and bartender is pretty cool, nothing to hide and no where to hide. I always loved being on the floor and entertaining at home so this is the perfect blend of those," he says.
In terms of the spirit selection on offer, they'll be pitched towards supporting the big flavours coming off the grill in the kitchen.
"Being styled after a New York steakhouse the spirit focus will be on some big hitter American bourbon and ryes with some Cognac and brandy in for good measure," Carr says. "We will have a decent amount of other categories which will grow, but as always, only one vodka."
When it opens in November, however, you won't be able to pop by just for a drink — though that might change, Carr says.
"The venue itself is an overall experience," he says, "so at least to begin with you will need to dine with us to experience the lounge bar however that may change, especially if you are a friend."
The Gidley opens at 161 King Street in the Sydney CBD in November.