Sydney bar Old Mate's Place opened just in time for Sydney Bar Week 2018, and in that time has become a staple of any serious Sydney-side imbiber. They're part small bar and part rooftop bar, but most of all? They are a neighbourhood bar oasis in the middle of the city.
Here's the reason we think they've become such a magnet for the hospo world: it's because the bar is a true manifestation of its trio of owners, Gabrielle and Andres Walters, and Daniel Noble. They're hospitality lifers the lot of them, and they bring that passion for the industry — and a laid back irreverence — to what they do at Old Mate's Place.
It's an approach which saw them land some six nominations at the Bartender Magazine Australian Bar Awards last month, one of them being the big one for Bar of the Year. And now that they've celebrated the bar's first birthday, we wanted to get their insights about how that first year has been, and what they've learned along the way — we spoke to Noble to learn more.
What's the attraction of the bar business for you?
Dre, Gabs and myself have been in the some form of hospitality since we were of legal age (and a while before, shhh). Dre started as a chef and moved to the bar, Gabs was kinda born in a pub and I too started in a kitchen. At some point in most people's lives, unless you are forced into a career by the folks, you take stock of your natural talents and the things that are important to you; turns out we all love showing punters a good time. You might say it's something that runs in our blood, so it was inevitable for us to end up in this wonderful trade. It's also a lot of fun.
Why did you want to open a bar and become a bar owner?
Didn't finish law school.
ADVERTISEMENT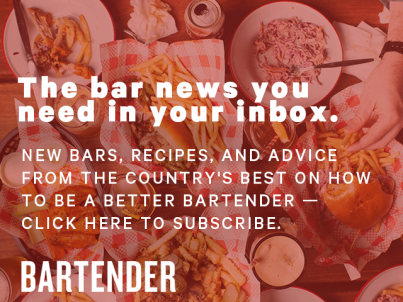 &nbsp
How would you describe Old Mate's Place?
When we were conceptualising Old Mate's, the three of us had a very unified vision which starts with a funny story, the original vibe we were trying to cultivate was based off a single phrase: Jumanji library. We repeated this like it a was the hail mary of a sinning man. And people instantly knew what we were talking about! Turns out, [in the movie] that the scene doesn't exist. But it gave us the direction we needed to bang out a pretty nice bar.
We think that using timeless elements, like dark wood, leather and books, combined with plants and the open air rooftop, creates a four season venue that appeals to all punters. Hopefully it will survive the test of time.
You are about a year in now — how have you evolved as a business operator since the beginning?
That goes without saying, if you are unwilling to adapt to your environment, you will inevitably fail. One of the things that we all love about our industry is that it is constantly evolving — [it] stops people like me from getting bored.
We also know a fair amount about asbestos we didn't think we'd ever need to know.
Where do you draw your inspiration from when it comes to the drinks and eats?
Personal experience, this falls into several catagories: Influences from people who we respect; olfactory memory (flavours, smells that we have accrued throughout our lives); jive, seems strange, but a lot of our best ideas have been born from sitting over beers and sassing each other; and travel and experiences have a big factor. We've both been to similar places around the world and see eye to eye in a lot of how we want Old Mate's Place evolve.
What's your approach to hiring staff for Old Mate's Place — what are you guys looking for?
We ask them if they like dogs; tells us everything we need to know about a person.
Realistically it's about the personality, you might know everything under the sun about alcohol but if you're an arrogant person that will come through with your service. Someone who is humble and likes to have a laugh at themselves, we are here to ensure people have fun and it's quite easy to do so if that's your personality type.
What mistakes have taught you the most important lessons?
Every mistake we have ever made has brought us to where we are today. If you don't learn from your mistakes then it's not going to work out for you.
We're also of the opinion that we will never know everything so learning from the people around you is a big thing for us. We've tried to hire people like Adam Cork or Harry Saunders because they bring different things to the table when running a venue. Both those guys as well as the rest of the team all bring different things that we can learn from. We always say that everyone has worked in different bars and restaurants and there will be one thing that they bring to the table that will blow your mind. Usually something quite simple.
What advice would you give young bartenders who want to open their own bar?
Be patient, don't jump into a site that isn't right for you, learn from a wide variety of operators, take what you like and learn from their mistakes.
We have been lucky to learn from some amazing operators in our time and we've basically looked at that as being a really long apprenticeship. It's best to know how to manage a bar before you then figure out how to do the back of house. Having a firm knowledge of where your money is going and keeping it tight really helps when the going gets tough. Once you know the back of house like the back of your hand its nice to have dabbled in designing someone else's bar. You'll learn from the mistakes you make with other people's money; sounds awful but it's exactly what we've done.
Once you do find a site you love do your due diligence, then do it again!  Don't be afraid to walk away from a site if it doesn't feel right in your gut. We walked away from heaps before we got Old Mate's Place.
What do you think makes a good bar a great bar?
The team. You could have milk crates in a cow paddock if your team is on point.