Kate McGraw is a bartender we've been following for some time. She first came to our attention through the world of cocktail competitions, but it has been McGraw's way with flavour and technique that has piqued the palates of many.
And back at the beginning of August, McGraw opened the doors to her first venue, the Bondi izakaya-that-isn't-an-izakaya, Isabel. Isabel is a collaboration between McGraw and fellow owners Geraint Coles and Mitch Slattery (of Panama House) and Michael Riley (of Sam I Am). 
Below, she talks to Sam Bygrave about the challenges and travails of opening a new bar, what Isabel is all about, and shares her advice for aspiring bar owners.
What's the attraction of the bar business for you?
There's a lot that's been said about bars and about our industry, but for me, we have this incredible opportunity to curate experiences and make memories with people which is so rare in so many other lines of work. There's something quite romantic about the impact that a smile, a chat and some liquid in a glass has on people. 
Why did you want to open a bar and become a bar owner?
I never really did! I was super happy and content working for other people, then I started consulting full time at the end of 2017 and it marked a huge shift in my work and personal life. It was great but it's also a very lonely venture. Bar Week last year reminded me why I love venues and being in them, and that's when I started scoping out opportunities to throw myself in the game in a bigger capacity. I looked at going back into larger format groups and whatnot but there was nothing out there that really excited me, so when I got together with my now business partners it became about building a venue and a company that I would want to be in and they would be proud of. I'm super lucky in that way – Mitch, Michael, Geraint and I all work incredibly well together and share a common goal which is really hard to find.
ADVERTISEMENT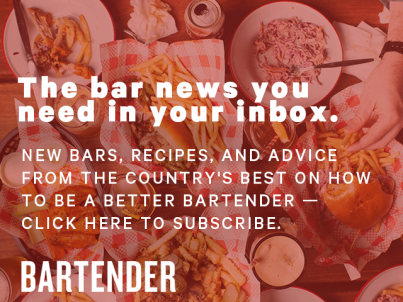 &nbsp
How would you describe Isabel?
Isabel is a contemporary Izakaya; it's about ego-less but innovative drinking, delicious snacks and an all round good time. Everything we do behind the bar and in the kitchen is based around respect for the ingredient, technique and guest. 
You've just opened — can you describe any of the issues you faced and how you overcame them? 
This is my 12th or 13th opening and we've run into every single challenge we could've anticipated and then some. One of the highlights was getting trade waste into the site, which when we were handed the keys was a concrete box with no plumbing. Trade waste is essentially the waste water that the venue generates. We had to scrap conventional solutions to avoid having to set in concrete, so it became the build of out of the box thinking. We had the usual gamut of issues with trades, licensing, council and so on, but the thing I've definitely learned is the easiest way to overcome things like that is to be surrounded by a great team who bring a lot of ideas and energy to the table.
Where do you draw your inspiration from when it comes to the drinks and eats?
We really based the whole offering around an izakaya – the kind you find in Osaka where it's about delicious drinks and snacking on local produce prepared with incredible technique. Highballs are such a huge part of that culture, and they do a lot of fermented stuff as well which has become a huge part of our menu. We have such a huge array of amazing produce available to us, so then the whole menu has been about working with those ingredients to get incredible clarity of flavour and concept. It was unintentional, but every drink has in its own way become very conceptual. The food has been the same. Our chef isn't Japanese-trained but he's taking incredible technique to incredible produce and applying that Japanese mindset to it — it's really a delight to watch and eat. 
What's your approach to hiring staff for Isabel — what are you guys looking for?
We're an ambitious bar with high standards, but I was very aware from the get-go that finding people who can work at that pace with the attention to detail and technique is very difficult in Sydney at the moment, especially once you move out of the CBD. Jet [Hauge, Isabel's bar manager], Edie [Bannerman, ex-Berts and Isabel's maitre'd] and I then decided that we wanted to find young people who were passionate about the industry and had a great work ethic, then we would teach them the rest. I never expected any of the young guys we hired to know how to use a rotovap or how to make the perfect milk skin crisp — but all of that stuff is teachable. What I can't teach is personality and attitude.  We've had a few people come in over the last few months who ended up not working out which is totally fine, this kind of environment isn't for everyone. My way of working doesn't suit everyone, I come from a restaurant background and run Isabel with a huge emphasis on people taking charge of their upskilling (all paid and with support from us, of course), so people who have come up in cocktail bars can find the adjustment difficult. Every member of staff gets KPIs, from our management through to our dishwasher, and there's a certain level of personal development and self-reflection we're trying to foster. At the end of the day, I'll give anyone a go if they've got the right attitude. We're constantly looking for people who want to be a part of this. 
Which mistakes have taught you the most important lessons?
There's definitely lessons learned from past mistakes and venues that I've applied to getting Isabel up off the ground, and most of it comes down to managing other people. There's no problem or issue that's popped up that hasn't been manageable really – it's just about finding new solutions. I think the biggest lesson I've learned is the value of self-evaluation. We spent a lot of time doing bartender bootcamp with the team and there were certainly days where I've sat back and thought – 'Gee that was a really ineffective day'. I think if you, as an operator, can recognise when you've made a wrong decision or veered a little off course then figure out a solution or an action plan to fix it, it sets the tone for the rest of the team. It's still a work in progress but most of the time now instead of the guys coming to me with problems, they come to me with solutions which makes my life significantly easier!
What advice would you give young bartenders who want to open their own bar?
Just because you're a good or creative bartender, doesn't mean you have the skills to open a bar. I was lucky that I have a senior management background so I understand GP, COGs, P&Ls and cash flow forecasts — if you're sitting there wanting to open a bar and you don't know what any of those things mean, it's probably not the right time. Your idea for the bar might be great but if you don't understand how you make money or where the money goes once you've made it, there's no way you'll find the right kind of investors. Then, of course, find great people to work with. Find people that are smarter than you and hire them straight away, then let them do what they're good at. 
What do you think makes a good bar a great bar?
You can have delicious drinks, a beautiful fit out, the fanciest technology or any combination of the above, but at the end of the day a good bar will never be great unless you are hospitable. Great service is the crux of it – and I'm not talking about holding your service cloth the right way, I'm talking about the type of service that when people leave they want to give you a hug and shake your hand.