Barcelona — the way I experienced it, anyway — is a city of thirds: one part skater-punk-hipster amalgam, one part over-tourism apocalypse, and, in the Gracia area, one part well-to-do cosmopolitan neighbourhood, something akin to the West Village in New York.
We stayed in El Raval, deep in the first skater-punk-hipster neighbourhood, and I'd encourage anyone visiting Barcelona to do the same. It's just a leisurely 10 minute walk from the tourism of Las Ramblas, the big boulevard that disects the city and leads down to the water (at which you'll find a wharf development that makes Sydney's Darling Harbour look chic and modern). But El Raval is next door to a university, a contemporary art museum (the forecourt of which, we're told, is a destination for skaters from across Europe), and home to one of our new favourite bars: Two Schmucks.
Co-owner of Two Schmucks, Moe Aljaff, was behind the stick when we visited and explained that the neighbourhood was, just a few years ago, something of a no-go zone, but despite the hipster coffee shops and tattoo parlours and skate wear stores, is still a place where the locals look after each other. He buys the bar's fruit from a supermerkat down the street from him, and when they were building the bar, two of the neighbouring shopkeepers chased down a bloke who had stolen their bicycles.  It's that kind of place.
If you find yourself in Barcelona — and many people do (we happened to bump into Maybe Sammy's Andrea Gualdi) — make sure you take some time to walk the streets. Around the old town the terrain is flat, and there's some great drinking to be had all within a five or 10 minute stumble of one another. Look up, take in the grand old architecture, the mix of new buildings nestled among (and often built into) the old, and get lost down its laneways — do it at dusk, and you'll likely find yourself staring down a narrow street as the sun hits the cobblestones and thinking of just how damn lucky you are to get to do this.
Aljaff tells us that he often has bartenders from across the globe popping by the bar, people he has met overseas and some he hasn't, and they all seem to be on their way to somewhere else — whether it's France for a brother's wedding, up the coast, or to somewhere else in Europe. 
ADVERTISEMENT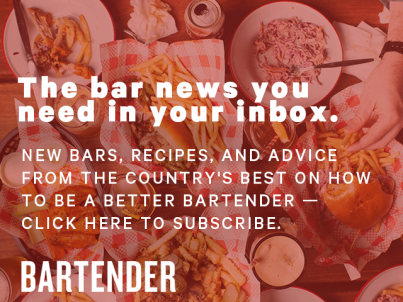 &nbsp
Whatever your excuse is, make sure you stop by. 
Nomad Coffee 
This place was a happy accident. We stumbled upon it, not having had proper — read, Australian — coffee for a week. Filter coffee is here, proper third wave stuff; you'll want their cold brew should you visit in summer.
And yes, you can get your flat white here as well.
Two Schmucks
If you can get a hotel near Two Schmucks — we stayed one minute's walk down the street — you'll thank yourself after a night in this bar.
That's because the hospitality on offer from owners Moe Aljaff and AJ White will keep you there all night. The cocktails are delicious, and the attention to detail is there if you're looking  hard enough (not only do they have a dimmer switch on the lights, they can also control the temperature of the lights, something that only photographers ever really think about). 
But more likely, you'll be having too much goddamn fun to want to leave.
Boadas Cocktails
Opened in 1933, Boadas Cocktails is famous not for its bartenders — though the dinner-jacketed trio were experts behind the stick — but for the technique of throwing cocktails. 
They famously kept the technique alive when other bars had forgotten about it, and it's here where you'll want to sidle up to the point of the bar, order a Martini, and watch them in action. They know how to pour a stiff drink, that we can assure you.
Nevermind
Every bartender and professional drinker visiting Barcelona has their hitlist of bars to visit, and they're all the same bars, Two Schmuck's Moe Aljaff told us. "I like to take visitors to Nevermind," he says.
That's because it's not on those hitlists, but it gives a real sense of the El Raval neighbourhood — it's a skate bowl by day, he says, and then when the bar opens the inside bowl becomes a place to hang out and drink. It's plastered over in posters with graffiti scrawled everywhere, like the Frankie's Pizza bathrooms writ large.
Bobby Gin
We all know by now that gin is in; bars specialising in the juniperous stuff have popped up across Australia, and the rest of the world is keen for it, too. 
Bobby Gin is one of those bars and it is Barcelona's premier destination for a Gin Tonica. The service is friendly, and the gin selection reasonably extensive (just don't be hoping for anything from Australia).
Old Fashioned Gin Tonic & Cocktail Bar
We didn't really know what to expect when we stepped through the doors of this cocktailing joint in the Gracia district, other than to expect that the bar does what it says it does on the tin. And indeed there are Old Fashioneds to be had and gin to be drunk. It's a decidedly small room, and if you're not a fan of a crowd then you're best to visit earlier in the evening — our rather energetic bartender suggested that it's something of a party spot late into the evening.
You'll find yourself with an expertly made Old Fashioned should you desire one, too.
Boqueria Market
What's to say about this place? The original Barcelona marketplace, it's a perfect for stop for a bite, or an afternoon drink — a temple of seafood and jamon and the cured meat arts. Just expect to pay for the pleasure. 
Had enough of the city?
Spain shares a peninsular with Portugal, and Barcelona sits on the east, looking out towards the Mediterranean Sea. And should you feel like an escape from the city, you have ample reason: the Costa Brava, north of the city, features some of the world's most spectacular beaches.
We can recommend Tamariu as the perfect getaway. Stay at the Hostel Hostalillo in Tamariu, and you'll look out over crystal clear blue waters, and down onto a small, beachside village of white houses and seafood restaurants. 
Walk the backstreets of the town, and you'll find hole in the wall shops selling proper pizza (and crepes, too); walk the cliffs and on a clear day you'll think you can see Italy across the sea.