The neighbourhood bar is a special thing; when you can find a place in the town or city you're in that makes you feel like you're at home — hold on to it tight. Never let go.
And Two Schmucks, despite appearing on the World's 50 Best Bars long list and attracting bartenders and thirsty types from across the globe to its little corner of Barcelona, is one of those bars.
We first visited in the late afternoon on a Friday. Stepping in off the hot street outside, the bar was cool and the first punters for the night were just settling in. We were in before a bartender was on, but in the afternoon there's a bunch of tapped cocktails and easy to fix drinks on offer (we downed a couple of Americanos and a 'shitty lager').
Two Schmucks underwent some serious renovations earlier this year, rethinking the space they occupy in the El Raval neighbourhood. The back bar went — they ditched the whole idea of a back bar — with much of the drinks prepped before service and done out the back of the bar. It allows the Schmucks to focus on the hospitality out front.
And that's true to what Aljaff says Two Schmucks is all about.
ADVERTISEMENT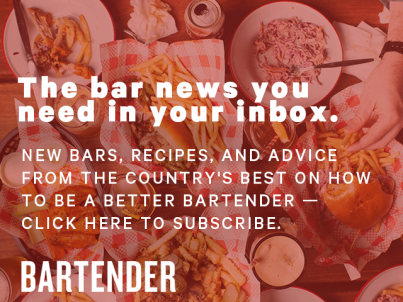 &nbsp
"We realized two things when we ran this business," he says. "One, we're not in the drinks business, we're in the people business. Two, self awareness always wins, it was important for us that Two Schmucks reflected us 100% and sent across a message as to why it's here rather than what."
So yeah, the bar is a five star dive bar in a sense. They've got an attitude about what they do, but they love what they do and it shows. And the details are there, too, which is what makes it five star: details like the colour temperature controlled lights, so Aljaff can set the right mood no matter what time of day it is outside.
The first drink Aljaff served up to us was the Alpha: gin, apple and celery shrub, lemon and absinthe. It's quite possibly one of the freshest tasting drinks there is, and the produce for it comes from a mate of Aljaff's down the road — it is, as we said, a very fine neighbourhood bar.
One of the world's best.