The national final of Season 2 Speed Rack Australia takes place this Sunday at St Kilda's Hotel Esplanade, when 18 women from throughout Australia will face off in one of the most difficult bartending comps around. If you're in Melbourne on Sunday, make sure you get down there — you can buy your $20 ticket online right now — because the money raised on the night supports breast cancer education, prevention and research.
It's also one hell of a great comp to watch (and it's a great cause).
The competition is the work of two New York bartenders, Ivy Mix (who we've interviewed before here) and Lynnette Marrero, and to date they've raised more than one million dollars for charities supporting breast cancer research.
That's quite the contribution. They've staged Speed Rack across the USA, in the UK, and Asia, with Marrero and Mix having just arrived in Australia fresh from the Asian Speed Rack finals in Hong Kong.
Below, we ask Marrero what the big idea is behind Speed Rack, how she began bartending (and what to expect from her work at LLama Inn in Brooklyn), and how a good bartender can become a great one.
ADVERTISEMENT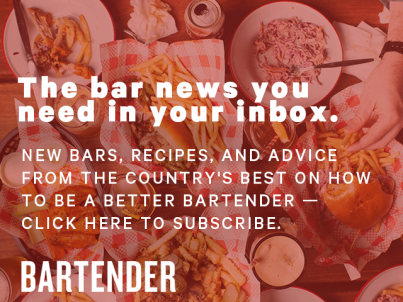 &nbsp
And don't forget to book your tickets now, and we'll see you at The Espy for the final.
For those who don't know, what's the idea behind Speed Rack?
Speed Rack is about building a peer community for women globally. Yes it is a competition and it is meant to prop up and support women in the global cocktail community and give them a platform to show how awesome they are. This is done through events that offer mentorship in the moment from our judges, and develops a sisterhood.
You've just come from holding Speed Rack in Hong Kong, can you tell us what you think of the bartenders and scene over there?
The event was really incredible. It is wonderful to see how the Asian bar scene has grown. Bannie Kang, who won World Class, competed in Speed Rack Asia Season 1. Many of the ladies from that season are having an incredible amount of success in their career. What was wonderful to see was the amount of skill. I saw some extremely fast and accurate pours and techniques. It was very impressive and the winner, Summer Lo won with a very fast jiggering technique. She was incredible to watch.
How did you get into bartending?
I started working as a bartender at the Flatiron lounge with Julie Reiner.  I was a musical theatre performer living and working in NYC. I really did not want to be the cliche waiter/actor; I used to work in offices doing temp work for many friends I went to university with. I was in California doing a pre-Broadway run of a show when 9/11 happened. After that, I decided that I would not work in offices and talked my way into a job cocktailing at a wine bar.
Julie put the first jigger in my hand a few years later and I have not looked back.
What should one expect at the Llama Inn?
Well I have been spending all of September at our new restaurant, LLama San, which focuses on the Nikkei cuisine in Peru which is the cuisine that was influenced by Japanese immigrants in Peru. Here we are drawing inspiration from Japanese bartending using ingredients from the cuisine, adding Shochu to our list, using ume, sudaichi, sake, Japanese whisky and blending those with Peruvian pisco and using Peruvian ingredients in tandem with those. The vibe of the drinks list is Latin in its playfulness and bold flavours, but has the finesse of Japanese technique.
The LLama drink programs are all heavily influenced by [the] culinary [world]. [Our] Chef Erik Ramirez, he was the first non-European sous chef at Eleven Madison Park. As Latinos we are taking classic training (culinary and cocktails) and we are adding our Latin culture to it. I am Puerto Rican, not Peruvian but I understand the flavours!
What advice would you give to a young bartender looking to make a career in the industry?
Be accountable. Follow through, be dependable.
What makes a good bartender become a great bartender?
I think it is truly understanding service and wanting to give guests a good experience. Having the ability to multi-task is also the sign of a great bartender. I have worked in restaurant bars for most of my career and that is an essential part.
What are the hallmarks of a great bar?
Similar to the above. I think the best bars embrace the idea that the bar in a community space. It should be a place for people to connect.
The details
What: Speed Rack Australia S2 Final
When: 4pm, Sunday 3 November
Where: Hotel Esplanade, 11 The Esplanade, St Kilda
Tickets: $20 + booking fee — click here