When we wrote last year that one of the world's leading bars — along with one of the industry's most innovative and progressive bartenders — was setting up shop in Sydney, well it caused quite a stir.
Matt Whiley's bar in London, Scout, landed at number 28 on the World's 50 Best Bars list in 2018 and has become one of the must-visit bars for any creatively-minded bartender when in London.
In February this year, Whiley [pictured above] opened the bar's first outpost (and his first in Australia), when he took the upstairs space at The Dolphin in Surry Hills.
They've made minimal changes since opening, the biggest — to our eyes at least — is removing the speakeasy-esque door at the entrance to the stairs to the bar, and removing a couple tables to increase the space for standing room in front of the bar. 
"We've just got used to our space a little bit," says Whiley. "We've added a table [in the table service room], and lost our toilet upstairs, because we needed to build a bigger lab."
ADVERTISEMENT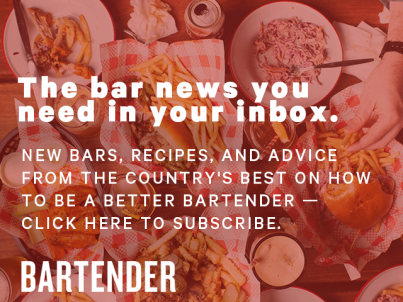 &nbsp
Here, Whiley speaks to Sam Bygrave about their next menu, what he has planned for the drinks at The Dolphin, and why he loves strawberry gum when he's creating drinks.
What can we expect from the new menu?
The clientele in this building is quite young, and the bar's really busy — especially at the weekend. So we want to make a menu that when you read it, there's a fun element, and if you want to know the backstory of how and why we do what we do you can, but it's more about enjoying the space. 
That's what people are coming in for — they're coming for great drinks, but they're also coming to have a great time as well.
The new menu is going to be the Scout survival kit: it'll be all the things you need to survive in the city, and you'll be able to buy those 12 things. It might be a condom, it might be a tube of toothpaste from staying out and partying — it might be a spork. I'm just spitballing them, but it'll be along those lines.
How has everything you've been offering changed — if at all — since opening, as you get to know the clientele?
We still do pretty much the same as what we did, it's just obviously the seasonality is different. We're still a lot softer in our approach than we are in London; London we're way more out there in terms of flavour combinations, and because it's smaller. Whereas here, we're busy, we've taken the door off and made it more inviting, people wrap round [the space].
We want people to sit and come and enjoy it, and a lot of people do come for the experience, but there's also a lot of people from the pub, and we want people just to think, "fuck, that's good." 
There are some [drinks] that push it, but we don't go all out.
The team dynamic has changed — when we opened we were a team of all men, and now we've got two women working with us now. 
We've got Alex Glaser to come over with us, she was at [Melbourne popup] Fancy Free, but before that she was at The Savoy [in London]. She's a big asset to us — she's awesome.
So can you tell us what you're doing with the drinks downstairs at The Dolphin?
Well anyone who has been into one of Maurice [Terzini's] venues, can tell he's big into aperitivo drinking. They've kind of tasked me with overalling the beverage for the group, and for me, he was one of the first people to bring this style of drinking to bars and restaurants and he's been doing it so long. For me, other people have jumped on it, and kind of taken it to another level and he should be at the front, and competing with everyone else. I'm not saying I can deliver that for him, but I can try. So my remit for it was, let's still give it a Terzini DNA, an Italian back story, but make it fun — make drinking in the pub interesting and fun. 
We've got an Italian version of a Jungle Bird, we just switched the rum and the Campari — people are loving that. We're getting [this] ready, because we know when we launch it it's going to go mad, we're going to put an Aperol Spritz on tap but we're fermenting the wine ourselves — we're making a fizzy rhubarb wine, that will be just with Aperol. It's going to be on a tap in every single bar in the pub, so we're currently fermenting 200 litres of rhubarb juice in the lab — I told you we needed to make a lab!
The drinks on the menu, they come on and off do they?
There's one drink that's been on the menu since we opened, and that's the Espresso Highball. We had a best seller on the menu, which was the Haymarket, which people would come in just to order that — so I changed it. It was outselling every other drink four to one.
So what's the thinking behind changing it — it's clearly popular?
Yeah, I like changing stuff that's popular. We've replaced it with something similar — we've not gone, "You love it, fuck you, we're going to make something totally different." We're gonna tweak it it and make something slightly different. 
Tell us about the Camelflage?
The Camelflage is basically a camel and dairy Milk Punch, with bergamot, yuzu, raspberry, and then the pet nat when that goes flat we make it into a caramel. 
And that took a few goes to get going?
It was really hard to split the camel milk. It's from Australian camels. You can buy it in the supermarket, you can buy it in a few places — it's $25 a litre. But there's like thousands and thousands of camels all over Australia, so we had to use it.
[ultimate-recipe id="52125″ template="default"]
When two comes to foraging, how do you know when to eat something and when not to?
Generally, if we don't know we don't eat it. [I know] quite a lot, but not like a forager knows. I always err on the edge of caution.
Are you over any of the native Australian ingredients yet?
I don't think I'll get over any. I thought I'd get over strawberry gum, but I still go back to it — it's so versatile. It's aromatic as well as having that red fruit compound in it, it goes with so many things. At Bangkok Bar Show, Tom Egerton was making a drink, and he used strawberry gum and coffee and I tried it and was like, oh, that's really good. That's a combination you wouldn't think of. Me and Andrea Gualdi, we were together and both ordered it, tried it, and ordered two more. It was that good. It was like, wow, this is amazing.
I love Geraldton wax leaf, it's so complex and interesting — every time you taste it you get something different, really floral but also really lemony. Sometimes it tastes like both. I think it's incredible.