Nikkei is the latest bar and restaurant to open from the people who brought you Tokyo Bird, Bancho and Osaka Trading Company, and it opens tonight.
Nikkei is inspired by the distinct Peruvian-Japanese cuisine of the same name.
"Nikkei refers to Japanese immigrants living in foreign countries," says Nikkei co-owner Jason Ang. " But more specifically in Peru, it also refers to the food of their Japanese immigrants, which has developed over more than a century using Japanese cooking techniques and flavours with Peruvian produce."
The venue offers a share-style dining experience, but it also boasts a 40-strong wine list, and some Nikkei-inspired cocktails from venue manager Marco Oshiron Giron (ex Tokyo Bird, Lucky Suzie, BLACK Bar).
But given that Peruvian-Japanese cuisine isn't something we see everyday in Australia, we thought we'd ask Oshiro Giron — who himself is Peruvian-Japanese — to explain a few things on the menu and give us an idea of what to expect from the drinks at Nikkei.
ADVERTISEMENT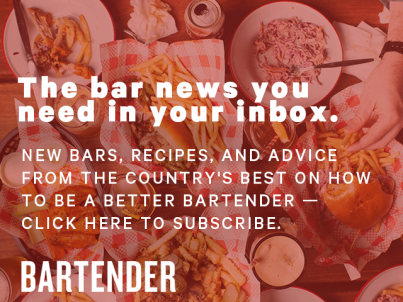 &nbsp
What's the big idea behind the list?
I wanted to create a list that had something for everyone. An approachable list but also using flavours that would challenge our guests (I'm using a lot of different spices within the list). The result is their satisfaction with having tried flavours and combinations that they may not find on other cocktail lists.
The eight cocktails on the list can be profiled as: light and aperitif, fruity, sweet and sour, tart, spicy, savoury, bitter, and after-dinner.
Was the Nikkei theme exciting to work with in terms of cocktail creation
Definitely! It's been almost four years since I wrote my last cocktail list as I started focusing more on restaurant/venue management so that alone made the experience of being creative with drinks again very fulfilling.
Being able to showcase myself, a Peruvian-Japanese or Nikkei-jin, in drink form by using Peruvian and Japanese ingredients and flavours was a fun exercise.
What is anisado?
Anisado is anisette – an anise-flavoured liqueur in the style of pastis, ouzo, sambucca, etc – usually consumed after heavy meal as a digestive or 'bajativo'. In Cusco there's a saying that goes "tomate un anisado para bajar el chancho, o matar el chancho" (have some anisette to make the pork go down, or to kill the pig) as Peruvians eat a lot of heavy dishes like chicharron, lechon, and roast pork.
How do you make your house pineapple Pisco? How did this come about?
We salt pineapple slices to draw out the pineapple's sweetness and then we throw the slices on the grill to get that nice charred, caramelised flavour.
We then sous vide these salted and char-grilled pineapple slices with pisco.
Once that process is finished, we cut the pisco soaked pineapple slices into thin sticks and dehydrate them to use as a garnish for the cocktail that uses the pineapple pisco (the Agrio cocktail; agrio means 'tart' in Spanish).
I decided to make a pineapple pisco as the Agrio cocktail is semi-based on an East 8 Hold-up but I didn't want to use pineapple juice as I wanted to have a sour, tart drink – the cocktail has no added sugar.
The drink is as sweet as its ingredient list: pineapple pisco, Amaro Montenegro, maracuya (Peruvian sour passionfruit), pink grapefruit, lime.
Is the list quite prep-heavy?
We are flavouring pisco, making some house sodas (a thyme, coriander, honey and ginger soda; and a sparkling oregano tea, rosemary,  shichimi and rice vinegar), making spiced quinoa milk, and some syrups.
I noticed you've got rice vinegar in a drink — tell us a bit about how that works?
I wanted to make a cocktail with oregano tea and then thought to create a carbonated version of it. I made a rosemary and shichimi syrup to give the tea some spice and sweetness and then wanted to balance it out with some acidity.
I tried fresh lemon and lime, and then a citric acid solution but it wasn't quite working out. Then I remembered I had used Japanese rice vinegar a while back to make a shrub for a drink at Tokyo Bird and I thought of how the acidity that it provided was mellow and less sharp. Turns out that it's definitely less acidic than citrus fruits on the pH scale!
Nikkei opens today — you can find them at 216-224 Commonwealth Street, Surry Hills, Sydney and on Facebook here.