It's been a tough 12 months for industry stalwart, Joe Sinagra, who was in a serious motorcycle accident in 2018. He has battled his way back and was once again on the mainstage at this year's Bartender of the Year competition sponsored by BACARDÍ & De Kuyper.
Here Joe talks about his recovery, competing with gastro and what he thinks is the perfect bar experience.
Joe Sinagra
Halford, Perth
You weren't able to make it to Bar Week last year. Can you tell us what happened?
Unfortunately I was in a bit of a motorcycle accident. Nothing a short coma and a couple of months in hospital didn't fix. It was touch and go for a while and there was a lot of damage but my partner Josie and my family were amazing through the whole thing. I was lucky enough to have a family full of doctors who were on my doctors about getting the best treatment and care for me. They're really the reason I got through everything with minimal long term damage. I had a huge amount of support from work and the wider industry as well which was also amazing.
How did it feel to step out onto the big stage again this year?
This year was a little difficult. I had drinks and chat ready but had been battling that pesky gastro bug that went through everyone at Bar Week over the course of the entire comp. Just as I got on stage I was overwhelmed with the need to be quite sick so I sucked it up and smashed out the drinks with as much chat as I could get through while holding it together and served my drinks. I was really happy with the drinks but obviously my presentation left a lot to be desired.
ADVERTISEMENT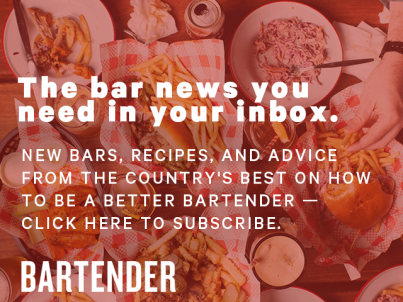 &nbsp
What's your idea of a great bar experience?
It's all about hospitality. It sounds simple but being welcomed and made to feel like you're wanted in the bar are the biggest things. The best bartenders are the ones who make you feel at ease and comfortable, seemingly effortlessly.