If you've spent much time in the Sydney bar scene, you may be familiar with Sarah Mycock. She's has graced the floor of some of the city's top venues, and Mycock's resume includes stints at QT Sydney, Kittyhawk, The Lobo Plantation, and most recently PS40. There's some rather fine bars there on that CV.
But it's her recent time at PS40 where she's stepped behind the bar for the first time. And it is this experience that has seen Mycock take out the top gong for Rookie of the Year at this year's Bartender Magazine Australian Bar Awards.
Here, Mycock talks to us about her career thus far, what it was like to win at the Bar Awards, and her approach to hospitality.
I wasn't expecting it at all. I was as surprised as everybody else, but it was a very nice surprise.
My first hospitality job? I actually applied for — you know the girls in the red wigs, the hosts — I applied for that and I didn't get it. But they said I should work in the cafe there. After that, I went from the cafe to working nights as a waitress in Gilt and Gowings. After that it was Stitch, then after that it was The Lobo Plantation.
ADVERTISEMENT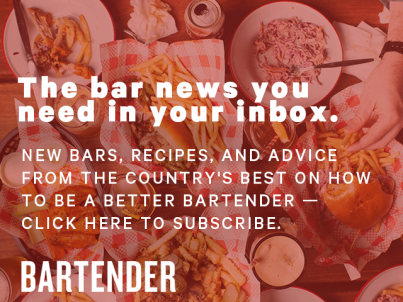 &nbsp
I originally got hired to open Kittyhawk. I did two months of training at Lobo, then went over to open Kittyhawk and it wasn't really my vibe. I said to Jared [Merlino, Lobo's owner] that I wanted to go back to Lobo, and he said I could and that he wanted me to be a manager — but still on the floor.
I honestly have no idea how it came about. I quit Lobo [after a year and a half]. My sister works for a recruitment agency, and I thought: fuck it, I'll just go get an office job. I thought that I was pretty done with [hospitality].
The day after I quit, Thor [Bergquist, PS40 co-owner] came down and was like, 'Oh did you quit your job? You should come work at PS40.'
I said 'You know I've never bartended, right?' And he said, 'I don't care, we'll teach you, it'll be fine.' I'd always wanted to work here at PS40, but I never thought it was actually possible because of my lack of experience.
I like that it is almost like a neighbourhood bar, kind of vibe, we have a lot of neighbours that come in. Because PS40 is so small, it makes it a bit easier — you can be more like yourself. I think in some bars, it can be so forced — it's not genuine.
But here, MC [Michael Chiem, 2016 Bartender of the Year and co-owner of PS40] would never encourage that — he would say just be yourself. If you're not happy and chirpy, don't put it on. Obviously be nice to people. But it's nice to have such a good crowd of people who come here.
I've definitely learned that there's no such thing as a stupid idea. Which is really good, because in so many other bars it's just the opposite: you put up an outrageous idea and people are just like, 'What the fuck are you thinking?' But MC has the most insane ideas.
Even the Africola, when he told me about that? I thought it was never going to work, but it's one of our best drinks.
Just speak to people like they're people. I don't know — people can sniff out a fake person, they can sniff out someone who's not genuine. If you're just real with people, I think people respect that a lot more. It's almost uncomfortable to go into a place where people are really fake — they're talking to you but there's no connection or anything like that.
There were times where, you feel broken down and you think, why the fuck am I doing this, what is it for? But I couldn't imagine not doing it. I couldn't imagine not being, I don't know — I can't imagine working in an office, or doing a job like that. I think that I'll always be doing something like this — maybe one day with my own bar.
Visit Sarah Mycock behind the bar at PS40 in Sydney.