The third time was a charm for James 'Rusty' Russell. Having made the Top 16 rounds of the Bartender Magazine Bartender of the Year sponsored by BACARDÍ & De Kuyper in his two previous attempts, this year saw Russell land at the pointy end of the comp.
Russell, whom you may know from Sydney venues The Rook and The Barber Shop, can these days be found behind the stick at one of Newcastle's finest bars, Coal & Cedar.
Here, Russell shares his advice on how to prepare for the competition, and the things that he thinks makes a bartender great.
James 'Rusty' Russell
Coal & Cedar, Newcastle
How did you prepare this year? 
I've competed in the comp two years before, both times making it into the Top 16. This year I knew going in that I had to smash the speed round because I hadn't done well under the pressure in previous years — so every time a Friday or Saturday night came around I made sure I was in the busiest part of the bar so it becomes your regular gear. And lots of reading.
ADVERTISEMENT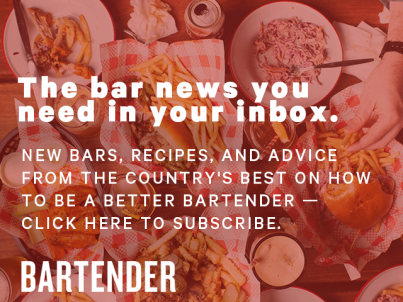 &nbsp
What makes a bartender great?
We are fortunate enough to live in a time where fresh produce is the norm and an endless access to information is in the pocket of our skinny jean – so we should be nailing classics.
Being able to read your guest — they might just want a quick beer and a crap joke between pokie slaps — or anticipating what a guest wants before they ask. But when guests come back to the bar and remember you making them a slightly wet Martini on a cold wet night in June, that's the best feeling, that's when you know you're doing something right.
What would be your three pieces of advice for those wanting to attempt the competition?
Read everything, smell everything.
Sell your strengths.
Only do competitions for the right reasons.
What do you look for in a good cocktail — what is it that marks a great cocktail?
I think we call all agree how important temperature and dilution are but they are integral to a 'good' drink. A 'great' drink to me is something that surpasses its contents, when it becomes better than the sum of its parts.
This year was your first year making the Top 8 — can you tell us a bit about how you felt up on stage?
Great. I use to be an actor/filmmaker so being on a stage under pressure is fun for me. I got heckled so I'll take that as a compliment. Knowing you are surrounded by friends who will shout you a pint afterwards regardless of how you go is great too.