When it comes to a bar's product offering, we tend to look at the drink menu first. But the eats can be just as important, and that's the thinking behind Jangling Jack's revamp and update of what they're cooking.
Orlan Erin Raleigh, who along with her partner Jon Ruttan owns Jangling Jack's, wanted to give equal billing to the food and drinks. "[Kings Cross is] becoming much more of a restaurant destination," she says, and they've brought on board a talented young chef — Gaspar Tse [pictured below] — who has a solid restaurant pedigree to bring the food game up to the quality of the bar game led by Rachael Merritt. 
Tse began his career in Melbourne nine years ago, starting as a kitchen hand with kitchens like Flower Drum, Taxi Dining on his CV. He moved to Sydney and worked at Cafe Sydney for a couple years, before stints at The Unicorn, Restaurant Hubert, and 10 William St and a year cooking in Japan. And the early results of his cooking at Jack's? Delicious.
Sam Bygrave sat down with Raleigh and Tse to get an idea of how and why the Kings Cross neighbourhood bar has upped its food game.
So the new menu is out?
ER: The new menu is out, we've been slowly getting a gap between the old menu and the new menu. That's mostly because I think you get a bit nervous when you make a large change, after about two days of the new menus items on I was like, Gaspar do whatever the fuck you want. Go bananas — this is delicious.
ADVERTISEMENT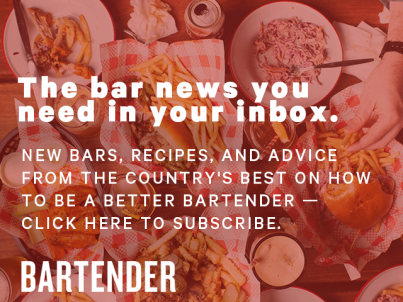 &nbsp
So it's a bit of working out what people are liking?
GT: It was working in small iterations, like menu version one, menu version two, and stepping up the creativity — not trying to push it too much the first time especially.
ER: Because you don't want to ostracise people, but you don't want to invite people in to try new things — that really helped. Having a little iteration helped people to ask, 'What's on the menu today?' That hadn't been asked in weeks before this.
So how did this happen?
ER: I was kind of stalking Gaspar on Instagram [you can find him on @sendnoodzzz} because of his love of good sandwiches. I was looking at what we were doing here, and what we wanted to do here with food, and I was really attracted to his plating, his style, and the snack nature of it — affordable, something you'd want two of because you don't want to stop at one. I think all of his food came across as beautifully nuanced and delicious — so I texted him and said hey, you don't know me and you probably think I'm nuts, but please ask around [about us] because we're looking for someone. You don't get your hopes up too much, but I just knew that all I could do is say the kind of people who we were and what kind of venue we are. We have a lot of customers, and it's just about stepping up that food game.
So what is driving the desire to up the food game?
ER: I think the change in the neighbourhood — Kings Cross has been embattled for a lot of reasons, obviously the lockout laws and everything. But there's been a big change in the demographic here — I've been living here since 2000 and working around here since then so I've seen how much older the population is becoming. It's hard to get people wandering around, it's becoming much more of a restaurant destination, and we provide incredible drinks and a great bar, so it's just about keeping them here for dinner time.
And what can we offer them? We can expose a really great young chef, to an older crowd who really know how to eat, and they go out a lot around here.
Because I get the feeling [looking at your Instagram] that you're pushing Gaspar quite a lot — what's the thought behind that?
ER: I think he's really talented. We're huge supporters of our staff, I love to push Rachael's career, I love what she does as a person and her work ethic, and I think Gaspar is much this same — he's immensely talented and I'm going to back him with that.
Gaspar, could you describe your approach to cooking and the menu?
GT: I think the last couple of years I've really looked at tamping it down, simplifying and using better stuff and putting less on the palate, rather than trying to bombard the customer. They stop listening after the second ingredient, so I try to keep it to three or four and that's it. For me it's all about less is more. If something doesn't give anything, and it's purely there for aesthetics — I don't like that anymore. 
For me it's produce-driven, seasonal, and locally sourced — working with small producers if I can. I just like finding new producers, and new ingredients — it's a lot of fun and keeps it interesting for me and for the menu as well.
Did I see brains on the menu?
GT: Pigs head.
ER: Oh yeah — the pigs head nuggets. They're the best.
So where did that come from?
GT: I was just trying to do a version of a nugget that wasn't boring.
But it sounds like great drinking food.
ER: Exactly.
GT: Yeah, and when you do it right and you braise it nicely, it's fantastic. We keep the stock we braise it in each time, so it has turned into this master stock and it's just pure, porky goodness. 
ER: That was our pitch to Gaspar, because we just want to have delicious drinking food. We sell a lot of cocktails, and a lot of drinks here, and it's really about having fun. [It's a] local neighbourhood joint and you want people to say, 'I don't really want to go home right now, I want to kick on.' And a few snacks helps a lot.
Do you think food is becoming more important for bars at the moment?
ER: I think the whole market is super competitive at the minute because you have to fight with people to part with their cash. We've all obviously read a lot about [the state of] the fine dining scene in Sydney, and I think really delicious, casual dining that's thoughtful — like Gaspar's is — I think that's going to complete with going home and ordering in. You've got to have delicious food.
Are you going be doing UberEats or something like that?
ER: Fuck no. They call all the time. It's not something that I'm interested in doing, because it's about the experience here.