Can you feel it? It's December, and that means that right now you're scrolling through an onslaught of end of year best of lists — and yes, we're about to add to that.
Each year there' are volumes of new cocktails created by you, and we're lucky enough to run a few in Australian Bartender each month in print and online.
Below we've listed the 10 best cocktail recipes — the most popular — from 2019. Some of them come from new bars — like New Bar of the Year, Cantina OK! and some come from veritable bar icons, such as Bulletin Place.
Some of the recipes below hew closely towards a classic construction with but a few ingredients, and more than a couple get geeky and utuilise fermentation techniques.
What they all have in common, however, is that you;'ll want to have more than one of them.
2019 has been a delicious year.
The team at Bulletin Place are well-known for putting a new list of five drinks together each and every day they're open, working with the best produce that is available at any given time.
They're also diving deep into the world of ferments, and this recipe demonstrates how making your own in-house ferment can give a unique twist to classic recipes.
Bee Sting
50 ml dry gin
20 ml lemon
20 ml lacto macadamia honey ((see below))
Shake all ingredients with and strain into a chilled glass.
Squeeze a lemon twist over the top and discard.
For the Lacto Fermented Macadamia Honey
125g liquid whey
150g macadamia/coconut water
200g macadamia
50g sandalwood
1.5g green cardamom
500g coconut water
150g raw sugar
150g almond milk
750g water
Split whey from yoghurt curds.
Blend macadamia with coconut water and spices.
Loose strain, retaining some pulp.
Combine whey, macadamia milk, almond milk, raw sugar and water. Stir to combine and vacuum seal at maximum pressure.
Leave to ferment at room temperature for 4 days, or until vacuum bag has inflated fully.
Finely strain lacto-macadamia. Measure brix and use to dilute raw honey to desired sweetness.
Should hold for some time. Lasts two weeks chilled.
We love coffee in Australia, and the Espresso Martini continues to be popular with punters. But we think you'd be hard pressed to go past this Irish coffee recipe from Sydney's Maybe Sammy, the winners of the 2019 Cocktail Bar of the Year title at the Bar Awards.
Cold Irish Coffee
25 ml Irish whiskey (Redbreast 12)
30 ml honey-dark sugar sweet mix
120 ml Costa Rican cold coffee
50 ml double cream
Combine Irish whiskey, sweet mix and coffee in a glass, stir gently to combine, then add the cream on top as layer using a bar spoon to let it sit gently.
Recipe by Maybe Sammy, Sydney.
Like a little theatre with your drinks? That's what you get when presented with this take on the Pina Colada from Old Mate's Place. Not only is it hidden inside a book on serving, when you pour the drink from the flash into the glass  you'lll notice the colour is missing too — that's the result of a lot of pre-shift prep work.
Hidden Pina Colada
700 ml pineapple Bati white rum
700 ml coconut liquor
1.5 litre pineapple water
Pineapple flavour
Batch this together and portion into the hip flasks.
Serve the hip flask (cold) in a book.
Place a large ice cube in a rocks glass, sprinkle the pineapple dust over the ice cube and place the Piña Colada Marshmallow over the top.
For the Pineapple water:
We start with a pineapple and clean it thoroughly.
We take the skin off the pineapple leaving a small amount of flesh on the skin part.
We add this to 1.5Lt of water and sous vide it for 20 mins.
We let this sit for 24 hours and strain out.
We'll be using this as a lengthener instead of just plain water
For the Pineapple Rum:
With the pineapple we have just cut the skin off we then cut that into large chunks and sprinkle with sugar.
Add this to a pot until the pineapple gets slightly soft but not browned
We're just activating the natural sugars because sometimes pineapples can be super sour depending on the season.
We add the chunks of 1 pineapple to 3 bottles of Bati White Rum and Sous Vide this for 30mins
Once this is done we strain the pineapple out
For the Pineapple Dust:
We now have the left over chunks from the pineapple which we throw through the juicer
We keep the juice aside and use that for the Pineapple Flavour (We'll explain that in a minute)
With the left over pulp from the juicer we add this to a tray and put it in the dehydrator for about 8hours or so.
Once its hard we blitz it up into a fine dust. We'll use half of this in the pina colada Marshmallow and the rest gets dusted onto a big rock when we serve the drink.
Best keep this in a dry place.
For the Pineapple Flavour:
With the juice we put aside from above we use a coffee filter to strain it in the fridge. This gets rid of all the residual pulp and also helps to clarify it. Once we have done this we add 100ml of sugar syrup, 3g of calcium lactate, 3g of citric acid. The Calcium lactate is where we are going to get our creamy element for the pina colada. Essentially this tastes like a creamy pineapple sherbet, it's the tits!
For the Piña Colada Marshmallow:
Coconut liqueur
Whipped egg whites
Gelatine
Castor sugar
Whip some egg whites.
Once the egg whites have formed soft peaks add the rest to a mixer. Whip it for about 10 mins.
Set it in a baking tray
Cut into pineapple shapes. Dust with the pineapple dust. Thank me later, you've got Pina Colada Marshmallows.
Above Board's Hayden Lambert has been making this recipe for a while, and it follows his classic-driven, less is more approach to making cocktails. It doesn't disappoint.
The Gentleman Caller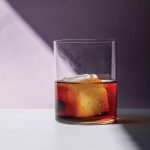 30 ml Jim Beam Rye
25 ml Cinzano Rosso
20 ml Tempus Fugit Gran Classico
3 dashes of Massanez Creme de Violette
Stir ingredients with ice in a mixing glass.
Strain over block ice.
Garnish with an orange twist.
Adapted from a recipe by Hayden Lambert, Above Board.
Cantina OK! Has been 2019's most talked about bar, and with good reason: the owners of Tio's Cerveceria opened their pean to mezcal in a small, back alley space the size of a car space, and they've been busy every night since then thanks to great flavour combinations, hospitality, and drinks like this.
Fizz OK!
50 ml Calle 23 anejo tequila
20 ml rice syrup (unspiced horchata)
15 ml egg white
20 ml Lemon
1 pinch salt
60 ml Soda
Red rice dust
Whisk with crushed ice using a stick blender.
Add into a fizz glass, top with soda and garnish with red rice dust.
Hot and cold, and full of flavour. This Africola from PS40 is the perfect nightcap (though we've started our nights on it, too). It's an idea that took them countless iterations to get just right, and get it right they did. It's delicious.
Africola
Mr Black Coffee Liqueur (from the freezer)
PS40 Wattle Cola
warm coconut foam (at 70C)
Pour Wattle Cola first, then frozen Mr Black into the cola to reduce any foam that may occur.
Charge off warm coconut foam into a warm vessel and then slowly layer on top.
Recipe adapted from PS40, Sydney
This year saw Alex Gondzioulis from Sydney's Bulletin Place take out the top spot in the Bartender Magazine 2019 Bartender of the Year sponsored by BACARDÍ and De Kuyper, and naturally you were interested in this recipe — it was one of the two winning drinks that took him there. The Gondz, as he's known, scored off the charts with our judges this year.
Fine Times
160 ml Rochwork Orange Frontignac
120 ml pear wine
40 ml dry flor apera
40 ml De Kuyper Mango
80 ml Geraldton wax-infused verjus
80 ml tamarillo cordial
10 ml rice wine vinegar
100 ml coconut water
Batch and chill to 3 degrees Celsius.
Carbonate 3 times at 42 psi using a carb rig, and leave to rest between carbonations for at least 15 minutes.
Serve in a stemless wine glass over a large clear block of ice.
Garnish with a pear slice pickled in Geraldton wax verjus.
The team behind Tokyo Bird and Osaka Trading Company opened Bancho late last year, and this recipe for their Matcha Chocolate Negroni is a great example of their style. The key ingredient, if you ask us, is the Suze — it provides the earthy base for the matcha and chocolate to bounce off. Delicious stuff.
Matcha Chocolate Negroni
30 ml Roku gin
20 ml Lillet Blanc
10 ml Suze Aperitif
10 ml matcha cacao
Stir down ingredients over ice and serve.
Recipe from Bancho, Sydney
Matt Whiley and his team at Scout Sydney do things a little differently — they are, for instance, closing the bar's residency at the top of The Dolphin in Surry Hills in just a couple of weeks in search of new digs next year — and their take on the classic Whisky Sour is no exception (it's probably the best take you'll taste, too).
Scout Sydney's Whisky Sour recipe
20 ml hazelnut bourbon
20 ml watermelon vodka
20 ml lemon myrtle verjus
5 ml caraway syrup
Stir ingredients with ice and strain into an Old Fashioned glass over block ice.
Recipe from Scout Sydney.
For the hazelnut bourbon, fatwash 1L of Bulleit Bourbon with 250ml of hazelnut oil, freeze, and filter.
For the watermelon vodka, take the fruit of one watermelon and juice. Add equal parts of watermelon juice and Ketel One Vodka together and distil at 55 degrees in a rotary evaporator.
For the lemon myrtle verjus, steep 10g of lemon myrtle in 1L of chardonnay verjus for one hour, then strain and bottle.
OK, so Two Schmucks isn't an Australian bar, but this is certainly one of the tastiest drinks we've had the pleasure of sticking in our face all year. The Barcelona bar's use of gin, apple and celery shrub, lemon, and absinthe in the mix makes it quite possibly one of the freshest tasting drinks going around.
Alpha
45 ml gin
80 ml Apple Celery Shrub
15 ml lemon juice
2 dashes of absinthe
Throw the ingredients with ice, and serve in a rocks glass on a big block of ice, garnished with an edible flower of your choosing.
Recipe adapted from Two Schmucks, Barcelona.